Every thing about FIVE SPICE POWDER | Vahrehvah :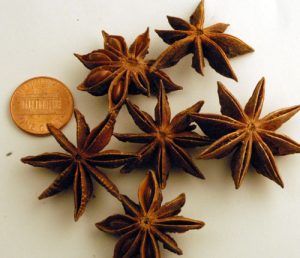 With the popularity of the
Indo-Chinese cuisine
going up and as many kids loving the Indo-Chinese food, I am here to start off showcasing some of the most popular
Indo-Chinese dishes
in our Enter the dragon section. Before we actually know about the Indo-Chinese food, one of the most important ingredients is the
five spices powder
that is used in most of the Chinese dishes.
Five Spice powder
is a mixture of five spices. Although the exact origin of the five spices powder are lost to history but there is some thought that the Chinese were attempting to produce a "
wonder powder
" encompassing all five flavors of
sweet,
sour, bitter, pungent and salty. The five spices powder is popularly used in
Chinese cuisine
and also used in other
Asian cuisines.
Usually when we talk about
Chinese
ingredients the most important and basic ingredients that comes to our mind are the
Vinegar
(white/ black),
Rice Vinegar
(is said to be the best),
Soya sauce, ajinomoto, chili garlic sauce, chili sauce,
chili paste, hot chili sauce,
Oyster sauce
(
veg
), Oyster flavored sauce (used for cooking non-veg dishes), honey, black bean sauce, baby corn, cornstarch (cornflour) that are very commonly used ingredients in any Chinese dish.
Apart from the above ingredients,
five spices powder
are also very popularly used in
Chinese
dishes as we use the
garam masala
powder.The five spices powder comprises of Star aniseed, cloves, black pepper, fennel seeds and ginger powder. There are many variants in making this mixture but the formulae are based on the
Chinese
philosophy of balancing the
yin
and
yang
in food.
The ideas of yin and yang are used in the sphere of food and cooking. Yang foods are believed to increase the body's heat (e.g. raise the metabolism), while Yin foods are believed to decrease the body's heat (e.g. lower the metabolism). As a generalization, Yang foods tend to be dense in food energy, especially energy from fat, while Yin foods tend to have high water content.
The Chinese ideal is to eat both types of food to keep the body in balance. A person eating too much Yang food might suffer from acne and bad breath while a person eating too much Yin food might be lethargic or anemic. The Chinese believe that it is important to incorporate the principal of the yin and the yang into their meals, thus the heat of a dish should be counter-balanced by an equally cooling ingredient.
When you try this seasoning you will be surprised at how beautifully the flavors --
sweet
, warm, cool and spicy -- blend. This is an extremely versatile mixture suited to
rice,
vegetables,
pork
and virtually any type of stir fry. A pinch can add new excitment to
muffins, nut breads,
or even waffle batter.
From the five spices powder, the most common is bajiao (star anise), cloves, cinnamon, huajiao (Sichuan pepper) and ground fennel seeds. Instead of true cinnamon, "Chinese cinnamon" (also known as rougui, the ground bark of the cassia tree, a close relative of true cinnamon which is often sold as cinnamon), may be used.
The spices need not be used in equal quantities. Another variant is tung hing or "Chinese cinnamon", powdered cassia buds, powdered star anise and anise seed, ginger root, and ground cloves are used. Five spices are used well with greasy meats like pork and duck. It is used in stir fried
vegetables
and as a spice rub for
chicken,
duck, pork
and
seafood.
Five spices powder is also used for Cantonese
roasted duck
,
beef stew and also used as a marinade for Vietnamese broiled
chicken.
The five-spice powder mixture has followed the
Chinese
diaspora and has been incorporated into other national cuisines throughout
Asia.
Although the five spices mixture is used in restaurant cooking, many Chinese households do not use it in day-to-day cooking. In Hawaii, some restaurants have it on the table. For preparing the five spices powder, firstly you need to dry roast the cinnamon (optional), cloves, fennel seeds, ginger powder (or take dried ginger and powder them), pepper corn and star anise separately and powder them to a fine powder.
This powder is used for marinating and dumplings. Five-spice powder is a powerfully scented mixture in which star anise and cinnamon dominate. It will also include spices such as fennel, cloves, nutmeg, Sichuan pepper and ginger (the name five-spice is symbolic rather than literal). Do try our delicious Chinese 5 Spice Marinade recipe listed in our Chinese recipe section.
Ingredient Name
Unit
Quantity
cinamon ( optional -used some times)

---

stick

---

1

---

cloves

---

number

---

4

---

fennel

---

tbsp

---

1

---

ginger pdr

---

tsp

---

1/2

---

pepper corn

---

tsp

---

1

---

star anise

---

number

---

8

---

dry roast all ingredients and powder them fine and use in many marinations and dumplings