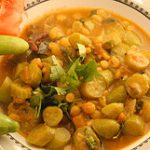 Tindora and chana masala is one of those amazing and tasty dishes that would truly refresh your palates and ask for more. Tindora is also known as Dondakaya in Telugu, Kundru in Hindi, Parwal in Marathi and Ivy gourd in English.

Tindora fry or Dondakaya vepudu is one of the popular side dishes that is made regularly in most of Indian household. It's a very tasty and crispy fry dish. The same is the Tindora with chana dal is not a fry but a thick gravy dish that goes well with chapatti or roti.

Tindora or Ivy gourd grows in dense blankets that shade other plants from sunlight and high-jacking nutrients. Native to tropical Africa and Asia, it was introduced to Hawai'i as a back yard food crop. It is sometimes tolerated along garden fences and other outdoor features because of its attractive white flowers. The vegetable is cut horizontally in form of round slices or vertically in four stripes before cooking. Cut pieces are sautéed, spiced and cooked for consumption. There are some curry recipes for the vegetable.

Tindora Chana dal is a curry prepared by using Tindora with Chana dal (Chickpea splitted seeds). Among the natives this preparation is popular for its delicious taste but the traditional healers are aware of its health benefits. According to them this preparation is especially useful for the patients having diabetes. It is also useful in biliousness and diseases of blood. During fever the use of this preparation with meals, helps in reducing the high temperature. Normally this vegetable was not given much importance saying that it causes dullness of the brain hence many neglected eating this vegetable, but now has got the importance due to its numerous medicinal benefits. Today a variety of recipe are prepared with this vegetable that includes the Tindora fry, tindora chutney, stuffed tindora and also used in making the sambar. This vegetable is commonly eaten in Indian cuisine. Natives of Thailand, Indonesia, and other south East Asian countries also consume the fruit and leaves. Cultivation of ivy gourd in home gardens has been encouraged in Thailand due to its being a good source of several micronutrients, including vitamins A and C.

Chana dal is a bean that comes from India, where they appreciate it very much. This bean looks just like yellow split peas, but is quite different because it doesn't readily boil down to mush. It's more closely related to garbanzo beans, or chickpeas. The differences are that chana dal is younger, smaller, split, sweeter, and has a much lower glycemic index. Chana dal has now become a regular staple in many household. The fiber in chana dal also help control cholesterol levels and promote a healthy digestive tract. Chickpeas are a good source of fiber, which has cholesterol-lowering benefits.  Their high fiber content also prevents blood sugar levels from rising too rapidly, so they're an especially good choice for folks with diabetes, insulin resistance or hypoglycemia. And when combined with whole grains like rice, chickpeas provide virtually fat-free high-quality protein.  They're cheap, too.  Really, no downside to these puppies – so eat up!

For preparing this dish, firstly take the chana dal and boil it with enough water. The chana dal should be cooked but not mashy. Put the oil in the pan and once heated add whole red chillies and mustard seeds. When the seeds crackle add cumin seeds then add the crushed garlic and saute  for few seconds, add the onions and little salt. When the onions are slightly cooked add the hing and turmeric, add the curry leaves. Then add the tomatoes, red chilli powder, coriander powder mix it and add the cut tindoras to it. Add some water and salt to it. Cover the pan and let it cook till the tomatoes and tindoras 15 mins. When cooked add the cooked chana dal with its water. Add pinch of fennel powder and the garam masala. Add the butter and let it cook for another 10 to 15 mins till everything is cooked and mixed well. The dal should not be too thin or too thick but of saucy consistency. When cooked check seasonings and garnish it with coriander.

This is a dish very delicious to taste and served with roti or rice. Do prepare this dish and get all the nutritional benefits of it. View the making of this dish at:

https://www.vahrehvah.com/Tindora+and+channa+masala:3774

This humble vegetable, so far met at the dining table with indifference, may now find new respect, even among picky palates. That's because new research shows that consuming 50 grams of kundru daily can help keep your blood sugar under check. Tindora contains a fabulous mix of complex carbohydrates, fibre, and a vast array of B vitamins and minerals. It is quite a valuable source of nutrients.