Apple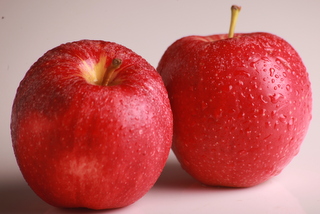 Everything about Apple :
Apples can be canned, juiced, and optionally fermented to produce apple juice,cider,ciderkin,vinegar, and pectin. Distilled apple cider produces the sprits applejack and calvados. Apple wine can also be made.
Apples are an important ingredient in many desserts, such as apple pie, apple crumble,apple crisp and apple cake.They are often eaten Baked or stewed, and they can also be dried and eaten or re-constituted (soaked in water, alcohol or some other liquid) for later use. Puréed apples are generally known as apple sauce Apples are also made into apple butter and apple jelly. They are also used (cooked) in meat dishes.
Apple also known as
| Language | Ingredient Name |
| --- | --- |
| Bangali | Apel |
| Gujarati | safarjan |
| Hindi | seb |
| Kannada | sebu |
| Kashmiri | tsoonth |
| Malyalam | apple |
| Marathi | sufarchand |
| Oriya | seu |
| Tamil | apple |
| Telugu | |