Every thing about Top 25 tasty and popular dishes in India | Vahrehvah :
Top 25 tasty and popular dishes in India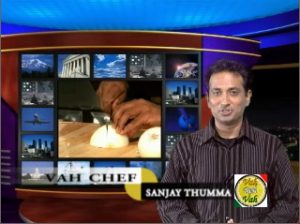 Vah! After a very long time I am here rolling back my 22 years of experience in the food industry and working with more than thousands of recipes and dealing with million of lovable customers. All through my culinary journey, now I realize that there are around 50 popular dishes that are really admired or relished by food lovers and is demanded for at most of the restaurants. This makes me think that does Indian cuisine revolves around these 50 dishes? Not really, Authentic Indian Food has many crown jewels hidden in many homes in Indian towns and villages- that is the only one most important reason for me to start the website to bring them to all of you.
Having worked in Ethnic restaurants and regional Indian cuisine restaurants, I have always noticed that the top 25 dishes are present in every menu. Whatever the recipe would be, but these would be the most selling dishes and the customers demand for. This makes me feel that, these 25 popular dishes are the Gems of Indian food and have made a huge contribution in the Indian cuisine.
But now I wonder why only certain dishes become very popular in restaurants?? It made me rethink many a times and then could conclude to a simple reason that its easy to duplicate the dish, easy to prepare, and there is always a standard recipe followed with more or less the same taste and flavor. Another reason that I could relate is, most of the ingredients used in these dishes are easily available throughout the year, so are available at every restaurant menu and served and demanded by customers.
Now I would like to share with you the names of the Top 25 tasty and popular dishes in India that I discovered through my passionate journey for food and shall also get you familiar with the fine distinction of the dish.
1.Biryani ( veg & non Veg) – Biryani is a set of rice based food made with spices, rice (usually basmati) and meat, fish, eggs or vegetables. It is a very popular dish all over the World.
2. Butter Chicken – Chicken marinated overnight in yoghurt and spices mixture , cooked with a special Makhani sauce made of Butter, tomato puree and various spices that gives the dish its unique and delicious flavor. It is one of the most popular dishes among non vegetarians throughout the World. It is the pride of Punjabi cuisine.
3.Vindaloo & Rogan Josh – Is an aromatic variety of Indian Gravies , a curry dish of Lamb goat or other meats.
4. Tandoori Chicken – Chicken dish marinated in yoghurt and seasoned with tandoori masala. Tandoori chicken is a highly popular Indian Recipe , traditionally cooked in Tandoor (clay oven).
5. Idli-Dosa-Vada with Sambar – Popular South Indian breakfast made of fermented black lentils (de-husked) and rice accompanied with sambar (a vegetable stew or chowder based made with toor dal and tamarind).
6. Palak paneer – A popular vegetarian dish consisting of Palak (spinach) and Paneer (cottage cheese) in a curry sauce. It is a traditional North Indian cuisine and is an integral part of the Punjabi cuisine.
7. Chole-Bhature – Is a combination of Chole (spicy chick peas) and fried Indian bread called Bhatoora (made of maida flour). It is added to Typical North Indian Menu and seems to be originated in Punjab. Its also a street food commonly eaten for breakfast.
.
8. Dal makhani – Is delicacy from Punjab filled with rich protein and fiber. Lentils and beans traditionally cooked in a tangy masala with dollops of fresh cream added to give the rich finishing touch. It is the signature dish of Punjabi cuisine.
9. Malai Kofta – Malai refers to cream and the kofta are deep fried veggie balls together blend in a creamy Indian saucy curry. It is a North Indian speciality is the vegetarian version of the famous kofta (meatball) curries. It is also an authentic part of the Mughlai cuisine.
10. Naan-Parathas – Are the most popular varieties of Indian flatbreads where Naan is oven baked and Paratha is made by whole wheat flour on tawa. Parathas are usually stuffed with vegetables.
11. Samosa and Pakodas – Popular appetizers/ snacks in India served at tea time or as a separate course before main meal. Samosa is a savory filling stuffed patty triangular in shape and deep fried whereas pakodas are fried snack across South Asia.
12. Pav Bhaji – Is consists of bhaji (a potato based curry) and the pav, garnished with coriander, chopped onions and a dash of butter. It is a fast food dish native to Maharashtrians and is popular in most metropolis areas in India.
.
13. Panipuri -Chaats– It comprises a round, hollow puri, fried crisp and filled with a mixture of tamarind water, chilli, chaat masala, potato, onion and chickpeas. It is small enough to fit completely in one's mouth. A popular street snack also called as Gol gappa or gup chup.
14. Kebabs – Is a dish consisting of meat threaded on a skewer and grilled. Any kind of meat may be used, cubes of fruit or vegetable are often threaded on the skewer as well. Typical vegetables include tomato, bell peppers, onions and mushrooms.
15. Lassi – Shakes – Is a popular and traditional Punjabi yoghurt based drink of India and Pakistan. Made by blending yoghurt with water and Indian spices flavored with ground roasted cumin. Sweet lassi is blended with sugar or fruits instead of spices.
16. Tea and Filter Coffee – Tea refers to the aromatic beverage prepared from the cured leaves by combination with hot or boiling water and milk (optional) and flavoured Indian way with ginger and cardamom. Coffe is a popular brewed drink prepared from roasted seeds, commonly called coffee beans of the coffee plant.
17. Indo-Chinese Manchurian – Is from Kolkata, is now sold on every street corner in cities of India.
18. Poori-Halwa – Is a traditionally breakfast dish of South Asia. Halwa puri consists of two separate dishes, halwa, a sweet made from semolina and eaten with puri, a small circular deep fried flat bread.
19. Pickles – Mango/ Lemon – Indian pickles are consist of a large variety of pickled fruits and vegetables which are acidified with lime or lemon juice, or through lactic acid fermentation enabled by addition of common salt. The pickles also have various combinations of Indian spices and often oil.
20. Rasam – Tomato soup – Typically a South Indian dish, Rasam is a soup like dish known for its health benefits, lip-smacking taste and enticing aroma. It is beneficial to the health because of its digestive qualities. It is made of tomatoes, tamarind and dal.
21. Aloo gobi- Is a dry Indian and Pakistani dish made with potatoes, cauliflower and Indian spices.
22. Rasmalai-Rasgulla – Ras malai consists of sugary, cream to yellow colored balls of paneer soaked in malai flavored with cardamom. Rasgulla is a popular cheese based, syrupy sweet dish made from balls of Chhena (Indian cottage cheese) and semolina dough cooked in sugar syrup., originated in Kolkata.
23. Ladoos – A sweet dish made from gram flour, semolina, wheat flakes and many other flours. Often prepared on festive occasions.
24. Add your favourite.
25. Add your favourite
May be, you will not find your favorite in the list, so I left last two for you to add-cheers! Penning this down has given me an opportunity to share my experience and get to know more about the ardent lovers of food and their favorite Indian dishes.
You could always reach me at my below links:
My Cooking Videos Indian Recipes Indian Food Regional Indian Cuisines VahChef Sanjay Thumma
Happy Cooking! Keep Smiling…