Every thing about DIWALI-Festival of Lights | Vahrehvah :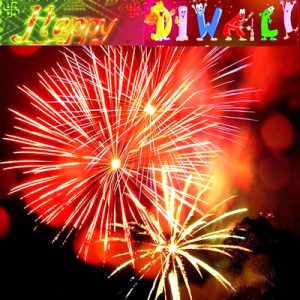 As a kid I remember that Diwali was one of my favorite festivals. This was because the house would be completely decorated with lights; we were given new clothes to wear and lots of crackers to burn under parent's supervision. Oh! How could I have forgotten my favorite sweets and savories that would be prepared too? That's what I like the most in the season of festivity.
We were allowed to freak out on a variety of dishes that were made at least a week before Diwali started off. I have been hearing a lot of stories from my grandparents and parents about Diwali and would share with you some of them.
DIWALI or DEEPAVALI popularly called as the "festival of lights ". An important festival for all the Hindu community and is celebrated with pomp and fare all over India. Apart from India, Diwali is also celebrated in Mauritius, Sri Lanka, Singapore, Malayasia, Trinidad and Tobago. Deepavali a word in Sanskrit means "row of lamps".
It's the day of lights and all the houses are decorated with bright colorful lamps to signify the triumph of good over evil. I remember my grandparents saying the spiritual significance of this festival is that Diwali is actually the celebration of the inner light which awakens the individual to one's true nature and removes all the obstacles within us and gives us the strength to move ahead.
This festival is celebrated for five days according to the Hindu calendar in the Kartika maasam (month). The first day is Dhan Teras. The last day is Yama Dvitiya. Each day of Deepavali marks one celebration of the six principal stories associated with the festival.
Vasu Baras means the 12th day and vasu means cow. On this day the cow and calf are worshiped. Dhanatrayodashi or Dhan teras or Dhanwantari Triodasi : Dhan means wealth and Trayodashi means 13th day. This day falls on the 13th day of the second half of the lunar month. It is considered an auspicious day for buying utensils and gold. This day is regarded as the Jayanti of God Dhanvantri who came out during the churning of the great ocean by the gods and the demons.
Naraka Chaturdashi:
Chaturdashi is the 14th day on which the demon Narakasura was killed by Krishna – an incarnation of Vishnu. It signifies the victory of good over evil and light over darkness. In southern India, this is the actual day of festivities. Hindus wake up before dawn, have a fragrant oil bath and dress in new clothes.
They light small lamps all around the house and draw elaborate kolams /rangolis outside their homes. They perform a special puja with offerings to Krishna or Vishnu. After the puja, children burst firecrackers heralding the defeat of the demon. As this is a day of rejoicing, many will have very elaborate breakfasts and lunches and meet family and friends.
Lakshmi Puja: Lakshmi Puja marks the most important day of Diwali celebrations in North India. Hindu homes worship Lakshmi, the goddess of wealth, and Ganesh, the God of auspicious beginnings, and then light lamps in the streets and homes to welcome prosperity and well-being.
Bali Pratipada and Govardhan Puja :
In North India, this day is celebrated as Govardhan Puja, also called Annakut, and is celebrated as the day Krishna – an incarnation of god Vishnu – defeated Indra and by the lifting of Govardhana hill to save his kinsmen and cattle from rain and floods. In Maharashtra, Tamil Nadu and Karnataka, it is celebrated as Bali-Pratipada or Bali Padyami.
The day commemorates the victory of Vishnu in his dwarf form Vamana over the demon-king Bali, who was pushed to the nether-world, and the return of Bali to earth from the nether-world. In Maharashtra, it is called as Padava or Nava Diwas (new day). Men present gifts to their wives on this day.
Bhaiduj (also Bhayyaduj, Bhaubeej or Bhayitika):
On this day, brothers and sisters meet to express love and affection for each other. It is based on a story when Yama, lord of Death, visited his sister Yami. Yami welcomed Yama with an Aarti and they had a feast together. Yama gave a gift to Yami while leaving as a token of his appreciation. So, the day is also called 'YAM DWITIYA'.
Few Hindus has also several other significant events associated with Diwali that includes:
The return of Lord Sri Rama after 14 years of Vanvas – To welcome him the kingdom was lit with candles. The killing of Narakasura :Celebrated as Naraka Chaturdashi, one day before Deepavali, it commemorates the killing of the evil demon Narakasura, who wreaked havoc.
The integral part of Diwali decorations are lighting of the symbolic diyas (lamps) and putting rangoli (decoration made from coloured powder) in front of the house. Deepavali also marks the end of the harvest season in most of India. Farmers give thanks for the bounty of the year gone by, and pray for a good harvest for the year to come.
Traditionally this marked the closing of accounts for businesses dependent on the agrarian cycle, and is the last major celebration before winter. Lakshmi symbolizes wealth and prosperity, and her blessings are invoked for a good year ahead.
Diwali is most liked festival by the young and the old. The celebration involves bursting firecrackers at dawn after Lakshmi pooja. During Diwali festival the mood is very exciting with all the shops lightened with special lights. Lots of special shops are seen selling firecracker of various types of the bombs, rockets, ground crackers, flower pots, lakshmi bomb and many many more.
The day of Diwali one need to watch the evening sky. It's truly a colorful sight to watch. The night sky is lit up with a scintillating array of colorful lights and noisy fireworks.
Diwali has also become "the festival of sweets". Exchanging sweets has become a part of the tradition. Diwali is a time for pampering your taste buds with delicious, traditional and mouthwatering sweets that includes a variety of pedas, ladoos and burfis.
I also remember my grandmother and mother preparing most of the finest delicacies at home but now due to the fast track days most of the tradition is fading and people are getting attracted by the gift packs offered by the sweet shops.
They actually do not realize the health hazards and forget about the nutritive values of the sweets. Preparing of these sweets is really simple but just needs little patience to make them. Some of the popular sweets that were prepared at home were:
This special sweet is made of milk and sugar, garnished with cardamom and pistachios.
Another well renowned Indian mithai ,Jalebis are made of sugar and besan (gram flour).
Another Diwali special Sweet is rasmalai. It is made of home-made curd cheese served in a sweetened cream sauce.
A soft diamond shaped sweet made from freshly ground cashews.
Peda:
Pedas are synonymous to Diwali.
Gulab jamun is favourite to many Indians.
The most famous of all Indian sweets. Round in shape, made of besan and consisting of cardamom, pistaschio, and a touch of saffron.
Square shaped Burfi made from Almonds and topped with cardamom seeds and pistachio nuts.
These round sweets hail from Bengal. They are white in color and come with tasty syrup.
Murukku is made combining the rice flour, white gram flour, sesame seeds, cumin seeds and chilli powder and deep fried.
Each region of India has its own traditional variety of sweets and cuisines made specifically for this festival. It is a way of spreading joy and goodwill among both the givers and the receivers of these delights. This is the time when everyone forgets and forgives and there is an air of freedom, festivity and friendliness everywhere.
As the lights brighten the festival with joy, I always wish the supreme light of lights enlighten your understanding and illuminates your inner self with prosperity. I wish one and all a very happy and a safe Diwali.