Every thing about potato masala for poori,poori potato masala,sweet potato fries, patti labelle sweet potato pie recipe. :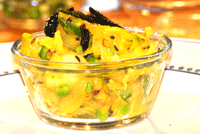 Potato masala is a popular south Indian vegetarian spicy dish. It is quick and easy to prepare and makes a tasty side dish to accompany a curry with poori, roti, chapatti or any Indian flat bread. It is a very versatile dish that goes a delicious side dish with many breakfast items. It can even be used as a filling for samosas or dosas.
In south India, the potato masala is a popular side dish and is a part of the south Indian thali. This dish is a vegetarian/vegan curry and a traditional accompaniment for the Indian fried and puffed bread – poori especially in north and south India.
This is a amazing yummy curry that makes a filling snack or meal when accompanied with flat breads. A mouthwatering luscious dish which is sure to be a big hit with kids and adults! Dosa and Poori is a very common breakfast item available in all south Indian restaurants.
The apt side dish that goes very well with this is potato masala, however poori is also sometimes served with other dishes like the tomato kurma, chicken gravies and so on. Potato as such is a very versatile vegetable. A number of dishes can be prepared with potatoes that make it truly amazing.
To make this dish delicious and spicy, using fresh curry leaves and green chillies gives a nice flavor and lemony aroma to this curry. This dish is popularly known as the Aloo subzi or potato bhaji. Alu or aloo means potato in Hindi. The potato masala is known as uralai kizhangu masala in Tamil which is a potato mixture with spices and fresh herbs blended to make the dish tasty. Potato is one vegetable that is most extensively grown and used tuber crop in the world. Potatoes are known for being rich in carbohydrates and calories.
Potatoes are beneficial in much more ways than you can think of. Perhaps no menu is complete without incorporating potato. Be it chips, fries, vegetables, snacks or any other food, potatoes find their place in one recipe or the other.
Potatoes are rich in Vitamin C, Calcium and Iron. In India potatoes are used in varieties of dishes. One of the dishes that use potato is Aloo Masala or Potato Masala Curry. Aloo masala is a nice compliment for any kind of dosa. It can be rolled in the dosa or served as a side dish.
Potatoes are the main ingredient for this dish. To prepare this dish firstly boil diced potatoes until they are soft and let cool. Peel the skin and chop the potatoes in small pieces. Heat oil in a frying pan on medium heat, add dry red chillies, mustard seeds.
When it splutters add cumin seeds, channa dal, ural dal, cashew nuts (to give sweetness and nuttiness to the curry), chopped ginger and sauté all the ingredients well. Add finely sliced onions, chopped green chillies, curry leaves and fry till the onions are cooked.
They don't need to get brown. Add turmeric powder and fry well for ½ min. Add the boiled potato pieces, salt and lemon juice and garnish with coriander leaves. Add little water if required to keep it slightly moist and not very dry. Serve hot. Y
ou can also add a handful of cooked green peas and shredded carrots to the potato mixture to make it nutritious and colorful. Do watch the making of this amazing vegetarian dish do check out the video at:
https://www.vahrehvah.com/potato-masala
In India, the most popular potato dishes are aloo ki sabzi, batata vada, and samosa, which is spicy mashed potato mixed with a small amount of vegetable stuffed in conical dough, and deep fried. Potatoes are also a major ingredient as fast food items, such as aloo chaat, where they are deep fried and served with chutney. In Northern India, aloo dum and aloo paratha are a favorite part of the diet; the first is a spicy curry of boiled potato, the second is a type of stuffed chapati.
Vada pav is a popular vegetarian fast food dish in Mumbai and other regions in the Maharashtra in India same ways Aloo posto (a curry with potatoes and poppy seeds) is immensely popular in East India, especially Bengal. Potatoes are rich source of vitamin C, vitamin B6, copper, manganese, and dietary fiber. Potato is the most efficient food for energy production. The energy produced through potato gets stored as glycogen in muscle and liver; it functions as a readily available energy during prolonged, strenuous exercise. That's why; it is an important part of players' diet