Every thing about PUMPKIN MASALA, pumpkin seed recipes, pumpkin seed recipe. :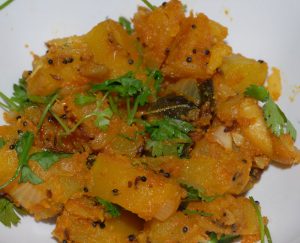 Pumpkin masala
is a yummy versatile dish liked by all vegetarian giving a nice
sweet
and
spicy
flavor to the dish. Pumpkin
masala
is dish blended nicely with spices and
besan flour (
gram flour) to make a delicious dish. Pumpkin is a
vegetable
grown in the winter season to welcome the spring.
This dish enhances the Pumpkin with spices. Pumpkin is from the gourd like squash family. They are typically a nice orange or yellow in color and have many creases running from the stem to the bottom. The outer shell is thick and pulpy with seeds inside.
The North Americans generally refers to Pumpkin as winter squash. The work pumpkin originates from a Greek word called 'pepon' (large melon) and the French adapted this word to 'pompon' and the British changed to 'pumpion' and lastly the American colonists changed the word to 'pumpkin'.
The exact origin is definitively not known yet, but believes to have originated in North America. The oldest evidence of the pumpkin relates between
7000 and 5500 B.C.
found in Mexico. Pumpkins are a squash like
fruit
ranging from a small to very large size which may also weigh about 1000 pounds.
The color of pumpkins is derived from the orange pigments abundant in them. The main
nutrients
are
lutein
and both alpha and beta
carotene,
the latter of which generates vitamin A in the body. To prepare the Pumpkin masala, take a pan add little oil, mustard seeds and cumin seeds, once they crackle add half broken
cashew nuts
(optional), fry lightly till it changes it color and then add chopped onions and saute well. Add little salt, turmeric powder,
curry leaves
, ginger garlic paste and mix well and cook for 2 mins till the raw flavor goes.
Add pumpkin pieces, coriander powder, chilli powder, little
sugar
and water. Do not add more water. Cover and cook till the pumpkin is tender. In another pan add little oil and add
besan
flour and roast well till golden in color till the raw smell goes and gives nice flavor.
Now add this
roasted besan flour
to the pumpkin curry and stir carefully as the pumpkin pieces would be tender and should not break. Cook for another 2 to 3 mins closing the lid. Finally garnish with coriander leaves.
Pumpkin masala
is a wonderful recipe and looks very colorful and delicious.
Do try out this recipe and watch the making of this curry at:
In southern India as coconut is in abundance, they add fresh grated coconut to the pumpkin curry. Pumpkins are very versatile in their uses for cooking. Most parts of the pumpkin are edible, including the fleshy shell, the seeds, the leaves, and even the flowers.
In the United States, pumpkin is a very popular Halloween and Thanksgiving staple. Although most people use store-bought canned pumpkin, homemade pumpkin purée can serve the same purpose. When ripe, the pumpkin can be boiled, baked,
steamed,
or
roasted
.
In North America, it is a very important, traditional autumn harvest crop, usually eaten mashed or prepared as soups, purees or a variety of pies and pudding during the American Thanksgiving day. In Mexico and the U.S., the seeds are often
roasted
and eaten as a snack.
In South Asian countries such as India, pumpkin is cooked with
butter, sugar, and spices
in a dish called
kaddu ka halwa
. Pumpkin is used to make sambar in Udupi cuisine. In China, the leaves of the pumpkin plant are consumed as a cooked vegetable or in
soups.
In Australia and New Zealand, pumpkin is often roasted mixed with other vegetables. In Japan, small pumpkins are served in savory dishes, including tempura. In Myanmar, pumpkins are used in both cooking and
desserts
(candied).
More than just a decorative Halloween candleholder or a pie filling to be eaten only once a year, pumpkin is one of the most nutritional foods available year round. Rich in antioxidants, vitamins, and minerals, both the flesh and seeds of the pumpkin provide many health-boosting nutrients.
Pumpkin is highly nutrient in fiber, Vitamin C & E, potassium, magnesium and is low in fat and calories and rich in disease-fighting. The alpha-carotene and beta-carotene are potent antioxidants found in pumpkin and are pro-vitamin A carotenoids, meaning the body converts them to vitamin A. Vitamin A promotes healthy vision and ensures proper immune function. Fiber helps reduce bad cholesterol levels, protect the body against heart disease, control blood sugar levels, promote healthy digestion, and plays a role in weight loss.
Pumpkin Masala
Author : Admin
Published On : May 29, 2009
Preparation Time:7 min
Recipe Type : Veg-Main
Cooking Time : 25 min
Standing Time : 5-8 mins
Yield : 4 (4 servings)
Ingredient : Pumpkin
Description : Pumpkin curry made with basen
Ingredient Name
Unit
Quantity
basen

---

tbsp

---

2

---

cashewnuts

---

number

---

10

---

chilli powder

---

tsp

---

1

---

coriander leaves

---

cup

---

1/2

---

coriander powder

---

cup

---

1/2

---

cumin seeds

---

tsp

---

1/2

---

curry leaves

---

number

---

10

---

ginger garlic paste

---

tsp

---

1

---

murstad seeds

---

tsp

---

1/2

---

oil

---

tbsp

---

1

---

onions

---

number

---

1

---

Pumpkin

---

grams

---

500

---

salt

---

0

---

as needed

---

sugar

---

tsp

---

1/2

---

turmuric

---

0

---

pinch

---

water

---

0

---

as needed

---
Take a pan add oil, murstad seeds,cumin seeds,cashewnuts,oinion chopped mix well then add salt, turmuric,curry leaves,ginger garlic paste, mix and cook for 2min, then add pumpkin,coriander powder,chilli powder, sugar, add little water saute it, close it with a lid and cook till pumpkin is tender.

Now in another pan add oil, then basen roast till golden colour.

Now add roasted basen to pumpkin curry and cook for 2 or 3 min then finely add chopped coriander leaves chopped.