Every thing about Eggplant Chutney | Vahrehvah :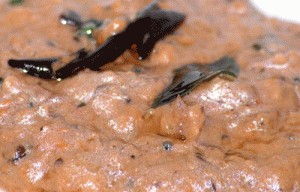 Eggplant chutney
is traditional spicy and tangy
brinjal
chutney
blended with ginger, garlic,
tomatoes,
green chilies and tamarind. It's a perfect combination to give out the
spicy
hot and sourness flavors. An apt tangy accompaniment to any main course
meal
and can be eaten with hot steaming
rice.
Let's know little about the
Eggplant
and its benefits.
Eggplant
also commonly known as
aubergine
or
brinjal
is a flesh fruit with a meaty texture. The fruit is botanically classified as a
berry,
and contains numerous small, soft seeds, which are edible, but are bitter because they contain nicotinoid alkaloids, unsurprising as it is a close relative of tobacco.
Eggplant
is native to
India
and has been cultivated in southern and eastern
Asia
since prehistory but appears to have become known to the western World. The raw fruit can somewhat taste bitter, but becomes tender when cooked and develops a rich, complex flavor.
Salting and then rinsing the sliced fruit (known as
"degorging")
can soften and remove much of the bitterness though this is often unnecessary. The
fruit
is capable of absorbing large amounts of
cooking
fats and
sauces,
allowing for very rich dishes, but the salting process will reduce the amount of oil absorbed.
The fruit flesh is smooth; as in the related
tomato,
the numerous seeds are soft and edible along with the rest of the fruit. The thin skin is also edible, so peeling is not required. It is widely used in
Indian cuisine,
dishes like in
sambhar, dalma
(a dal preparation with vegetables,
native
to
Orissa), chutney,
curries, and
achaar.
Owing to its versatile nature and wide use in both everyday and festive
Indian food,
it is often described (under the name
brinjal)
as the
'King of Vegetables'
. In one of the popular dishes,
Brinjal
is stuffed with ground
coconut, peanuts,
and masala and then cooked in oil. It helps to block the formation of free radicals and is also a source of folic acid and
potassium.
Wow! So now we would be making
chutney
of the king of vegetablesJ.
This is a very
chatpata,
spicy, tangy
chutney.
The
Eggplant chutney
is simple to prepare and fast to cook. Clean and cut the
eggplant
and fry them and keep aside. Heat oil in a pan, add mustard, cumin, chopped fresh ginger and garlic, cashewnuts, fried
channa dal
(dhalia) (nuts are optional, as it added to give consistency and nutty flavor to the
chutney),
add chopped green chillies,
curry leaves
,
hing, tamarind, salt and
tomatoes
mix all and cook till soft.
Once slightly done then add the fried
brinjals
and sauté and blend all the ingredients in a blender to a nice paste. Temper the
chutney
with little mustard, cumin, dry red chillies
, urad dal
,
fresh coriander and
curry leaves.
The
Eggplant chutney
would really taste delicious if the tempering is done with
ghee.
Serve hot with
rice, parathas
or
dosa.
Remember as earlier said that
Brinjal
is bitter in taste, but becomes tender when cooked and develops a rich, complex flavor. To avoid the bitterness you can roast the
brinjals
with its skin before you start the chutney.
Summary: simple eggplant chutney
Ingredients


brinjal big - 1 -number


chaewnuts - 1 - tbsp


channadal fried - 1 - tbsp


coriander leaves - 1 - to fry


cumin - 1 - tsp


curry leaves - 10 - leaf


green chilies - 4 - number


hing optional - 1 - pinch


mustard seeds - 1 - tbsp


oil - 2 - tbsp


salt - 1 - to taste


tamrind - 30 - grams


tomato - 2 - number


urad dal - 1 - tsp 1


Instructions


fry eggplant and keep aside


heat oil add mustard, cumin, ginger, garlic cashew and channa dal ( nuts are optional)


add green chilli, curry leaves,hing, tamrind and tomatoes. Cook till they are soft and well done. Now add fried brinjal, saute them and then put in a blender"


and add tempering


serve hot


Cooking time (duration): 25
Number of servings (yield): 4
Meal type: lunch
My rating: 5 stars: ★★★★★ 1 review(s)
Recipe by
Vahchef
.
Brinjal Chutney or Vankaya Pachadi as it is popularly called is very popular chutney made in most of home of Andhra Pradesh and few states of India. The people of Andhra are very fond of chutneys and spicy recipes and they are part of their everyday meal.