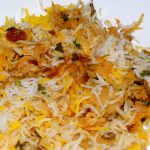 Raw Jackfruit Biryani is an exotic recipe with amazing taste and aroma. This is prepared in the same way like any other biryani but using raw jackfruit flesh. This dish is also popularly known as Kathal biryani or Panasakaya biryani. The ripe Jackfruit itself has an amazing taste, aroma and texture has always been one of the favorite fruits amongst many.
The most heavenly and delicious Jackfruits is an amazing bounty from nature when straight from farm. You can make a variety of dishes with this fruit like the raw jackfruit curry (Andhra style), kadubus (steamed dumplings made from a puree of ripe fruit, semolina and jaggery), raw Jackfruit Huli (a spicy, tangy curry eaten with rice), Sole saaru (a curry made with semi-ripe jackfruit), chakka curry and Jackfruit halva and jackfruit chips.
Raw jackfruit is known as vegetarian meat in Bengal, its juicy, succulent and meaty texture gives the raw jackfruit an esteemed position in the vegetarian hall of fame. This biryani is a very special dish having a divine taste. Jackfruit is a species of tree in the mulberry family. It is a native to parts of Southern and south East Asia and the national fruit of Bangladesh.
Jackfruit is also found in East Africa e.g. in Uganda, as well as North eastern Brazil. The name Jackfruit is derived from the Portuguese word Jaca which actually was derived from the Malayam language word Chakka. The Portugese first arrived in India at Kozhikode (Calicut) on the Malabar Coast in 1498.
The work Chakka was recorded by Hendrik van Rheede (1678–1703) in the Hortus Malabaricus, vol. iii in Latin. Henry Yule translated the book in Jordanus Catalani's (1678–1703) Mirabilia Descripta: The Wonders of the East. The fruit is called by a variety of names around the world. The flesh of the jackfruit is starchy, fibrous and is a source of dietary fiber.
The flavor is similar to a tart banana. Varieties of jackfruit are distinguished according to the characteristics of the fruits' flesh. In Brazil, three varieties are recognized. These are: jaca-dura, or "hard" variety, which has firm flesh and the largest fruits that can weigh between 15 and 40 kilograms each; jaca-mole, or "soft" variety, which bears smaller fruits, with softer and sweeter flesh; and jaca-manteiga, or "butter" variety, which bears sweet fruits, whose flesh has a consistency intermediate between the "hard" and "soft" varieties.
Varikka and Kuzha are the two popular varieties of Jackfruit available in Kerala. Varikka has slightly hard flesh for the inner fruit when it becomes ripened. Kuzha fruit has very soft, almost dissolving type flesh for the inner fruit on ripening. A sweet preparation called Chakka Varattiyathu is made by seasoning the Varikka fruit flesh pieces in jaggery, which can be preserved and used for many months.
Huge jackfruits up to 4 feet length with matching girth are sometimes seen in Kerala. Jackfruit is a part of Telugu culture as well. In Andhra, jackfruit is a delicacy and is called "Panasa pottu koora", or finely chopped jackfruit curry. It is mixed with mustard and cooked, and is a popular Telugu dish. To prepare the Raw Jackfruit biryani, take the raw or young jackfruit apply oil to hand cut the skin and make into cubes and keep aside.
In a pressure cooker add the raw jackfruit cubes add turmeric powder, salt, and little water and cook till it is 80% done. In a pan fry sliced onions till golden brown and keep aside. Soak the basmati rice and cook till 70% done and keep aside. Heat oil in a pan, add whole garam masala, bay leaf, cashew nut, raisins, chopped green chillies, ginger garlic paste, salt mix all and then add the cooked jackfruit cubes sauté it and add chopped mint leaves, coriander leaves, curd, biryani masala and mix well.
Spread the whole masala evenly all over the pan and then add half of the fried onion, chilli powder and 70% cooked rice. Sprinkle mint leaves, coriander leaves, remaining fried onions, little color. Cover it with a lid and cook over a very slow flame for 10 mins. After 10 mins remove and the biryani is ready to eat. It is a very delicious dish rich in energy, dietary fiber, mineral and vitamins.
This energy rich fruit however contains no saturated fats or cholesterol making it one of healthy fruit to savor! Do not miss trying this amazing dish at home. To watch the making of this dish do click at:
https://www.vahrehvah.com/raw-jack-fruit-biryani
Jackfruit is commonly used in South and Southeast Asian cuisines. It can be eaten unripe (young) when cooked, or ripe uncooked. The seeds may be boiled or baked like beans. The leaves are used as a wrapping for steamed idlis. Young jackfruit has a mild flavor and distinctive texture.
The cuisines of India, Nepal, Bangladesh, Sri Lanka, Indonesia, Cambodia, and Vietnam use cooked young jackfruit. Unripe jack fruit is used like vegetable in the preparation known as "kathal sabzi" in some north Indian states. Jackfruit seeds are good source of protein and minerals; used like vegetables and pulses in curry preparation in several Asian countries. Jackfruit slices, grated coconut, honey and banana slices mixed and enjoyed in one of the wonderfully delicious preparation commonly served in southern India.