Every thing about Gulab Jamun | Vahrehvah :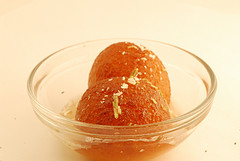 Gulab Jamun
, a small waffle shaped balls deep fried and dipped in sugar syrup, popular in countries of the Indian subcontinent as India, Pakistan, Nepal and Bangladesh. The term
Gulab jamun
comes from Persian,
Gulab
means
rosewater
referring to the
rosewater
scented
syrup
and
jamun
from the hindi language, a
South Asian fruit
with similar size and shape.
The history says that
Gulab jamun
originates from an Arabic dessert called
Luqmat Al-Qadi
and became popular during the
Mughal era.
The dish was prepared in
Rosewater syrup
however
saffron syrup
and
honey
are also often used.
Gulab jamun
,
one of the most melt in the
mouth, yummy Indian dessert
is often prepared during
festival seasons,
major celebrations like the Marriages,
Diwali
(the Indian festival of lights) and
Eid-ul-Fitr
and
Eid al-Adha
(Muslim festivals).
Summary: milk powder used to make Indian sweet
Ingredients





| | | |
| --- | --- | --- |
| Ingredient Name | Unit | Quantity |
| milk just enough to make the dough | o | |
| all purpose flour | tsp | 2 |
| baking pdr | tsp | 1/2 |
| Carnation Milk Powder | cup | 2 |
| Oil | to fry | 1 |
| shotening | tsp | 2 |
| sooji | tsp | 2 |
| Sugar | cup | 2 |





Instructions


Milk powder used to make Indian sweet


Cooking Time: 25 min
Diet type: Vegetarian
Number of servings (yield): 4
Meal type: snack
My rating: 4 stars: ★★★★☆ 1 review(s)
This Indian sweet is made of Khoya, dough often including double cream and a little flour in sugar syrup flavored with cardamom, rosewater or saffron. It is usually made with "essence of rose" and in the past, rose petals were used. Gulab jamun is a brownish red color because of the sugar content in the milk powder or khoya.
In the other variety known as Kala jamun or Black jamun, sugar is added in the dough and after frying the sugar caramelization gives it its dark almost black color. The preparation of the dough is fast, usually made up with using only khoya; condensed milk thickened till it turns into moist dough. In some places, a little amount of flour is added to give consistency to the dough.
If there is too much flour, the balls tend to break or crack while frying. The balls are then deep fried in oil or clarified butter until golden brown and soaked in sugar syrup, which is most commonly rose flavoured. Another variation is to use dilute maple syrup to soak the gulab jamun. The lip smacking Gulab jamun has no substitute than any other sweet dishes during the festival of Diwali.
It is a must dish to be prepared at every house. Another is the Rakhi festival where the Gulab jamun are available in every kitchen. Just one hot mouth watering Gulab jamun in a liberal amount of thick syrup – Vah! A real supreme bliss that lingers the taste buds and gives a divine taste.
Gulab jamuns must be eaten hot, very soft and juicy. Whenever you want to enjoy a good food just close your eyes concentrate on your tongue and notice the feeling. The Gulab jamun would just disintegrate, dissolve and melts in the mouth releasing its delicious cardamom tinged flavor and the soothing rose fragrance within it – that's the delight of the highest order.
An unbelievable combination is hot hot Gulab jamuns with cold Ice cream, just think about it. Its really mouth watering!