Every thing about chicken biryani,vegetable biryani,chicken biryani recipe,biryani,egg biryani recipe. :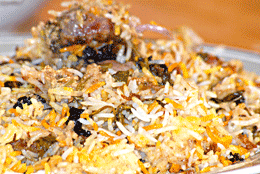 Wow! Are you thinking of a
Biryani
? Then the first thing that flashes in your mind is the
Hyderabadi mutton biryani
. This dish is an authentic recipe with the elements of
Mughlai cuisine
mixed with Telangana style. It originated from the historic era of Nizam of Hyderabad where Mughlai and local cuisines were blended together in the Royal Kitchens. Slowly it became part of
Hyderabadi Cuisine
. Today it is a well known in the entire south Asia particularly in
India
and Pakistan.
It is often served with
Bagara Baigan
,
Mirchi ka salan
and
Raita
.
Indian cuisine
is truly extraordinary mainly for its varied range and variety where each region contributes it own flavor and taste. Modern
Indian cookin
g has selectively contributed from these diverse
styles
and
adapts
to suit the palate.
The Indian cuisine is very popular for its style and methods of cooking and the richness and distinctive flavors. Out of these,
dum pukht
is a major and popular style. This style is no more than 200 years old and this followed by the Central Uttar Pradesh (in Awadhi cuisine), Punjabi,
Kashmiri
and Pakistani cuisines.
Hyderabadi biryani
is one of the most popular dishes over the
globe.
It is one of the signature dishes of Hyderabadi. This is an authentic meal of Hyderabad invariably includes
mutton
, chicken or
lamb
or
vegetables
but mutton is one of the most popular dishes.
Any person who visits Hyderabad would not leave till they taste the
Biryani
, in its original form or in its alternate
Vegetarian
Form. The Nizams served some 26 varieties of biryanis for their guest. The biryani is cooked in two ways:
Pakhi biryani
and the kachche biryani.
The kachche gosht ki biryani is a traditional style of making the biryani by cooking the
raw meat
with spices for couple of minutes and then covered with rice and put on dum.
Dum
means cooking on very low flame in sealed containers.
This allows the meats to cook, as far as possible, and in their own
juices
and bone-marrow.The spices used are less than those in traditional Indian cooking, with fresh
spices and herbs
for flavoring. In some cases, cooking dough is spread over the container, like a lid, to seal the foods. This is known as purdah (veil), but on cooking becomes
bread
which has absorbed the
flavors of the food
and the two are, therefore, best eaten together. In the end, Dum Pukht food is about aroma, when the seal is broken on the table and the fragrance of an Awadhi repast floats in the air.
Some of the popular recipes cooked in this style are:
Dum chicken biryani
, Hyderabadi mutton biryani, Nihari gosht, Dal bukhara etc., Hyderabadi cuisine – slightly sour, hot and richly endowed with nuts and assorted spices and cooked in
asli ghee
– has to be enjoyed to be believed.
The wealthy and leisured aristocracy of the erstwhile Nizam State as well as the long peaceful years of their dominance, contributed largely to the development of and devotion to, the culinary art. Along with the
tandoori
style of
cooking
, biryanis &
pulaos
are the greatest export sensation of
Nawabi cuisine.
From the delicate pulaos typical of northern India, to the richer, spicier preparations of the Deccan, there are a hundred ways to say it with rice – each one as distinctive as your own signature.
Hyderabadi Cuisine
has different recipes for different events, and hence categorized accordingly, like banquet food, for weddings and parties,
festival foods
and travel foods. The category to which the recipe belongs itself speaks of different things like the time required preparing the food, the shelf life of the prepared item, etc. The cuisine is special because of its use of
ingredients
that are carefully chosen and cooked to the right degree and time.
Great attention and care is given to picking the right kind of spices, meat, rice etc. Biryanis are usually cooked in traditional utensils made of copper or brass. Slow cooking is the hallmark of Hyderabadi cuisine. As mentioned in my earlier articles, Biryani can be cooked in two ways. One is the raw meat method in which the rice and the meat is cooked together in layers, and the other is cooked meat method in which pre-cooked meat and rice are cooked together in layers.
This delicious dish originated in the royal kitchens of Nizam, a Mughal ruler of Hyderabad in the 18th century. Goat meat or mutton is the natural choice for
Hyderabadi Biryani recipe
, but it can be substituted by other meats such as chicken or beef.
Making Biryani is an art which has been transferred from generations to generations. In many famous restaurants serving Hyderabadi Mutton Biryani, their recipe is a top secret. Here you will find a wonderful and easy way of making this delicious Biryani at home, just need to follow steps and watch the video at:
For preparing this dish, first boil the water, add oil, salt and cook rice half cooked. Next for marinating the mutton, in pan take mutton, add all the spices and curd, fried onion and mix well. Now in a pan add the marinated mutton in the bottom and top it of with half cooked rice, add mint leaves, coriander leaves, and fried onions. Repeat the same process twice. Cook for 30min. Serve hot with raita and mirchi ka salan , Remember that the best part of enjoying a Biryani is its aromatic meat. Cut meat into large chunks especially mutton or beef. Unlike the
chicken
,
mutton
meat is very strong, thus will not lose its structure if over cooked. But if undercooked will spoil the biryani.
Hyderabadi Mutton Biryani
Author : sreya85...
Published On : Dec 6, 2007
Preparation Time: 7 min
Recipe Type : Rices
Cooking Time : 25 min
Standing Time : 5-8 mins
Yield : 4 (4 servings)
Ingredient : Lamb
Description : world famous Hyderabadi katchi biryani
Ingredient Name
Unit
Quantity
Basmati rice

---

grams

---

500

---

black cumin

---

tsp

---

1

---

boiled egg for decoration (optional)

---

number

---

2

---

Cashew nuts (Optional)

---

grams

---

50

---

coriander leaves

---

bunch

---

1

---

Curd

---

cup

---

2

---

garam masala

---

tbsp

---

2

---

Garam masala powder

---

tbsp

---

2

---

Garlic and ginger paste

---

tbsp

---

2

---

Golden fried sliced onions

---

cup

---

2

---

gr chilli

---

number

---

3

---

Lime juice

---

number

---

2

---

meat tenderizer

---

tsp

---

1

---

mint

---

bunch

---

1

---

Mutton

---

grams

---

1000

---

Oil

---

tbsp

---

5

---

Red chilli pdr

---

tbsp

---

1

---

Rose Water (optional)

---

tbsp

---

1

---

Saffron

---

pinch

---

1

---

Salt

---

to taste

---

1

---

Turmeric powder

---

pinch

---

1

---
First boil the water ,add oil, salt and cook rice half cooked.

Next maranation of mutton, in pan take mutton, add all the spices and curd, onion, Now n a pan add the maraniated mutton in the bottom and top it of with half cooked rice,add mint leaves, coriander leaves, fried onions.repeat the same process twice.cook for 30min.

serve hot with raita and mirchi ka salan , follow the video recipoe of bagara baingan , make a thinner gravy ,substitute brinjal,eggplant with green chillies