Every thing about Stuffed Kala Jamun | Vahrehvah :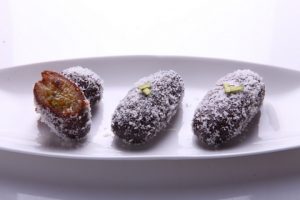 Kala jamun is one of the most popular Indian sweet delicacies that are often prepared during festivals, marriages or for any special occasion. It is slightly similar to the Gulab jamun but in appearance has a very dark brown colour, larger in size, often cylindrical shaped and the inside has an awesome yellow or green color when you cut the jamun.
Kala Jamun, a dark brown colour jamuns coated with desiccated coconut powder is a variation to normal gulab jamuns. As the outer colour of the jamun is quite dark, hence the name Kala, which means black. The attractive element is the colour of the inside stuffing which is generally either green or saffron which looks very attracting when you cut the jamun. The Kala jamun tastes extremely luscious and just melts in the mouth.
Recipe: Stuffed Kala Jamun
Ingredients:
Khoya, grated - 200 gms
Paneer, grated - 50 gms
All-purpose flour - 30 gms
Soda - 1 pinch
Sugar - 1 cup
Cardamom powder - ½ tsp
Sooji - 20 gms
Pistachios - 10 gms
Almonds - 10 gms
Saffron water - 2 tbsp
Oil for deep frying - 2 cups
Water - as required
Directions:
Take a bowl and add grated khoya, paneer, all-purpose flour, soda, sugar, cardamom powder, sooji and mix all the ingredients delicately.
If required add very little water and mix to make dough.
For the inner stuffing: Take a small bowl, add soaked and chopped pistachios, almond flakes, saffron water and a small portion of the dough and mix well.
Divide the white coloured dough into equal portions.
Take one portion of the dough and press it in a circular motion between your palms. Stuff one portion of the saffron colored dough, close and make into bullet shape. Repeat the same with other portions too.
For sugar syrup: take a pan, add sugar, some water and bring to boil until it comes to one string consistency.
Heat oil in kadai and fry the jamuns in a low flame until they turn dark brown in color.
Remove and add these fried kala jamuns in the hot sugar syrup. Let it soak for at least 30 minutes.
Serve hot.
Kala jamun is made combining unsweetened khoya, paneer, all-purpose flour, sooji, pinch of soda, sugar, flavoured with cardamom powder and is gently kneaded to form dough which is then made into small cylindrical shape jamuns, deep fried and soaked in sugar syrup. The colorful stuffing made with little dough, pistachio and almond flakes along with saffron water gives an attractive and divine taste.
Khoya or Khoa is similar to ricotta cheese but has less moisture and made of either dried whole milk or milk thickened by heating in an open iron pan. The Khoya is of three types that include – batti, chickna and daanedaar. Different types of Khoya are used for different preparations. Khoya is normally white or pale yellow in colour. It is made by simmering full-fat milk in an iron kadai for several hours over a medium flame.
The gradual vaporization of its water content leaves coagulated solids in milk which is the khoya. Another quick way of making khoa is to add full fat milk powder to skimmed milk and mixing and heating until it becomes thick. This may, however, not have the same characteristics as traditionally made khoa. In Indian cuisine, Khoya is used in preparing a variety of sweets like pedha, gulab jamun, burfi, halwa or gujia. Do try this homemade fresh hot awesome and yummy Indian sweet delicacy.
You could also get hold of some of your favourite sweet recipes at: www.vahrehvah.com
My rating: 4 stars: ★★★★☆ 1 review(s)
You could always reach me at my below links: My Cooking Videos Indian Recipes Indian Food Regional Indian Cuisines VahChef Sanjay Thumma
Enjoy Cooking and always remember that: "VahrehVah is all about inspiring others to cook"!