Every thing about Mushroom and Bell Pepper Fried Rice | Vahrehvah :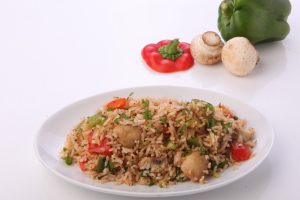 Mushroom and bell pepper fried rice is quick, easy to prepare, appetizing and a wholesome rice preparation with Indo-Chinese flavors. Mushroom and Bell Pepper Fried Rice is quick, easy to prepare, appetizing and a wholesome rice preparation with Indo-Chinese flavors.
Made with a mix of button mushrooms and colorful bell peppers, stir fried together with ginger and garlic flavors, added with a few variety of spicy and tangy seasonings and rice combined together gives a subtle, earthy and peppery taste while eating the fried rice. Rice is one of the most popular and B food in most parts of Asia.
It is a very versatile ingredient that can be cooked to make a variety of main dishes, side dish, desserts and some mouth-melting and finger licking snacks to complete an appetizing and scrumptious meal. There are many people who love to binge on fast to cook foods and easy to prepare dishes. Fried Rice is one among this variety and can also be made healthy, nutritive and luscious.
Recipe: Mushroom and Bell Pepper Fried Rice
Garlic, chopped - 1 tsp
Ginger, chopped - 1 tsp
Onions, chopped - 1 no
Green chillies, chopped - 3-4 nos
Butter - 1 tbsp
Salt - to taste
Mushroom pieces - 100 gms
Red & green bell peppers - 100 gms
Rice, cooked & Fluffy - 2 – 3 cups
MSG or ajinomoto - pinch
Pepper powder - ½ tsp
Tomato ketchup - 1 tsp
Soya Sauce - 1 tsp
Greens of Spring Onions - 2 tbsp
Coriander leaves, chopped - 1 bunch
Lime juice - ½ no
Heat a pan and add chopped garlic, ginger, onions and sauté them.
Add chopped green chillies, butter, little salt and sauté well for a minute.
Add mushroom pieces and sauté it well with the onions.
Add red and green color bell peppers, mix well until the veggies are slightly cooked.
When the mushrooms are just cooked, add in the cooked and fluffy rice, MSG or ajinomoto, pepper powder, tomato ketchup, and soya sauce.
Toss well. Add green of spring onions (finely chopped),chopped coriander, lime juice and toss once.
Serve with any type of barbecue dish on side.
You could always make a variety of fried rice with different variations in taste and ingredients. They are generally very simple to prepare, takes hardly few ingredients, can be eaten on its own, yet is very enticing to eat. Bell peppers are amazingly very versatile vegetable which blends well with other vegetables, mushrooms and meats.
When cooked in stir-fries and fried rice, they have an awesome crunchy feel on bite and fantastic flavor to savor to delight our palate. They are just comforting and refreshing fruits that also makes its presence felt when added to salads. Bell peppers are highly healthy to eat vegetable, low in saturated fat, cholesterol and sodium.
They are high in dietary fibers and good source of many minerals like potassium, manganese, thiamin, riboflavin etc. They are considered best for maintaining optimum health and weight loss. They are also best known for their antioxidant properties.
Apart from bell peppers, fresh mushrooms have earthy flavors, slightly nutty with hints of pepper. They provide with good health benefits as it contains nutrients like potassium, copper and niacin. Their unique taste and flavor could make any dish a delicacy to eat.
Do try this startling, colorful, flavorful and delectable fried rice where kids would surely grab to eat more and would find joy and smiles on relishing this dish. For making more healthy, nutritious and aromatic rice preparations, do click on: www.vahrehvah.com
My rating: 4 stars: ★★★★☆ 1 review(s)
You could always reach me at my below links:
My Cooking Videos Indian Recipes Indian Food Regional Indian Cuisines VahChef Sanjay Thumma
Enjoy Cooking and always remember that: "VahrehVah is all about inspiring others to cook"!