Every thing about PAV BHAJI | Vahrehvah :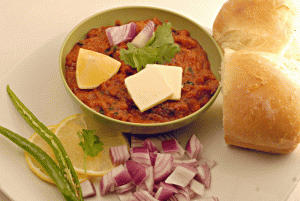 Pav
is a famous street food available in
Mumbai
and also other
metropolitans' cities of India.
Pav
means small
savory bread.
It is hand-sized or smaller domed shaped with a flat bottom.
Pav
is eaten with a
bhajji
prepared of a
potato based curry
garnishes with
coriander
and
chopped onions. Pav
is also commonly known as the
basic buns.
To make the
Pav
the
method
is same of making a
basic bread recipe.
It is made using the all-purpose
flour
or
maida, sugar, yeast
and
butter. A pav
or
bun
can be of any shape and size but here the pav would be a small round size shaped ball. For making the
pav
dough firstly you need to take the dried yeast (it's usually a form of instant yeast) to make it active.
That helps in giving a nice
puffiness
and
softness
to the pav or bun. The yeast is commonly used as a leavening agent in
baking bread
and bakery products where it converts the
fermentable sugars present
in the dough into carbon dioxide and ethanol. Normally rapid rise yeast is used in helping it dissolve faster in dough and provide greater
carbon dioxide
ouput to allow faster rising.
Add dry yeast to
sugar
and
mix,
than add luke warm water and mix. To it add little salt and mix. Take all purpose flour or maida and mix the sugar-yeast water and mix the flour. Knead the dough well till it becomes soft dough. Add butter and knead again. Cover it with a plastic sheet and keep it aside for
45 minutes
to
1 hour
and allow rising.
Summary: simple bread used to make pavbajji ,now you can make it at home
Ingredients:
butter - 7 - tsp
maida (allpurpose flour) - 7 - cup
salt - 1 - tsp
sugar - 1 - tsp
water warm - 3 1/2 - cup
yeast( dryquick action) - 7 - grams
Instructions:
Dissolve yeast and sugar in the warm water and let stand five minutes, until bubbly.add salt and mix with the flourKnead dough on a floured surface until smooth, springy and elastic, about 10 minutes. Place bread dough in greased bowl, turning to grease top. Cover and let rise until double, 1 hour.Punch down dough. On floured surface, Place the rolls as shown , on greased cookie sheet sprinkled with flour. Cover and let rise until doubled, 45 minutes to an hour.Bake at 400f for 20-30 minutes, until the bread is deep golden brown and sounds hollow when tapped with fingers. Remove from cookie sheet and let cool.coat it with oil or butter
Cooking time (duration): 25
Diet type: Vegetarian
Number of servings (yield): 4
Meal type: snack
My rating: 4 stars: ★★★★☆ 1 review(s)
Recipe by
Vahchef
.
After an hour the size of the dough doubles. Again knead or punch the dough well. Take a non stick baking tray sprinkle some maida over it. Make small balls of the dough in circular motion to give a nice smoothness on the top and place it in the baking tray. Place all the pav and brush the top of the pav with beaten egg mixture or milk (if you don't eat egg) to give a nice glaze and color on the top of the pav. Bake and remove.
Pav bhajji is like by one and all, from kids to the oldies. It is a complete meal. It is always best to make fresh pav at home and enjoy eating. Do try this recipe and enjoy it with a nice delicious bhajji (curry). Watch live cooking of Pav Bread at:
https://www.vahrehvah.com/pav-bread-for-pavbajji