Every thing about Fat Free Butter Chicken | Vahrehvah :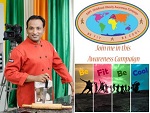 Butter Chicken is an exceptional yummy, finger-licking non-vegetarian dish that originated from the Punjab state. This is a popular dish all over the world mainly for its authentic unique and delectable taste. Butter Chicken has been an instant hit through the years that comes straight from the Punjabi kitchen.
A simple dish easy to prepare butter chicken with no fat and cholesterol! This traditional Butter Chicken is also commonly known as Murgh Makhani and is influenced from the Mughlai cuisine. Butter chicken is often served with naan, roti, paratha or steamed rice.
This dish is one of India's most famous dishes and generally features in most of the restaurant's menu. The name of the dish itself tells all about the dish, tender succulent pieces of chicken are gently cooked in a rich and creamy tomato based sauce. The taste of this dish is unique and truly a delicious taste having cravings to eat more.
As most of the Doctors/ Nutritionist talk about eating healthy food, less salt, no fat, no cholesterol etc etc, I wish to show you all an brilliant way of cooking this butter chicken without fat but still tastes extremely good and yum. This recipe is absolutely easy to prepare, has no butter, fat or oil, yet taste exceptional with fantastic flavours, color, aroma and texture.
For preparing this fat free butter chicken, firstly boil little water in a sauce pot or vessel and add ginger garlic paste and allow cooking till raw flavors are gone. Add chopped onion, tomatoes, green chillies, cashew nuts, chili powder, coriander powder, raisins, yogurt and salt. Add little more water and allow cooking for 15 minutes over low flame for 15 mins by closing the lid.
Later make a paste of this mixture. In another pan, heat water and add lean chicken meat pieces, garam masala, salt and cook for about 4-5 mins by closing the lid. Add the tomato paste, mix well and cook for another 10 minutes.
Finally drizzle some kasuri methi, mix well and serve with any type of phulkas. Butter Chicken is yet another marvelous invention in Indian cooking towards achieving a greater stratum of world class delicacies and making style changes in your cooking methods will make a nutritious dish to eat.
Now days it is very important that we all should aim to eat a wide range of fruits and vegetables, complex carbohydrates, lean protein, fiber and good fats. Meat is mostly high in saturated fat, unhealthy type of fat that can raise your blood cholesterol, hence to minimize fat content, the best way is to choose lean cuts of meat, poultry and mainly opt for breast meat over dark meat in poultry.
Remove skin from poultry before cooking and trim off all the visible fat. A slight change in the style of cooking and making the right food choices will keep you fit and healthy. There are various essential health benefits of eating chicken but cooking the chicken in a healthy way is one of the most important part to enjoy all its benefits.
Lean meat is a good source of protein with low fat content hence has low calorie content. Lean meats are popularly eaten amongst people following a low calorie or low fat diets. Poultry is a good source of selenium, vitamins B3 and B6 and choline. Meat, poultry and fish provide a number of nutrients including protein, iron and zinc.
Animal protein is 'complete', which means that it contains the nine essential amino acids that can't be made by the human body. Proteins are made up of building blocks called amino acids, which are used to make enzymes, hormones and antibodies. Proteins also have other functions, for example, to help build bone and hair. Hence choose healthy food options, eat the right balanced meal and always
Be Fit. Be Cool!
Listed below are few of my favourite Chicken dishes, do try and enjoy its exotic taste and flavors:
You could always reach me at my website for more amazing nutritious and healthy recipes at: www.vahrehvah.com
You could also follow this campaign to gain knowledge on some special features and advices from eminent doctors from AAPI (American Association of Physicians of Indian Origin) and also get to know of healthy recipes and diets from popular Chefs that you and your family can relish and enjoy staying fit and strong.
To follow, do click on: https://www.facebook.com/AAPIChildhoodObesity
Enjoy healthy eating and Be Fit. Be Cool!