Every thing about methi chicken,methi chicken recipe,methi chicken curry,kasoori methi chicken. :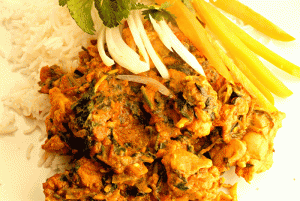 Methi Chicken
is one of the most popular delicious dishes from the
Hyderabadi cuisine
. Methi Chicken or Murgh methi is a dish prepared with
chicken
combined with fresh methi (fenugreek) leaves. It is the distinct flavor of the fresh methi that gives a unique taste and enhances the flavor to the chicken.
The aroma of the dish is very
aromatic
and
intoxicating
. Methi chicken is
protein
enriched chicken cooked with fresh methi leaves rich in calcium, potassium and iron. It's a healthy dish, looks beautiful and tastes
delicious
. Normally fresh fenugreek leaves are best but if not available they also use the
Kasoori methi
(dried fenugreek leaves) to prepare the Methi chicken.
Kasuri Methi
(Fenugreek) is a popular
spice of Middle East, Asia
and especially in
India. Kasuri Methi leaves
are generally used for flavoring purpose. The dry Kasuri Methi leaves have very sweet and pleasant odor which makes it so popular.
Kasuri Methi seed
is also used as
spice
.
Sweet
smell of
Fenugreek leave
makes
Chicken delicious
.
In some part of India the fresh Kasuri Methi leaves are also used as
vegetables
like spinach.
Fenugreek green
is usually cooked combined with
potatoes
or spinach and eaten with
Roti, Naan
(flatbread) or
rice
. It is a very popular curry cooked in the major sub-continental region of India and Pakistan and is usually eaten boiled in China, and central and
Western Asia.
Many of us may be unfamiliar with
fenugreek
and its
health benefits,
but it is quite common in Indian cooking.
Fenugreek
is used as both an
herb
(fresh fenugreek leaves) and also as a spice (fenugreek seeds). The leaves have a wonderful and unique flavor. Known as "methi" in India, these small leaves have a very slight bitter flavor and a
fragrant aroma
. The seeds are used in the preparation of
Indian pickles, spice
mixtures
(masalas)
and
curry pastes
.Fenugreek seeds are also known to aid in the
digestion process
.
There are variety of dishes prepared by the methi leaves (fenugreek leaves). Few of the popular ones are the
Methi Paratha
,
Aloo Methi
,
Methi Chaman
hariyali etc.
Methi chicken
is an outright delicious dish caramelized with onions along with whisked curd and spices to form a creamy base. It's an ideal dish for a party fare during
lunch
or
dinner
.
To prepare the
Methi Chicken
, heat oil in a pan add
cumin ,onion
and cook till
golden brown,
add
turmeric
,
ginger garlic paste
, add
tomatoes
, chilli powder, coriander powder, and whisked curd and cook covered till well cooked. Add methi leaves, chicken and cook till the
sauce
is thick.
Add coriander leaves
and garam masala powder. Best when service with hot
rice
or
naan.
Remember to pick just the
fenugreek leaves
and discard all the stems for preparing this dish.
Fenugreek
(Methi) provide a tangy flavor and powerful curry scent to the
dish
.
Fenugreek
is a very common herb used in most
Indian cuisines
. This herb has many
health benefits
. The seeds of this
fenugreek
are also used for several ayurveda and medicinal purposes like lowering
cholesterol
and
mouth
ulcers.
Fenugreeks
are
rich in protein
, vitamins
and
minerals. Fenugreek proves
to be a very good agent in reducing
bad cholesterol
from the body. It purifies blood and helps in flushing out the harmful toxins. Fenugreek seeds are useful in improving memory power too. This herb is very effective in losing weight. The fiber in fenugreek fills the stomach, even when consumed in a little amount. They help prevent wrinkles, blackheads, pimples, dryness and rashes. Not only does fenugreek help prevent hair loss, it helps preventing dandruff, keeps the hair lice free and make it
black
and
shiny.
Summary: chicken cooked with fresh fenugreek leaves , in Indian curry
Ingredients:
chicken thigh meat - 1 1/2 - lbs
chilli pdr - 0
chopped coriander leaves - 0
coriander pdr - 0
cumin - 0
curd (yogurt) - 0
garam masala pdr - 0
ginger garlic paste - 0
gr chilli - 0
methi leaves(fresh) - 2 - bunch
onion small - 2 - number
salt - 0
toamto - 3 - number
turmeric - 0
Instructions:
heat oil in a pan add cumin ,onion and cook till golden brownadd turmeric , ginger garlic paste add tomatoes ,chilli pdr,coriander pdr, and curd and cook covered till well cooked add methi leaves ,chicken and cook till the sauce is thick add coriander leaves and garam masala pdr and serve hot with rice or naan with cold curd as accopaniment
Cooking time (duration): 25
Number of servings (yield): 4
Meal type: lunch
My rating: 5 stars: ★★★★★ 1 review(s)
Do prepare this dish and gain all the benefits of this herb to keep your family healthy. Watch the video on making of Methi chicken at:
https://www.vahrehvah.com/methi-chicken-recipe