Every thing about HYDERABADI SWEET LASSI | Vahrehvah :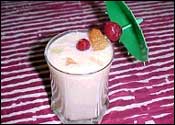 Lassi
means
buttermilk.
Yoghurt whisked with adding water and few spices makes a good lassi. You can have lassi either with salt or sugar according to your taste and liking. Yoghurt as such is
highly nutritious
rich in
protein, calcium, vitamin
B6
and
vitamin B12
. Yoghurt is best used for preventing
antibiotic-associated diarrhea.
It is also believed to promote good gum health because of the effect of lactic acid present in yoghurt.
Dieticians advise to drink low fat yoghurt or
buttermilk
to help in weight loss especially due to the calcium in yoghurt.
Lassi
or buttermilk is the best natural summer coolant beverage to be had better than the aerated drinks. Lassi originated from the
Indian
subcontinent and is the
staple drink of Punjab.
The
sweet lassi
can be flavored adding rosewater, grape juice concentrate or any other sweetner to create an awesome drink.
Hyderabadi sweet lassi
is a special drink from the
streets of Hyderabad.
Its very popular drink had mostly during ramzan season and summers. It's a special lassi adding flavoring of
Roohafza.
Rooh Afza is a concentrated drink formulated by Hakeem Hafiz Abdul Majeed and manufactured by the companies founded by him and his sons,
Hamdard
(Wakf)
Laboratories, India since 1906
and
Hamdard
(Waqf)
Laboratories, Pakistan, since 1948.
It is also made in
Bangladesh
by
Hamdard Laboratories
(WAQF) Bangladesh.
Roohafza
is a rose flavored drink that contains extracts from different
plants
and
fruits.
It has a complex flavor. Its original formulation is prepared from the extracts of Herbs, fruits, vegetables, flowers and roots.
Roohafza
is a great alternative for any other sweetner drink.
Roohafza
is traditionally made in preparation for breaking the fast during
Ramadan
(holy month of fasting). Ideally it is the best
drink
to consume after a long day fast as it supplies energy to the empty stomach.
Roohafza
also helps to open you appetite and helps in digestion. A glass full of lassi with
roohafza rejuvenates
and makes you feel fresh.
Roohafza
can either be addeed to milk or
yoghurt
and had.
Summary: lassi from the streets of Hyderabad
Ingredients:
curd - 2 - cups
Roohafza - 0 - as needed
sugar - 0 - as needed
water - 0 - as needed
Instructions:
Take curd in a bowl wisk the curd then add sugar,water as needed mix well. Pour in a glass and add roohafza to it and serve.
Cooking time (duration): 25
Number of servings (yield): 2
My rating: 4 stars: ★★★★☆ 1 review(s)
Recipe by
Vahchef
.
Roohafza has a viscous concentrate that smells like a melted cherry lollipop and when added with milk or yoghurt smells like a perfume. But it is dominated with rose flavor. Roohafza can be taken or prepared in various ways as you desire.
You can add in milk and made a great milkshake or make a nice lassi topping ice-cream or have with chilled water or soda. Do try this recipe and rejuvenate your system while you are back home from the scorching heat or a tiresome long day work.
Click here and watch the video: