Every thing about MANGO LASSI | Vahrehvah :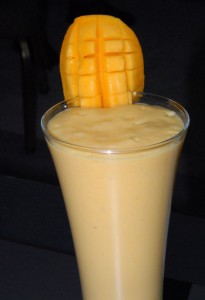 Mango lassi
is a true summer cooler that replenishes your mind and soul on a long hot day work.
Mango lassi
is a very simple traditional north
Indian beverage.
It is widely available in most of the
restaurants
in
India, Pakistan, UK, Malaysia
and
Singapore.
It is prepared with combination of just
three ingredients
the
mango, sugar
and
yoghurt.
Normally you find
Lassi
a very common drink in the
Punjab region
and made just of
yoghurt, water
and
sugar
blended and
served cold. Mangoes
are popularly called as the king of
all fruits
. Indian mango
is the only tree commonly cultivated in many tropical and subtropical regions, and its
fruit
is distributed essentially world-wide.
We can prepare a variety of dishes like
juices, smoothies, ice cream, fruit bars
and
sweet
and
spicy chilli chutney.
In
Central America
and
India, mango
is either eaten
green mixed
with
salt, vinegar, black pepper
and
hot sauce,
or
ripe
in
various
forms.
Summary: LASSI MADE WITH MANGOES
Ingredients:
2 - Cup - CURD
1 - Number -Mango
1 - to taste - SUGAR
Instructions:
IN A BLENDER ADD MANGO CUT INTO SMALL CUBES BLEND THEN ADD SUGAR BLEND AGAIN.
NOW ADD CURD IF REQUIRED ADD MILK OR WATER BLEND AND SERVE.
Cooking time (duration): 25
Diet type: Vegetarian
Number of servings (yield): 2
My rating: 4 stars: ★★★★☆ 1 review(s)
Pieces of mango can be mashed and used as a topping on ice cream or blended with milk and ice as milkshakes. Mango may be used as a topping to shaved ice along with condensed milk. The fruit pulp is high in prebiotic dietary fiber, vitamin C, polyphenols and provitamin A carotenoids.
Mango contains essential vitamins and dietary minerals Same ways the Yoghurt is rich in potassium, calcium, protein and B vitamins, including B-12. Yoghurt is one of those foods that you can eat to enhance your HCL production thus improving your digestion, vitamin and mineral absorption, and your body's general well being.
Thus this Mango lassi would make a healthy and luscious drink. The process of preparing the Mango lassi is very simple. You need to take some mango cut pieces or you can also use mango pulp. Add sugar to it and blend both of them well. Add yoghurt and blend again. Remember that the yoghurt is not too sour. If the yoghurt is too sour, you can add little milk to compensate the sourness. Pour it in a tall glass and serve it chilled. Mango lassi is a combination of sweet and sour taste. Try and enjoy the delicious Indian traditional beverage.