Every thing about GAVVALU–SWEET SHELLS | Vahrehvah :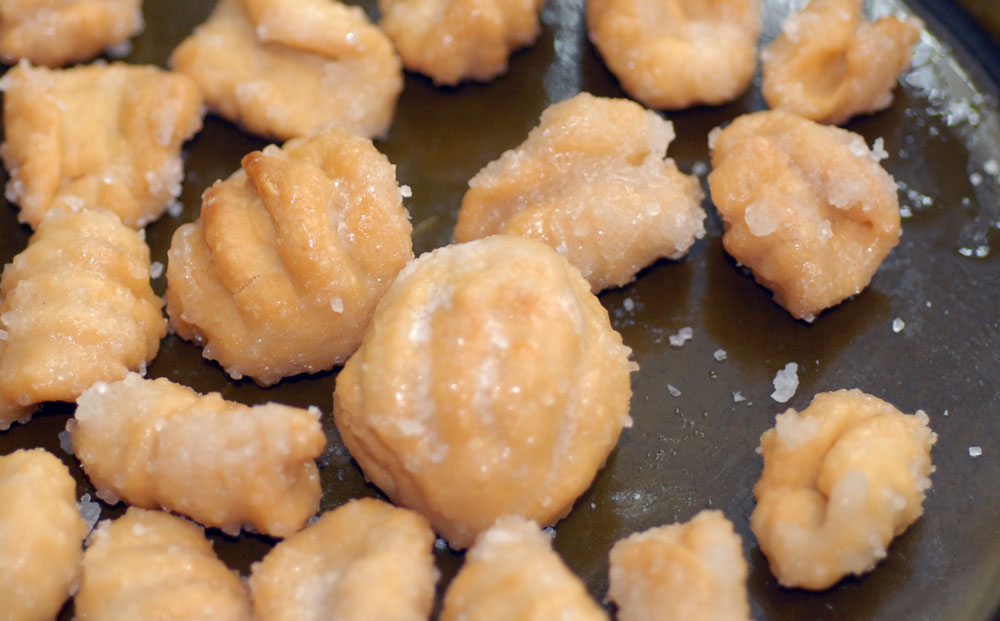 Gavvalu
means
shells
and this sweet is shell shaped traditional
sweet
made in
Andhra Pradesh.
Earlier our grandparent's days, most of the
sweets
and
savory
were prepared at home. These were done basically to make in hygienic conditions,
nutritious
and
economical
too. But in modern India, we find in most of houses that both parents working to catch up with the fast paced life, hence not much time to
cook
anything
special
But these
types of sweets
do not take much time for cooking as they are easy to prepare.
Gavvalu
is a sweet made of all purpose
flour
(maida),
ghee
and little water fried and mixed in
sugar syrup
. Firstly put the required quantity of maida in a bowl and add a pinch of salt. It is said that if a pinch of salt is added to any sweet it enhances the sweet
flavor
.
Add ghee
or butter or oil and mix well to form
crumbles
.
When you mix well and form nice crumbles the
Gavvulu
would be
crispy
at the outer side and soft inside. It will also give nice texture. Add little water and knead to form a tight dough as you make for the
chapati
or
puri
dough. Make small roundels from the prepared dough. To make the
gavvalu
(shell shape) you need to have a
grooved
plate or wooden
gavvalu peeta.
You can also use a new
comb
or the
fork
.
The best would be the fork as it would be available in everybody's house. Flatten the small roundel of dough and slightly press them over the fork and roll to form the shape of shell and remove from the fork and place aside. Once all the
gavvalu
or shell shaped are formed,
heat oil
in a
pan
and
deep fry
the
gavvalus.
Deep fry on a low or medium flame so that the inner side of the
gavvalu
is
fried
well. Fry till it turns a nice
golden color.
Remove and keep aside. Now take
sugar
in a
pan
add a very little water and cook till it becomes double string sugar syrup. Once done add the fried
gavvalus
to the
sugar
syrup mix well and shift it to a plate. Once the sugar syrup
cools down
they get
crystallized
and stick to the
gavvalus.
Cool and store in
airtight box
. Tha gavvalu gives a nice doughy taste.
Gavvalu
can be eaten
during snack time
or these types of
sweets
are normally prepared during
festival
seaons and eaten as time pass snack while burning crackers or flying kites. Kids even put them in their pant pockets and run to the ground to play and keep eating in between.
This
sweet would fascinate
the kids because of the shell shape of the
sweet.
Do prepare this as it can be made in less time and store them for kids especially during holiday they would love eating gavvalu.
Gavvalu
are a sort of
candy sweet
. Watch the video and learn making of Gavvalu at:
Summary: shells made with maida flour and sugar
Ingredients:
Ghee - 2 - tbsp
maida - 2 - cup
oil - 1 - to fry
salt - 1 - pinch
sugar - 1 - cup
water - 2 - tbsp
Instructions:
Take a bowl pour maida into it add ghee and mix well.Now add water to make dough, the dough should not be too hard or soft. Take a Fork turn back side, then take a small piece of dough into hand and press at the back side of the fork and remove oppsite direction repeat the same way for all the dough. keep the shells a side.
Now take a pan add oil for fry add the shells into the oil and deep fry till light golden brown colour fry in a low flame. once it is done remove from oil and keep it a side. Now take another pan add sugar and little water and let it boil till you get a thick consistency and remove from the flame. Add the fried shells to the sugar syrup once the sugar sticks to shells transfer these shells into another plate.
Cooking time (duration): 25
Diet type: Vegetarian
Number of servings (yield): 4
Meal type: snack
My rating: 5 stars: ★★★★★ 1 review(s)
Recipe by
Vahchef
.
https://www.vahrehvah.com/sweet-shells-gavalu