Every thing about Mixed Vegetable Khichdi | Vahrehvah, khichdi recipe, abudana khichdi, khichdi recipe, gujarati khichdi recipe, sabudana khichdi recipe, dal khichdi recipe :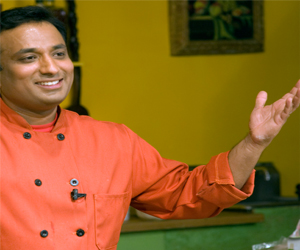 Khichdi
is a traditional Indian dish commonly made with rice, lentils and various vegetables. It is easy to make, delicious and nutritious. It is a main dish usually served with yogurt, raita and other sided dishes.
Khichadi
also commonly known as
khichdi
or
kichari
which is one of the most comfort and bland food for all the people on a diet spree.
Kichadi
is a combination of all the natural ingredients without fat and many spices.
It's just made of rice, lentils, and all fresh greens available, fresh herbs and cooked together to give a nice plain dish. As a simple way of providing reasonably balanced diet, it is probably very ancient. Khichadi is identifiable from the writings of Afanasiy Nikitin, a Russian adventurer who travelled to the Indian subcontinent in the 15th century. Khichadi is a very popular dish in eastern, northern and western states of India.
The dish is commonly called as
Khichhuri
in the states of
Gujarat
,
Maharashtra
and
Bengal
as is widely prepared in many houses.
Khichadi
can be either prepared plain with just rice and lentils or else is cooked by adding all variety of vegetables such as
cauliflower
, potato, beans and green peas to make it more nutritious and healthy.
In Bengal the khichhuri is cooked as a rather rich and delectable delicacy but whereas it is cooked very differently in North and Western India - a very plain dish that is normally bland taste and a healthy diet food for people when sick. Khichadi is also the first solid that babies are introduced to. Rice and lentils are simmered till mushy, seasoned with turmeric and salt and fed to infants to introduce them to "adult" food.
It is also a favorite campfire food owing to the convenience of being able to cook Khichadi in a single simmering pot. Once upon a time Khichadi was a poor man's food, that's when two time meal was not accessible with the low food budget, but now this dish has also become one of the choicest dish to the rich due to its nutritional values and can also be made as delicious adding with choicest vegetables simmered with a plethora of lentils and studded with nuts.
Khichadi is popularly known as the complete one-pot balanced meal. The rice provides the carbohydrates; lentils provide the protein, the vegetables - vitamins, minerals & fiber, ghee - the right amount of calories and fat (which can also be optional). In India, there are as many recipes for Khichadi as per the individual's choice. It can be spicy or plain, made with a combination of 2-5 lentils or single lentil.
This dish is usually recommended by the ayurvedic practitioners and is also said to be the nature cure food prepared with less spice and no fat. Presently it is also advised by the modern medical practitioners to eat this dish post surgery as it's a bland diet and easy to digest too. In the coastal region of Western Maharashtra, another form of Khichadi is popularly made with prawns.
Traditionally,
khichdi
is eaten with
kadhi,
a savory curry made with a yoghurt base, but it works well with anything that is strongly flavored or spicy as the
khichdi
itself is mild.
Mixed
Vegetable
Khichadi
is truly a simple satisfying and
wholesome perfect comfort
food and a great life saver on days when you have no patience to try exotic or different dishes or have no time to make the course meal.
There are lots of different variations of cooking the
Khichadi
. The basic recipe is actually that with rice and lentils cooked together. The
masalas
and
vegetables
added vary from family to family, depending on what they prefer. The accompaniments also vary, Parsis have it with a prawn dish,
Bengalis
have a selection of fried vegetables, while some just prefer it with a dollop of
yoghurt
or
raita
and some pickle.
To prepare the Mix Vegetables Kichadi, firstly wash the rice, lentils and vegetables separately and keep it aside. Take a rice cooker and rice, lentils, peanuts, chopped cauliflower, onion, ladies finger, snake gourd, ridgegourd, carrot, beans, , tomato, all green leafy vegetables (can use 3 to 4 varieties like the spinach, fenugreek leaves etc),coriander leave, mint, green chillies, curry leaves, garlic, green peas salt and water.
Now close the rice cooker and let it cook. Remove once the button comes to warm and serve this dish with raitha. The best way of make a wonderful Mix Vegetable Khichadi is to view the video at:
https://www.vahrehvah.com/mix-vegetable-kitchidi-mama-slim-line
If you wish to spice up this khichdi you could cut 3 to 4 green chillies (small Indian or thai variety) or according to taste. You can also use white basmati rice instead of brown basmati. Basmati rice creates gas in some cases, so its best to use plain white rice.
Khichri is traditionally served on cold, rainy days or when you are unwell. It is highly nutritious – packed full of proteins and carbohydrates and the goodness of the vegetables you choose to add to it. It is also very low in masalas, when compared to a standard curry or pulao, so very easy on the taste buds and the tummy.
Perfect for a hangover! Khichadi is a nourishing and delicious dish; it is one of the staples of the Ayurvedic diet and the only food that is served during the 5-8 week detoxification and rejuvenation therapy of panchakarma.
Khichadi
is delicious sprinkled with grated unsweetened coconut, sea salt, chopped cilantro, and a squeeze of lime.
Khichadi
is suitable for all body types and, as it does not aggravate
Vata
,
Pitta
or
Kapha,
it allows the body to rest and recuperate during illness or intensive therapy.
Mix Vegetable Kitchidi mama Slim-line
Author :
Recipe of
Ingredient Name
Unit
Quantity
beans

---

cup

---

1/2

---

Califlower

---

cup

---

1

---

carrot

---

cup

---

1

---

coriander leaves

---

cup

---

1/2

---

curry leaves

---

number

---

5

---

fengreek leaves and any leafy vegetabales

---

cup

---

1

---

garlic

---

number

---

6

---

green chillies

---

number

---

5

---

green peas

---

cup

---

1/2

---

ladyfingers

---

cup

---

1

---

lentil dal any kind of lentils

---

cup

---

1

---

mint

---

cup

---

1/2

---

Onion

---

number

---

1

---

Palak leaves (washed and finely chopped)

---

cup

---

1

---

pea nut

---

cup

---

3/4

---

RICE

---

cup

---

1

---

Ridgegourd

---

cup

---

1

---

salt

---

to taste

---

as per taste

---

snake gourd

---

cup

---

1/2

---

tomato

---

cup

---

1

---

water

---

---

As needed

---
Wash all the vegetables and keep it a side. Take rice cooker add rice,lentils,peanuts,califlower,onion,ladies finger,snake gourd,ridgegourd,carrot,green peas,beans,tomato,all green leafy vegetables,coriander leave,mint,green chillies,curry leaves,garlic,salt and water. Now on the rice cooker let it cook. Remove once then button comes to warm and serve this dish with raitha.