Every thing about VEGETABLE PULAO | Vahrehvah :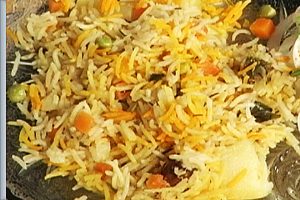 Vegetable Pulao
is my all time family favorite! It is one of the best savior dishes in many kitchens during many occasions like dropping of sudden guests at home or feeling like eating something different from the normal routine meal etc.
It's a complete balanced dish that can be eaten by its own or accompanied with cucumber or mixed
raita
. Originally
Vegetable
pulao
is a
north Indian
vegetarian dish that can be easily prepared in the rice cookers within minutes. This dish can also be served with any
chicken
,
mutton
or veg side dish or simply enjoyed with
raita
,
pickle
and
papad
.
Vegetable Pulao
is a versatile dish that can give way to a lot of room for your own innovation. There is no set rule or method in preparing this dish. You can use either one or any number of
vegetables
, make it spicy or mild easily molding it to suit your mood for the day.
There are many who are novice about the difference between the pulao and the
biryani
.
Pulao
is a dish that is combined with all the ingredients like vegetables, meat, spices cooked together to make the dish but in case of biryani they are half cooked separately and put in layers and cooked on dum (slow process of cooking over a very slow flame).
The
pulaos
are the main contender in the comfort food and extremely high on demand in many restaurants. Along with the pulao follow a variety of spiced rice like the
tomato
rice
,
lemon rice
,
mango rice
etc. Pulao is a very popular main course dish that trance all with its aromatic vibes it creates while preparing the dish with profound fascination and also has made its way in the façade of
Indian cuisine
.
An absolutely alluring dish that makes you strongly craves to devour only the comforting foods in the days to follow. The roots of the
recipe
of the vegetable pulao is strongly attached to the
north
Indian
cuisine
and slowly moved across the threshold of south Indian cuisine leaving them too absolutely mesmerized with its heavenly aromatic fragrance that fills the whole areas with its subtle flavors.
I would sincerely suggest and advice that it is always best to make a healthy and nutritious vegetable pulao at home which is not either too over
cooked
or lightly cooked, too oily or too insipid and shall keep your culinary skills high.
For preparing this dish, firstly in a pan add some ghee in a pan and the whole garam masala (cardamom, cloves, cinnamon, shahi jeera, bay leaves, javitri) black peppercorns, black cumin, chopped onions and sauté till they are slightly colored, add salt and ginger garlic paste and sauté.
Add choppe green chillies, mint leaves, chopped cilantro, add a little chilli powder, cumin powder and coriander powder (optional). Add the cut potatoes, sauté the potatoes and add the remaining vegetable like
carrots
,
green
peas
.
Add small amount of yoghurt (optional) and sauté. Wash and soak the
basmati rice
for about 20 mins in the rice cooker and than add the above masala to the rice and mix well. Switch on the rice cooker and then allow cooking until the rice is soft.
When it's almost done lastly add little saffron color and wait till the
rice cooker
automatically switches off. The vegetable pulao is ready. To give that extra zing and crispiness to the pulao you can garnish it with roasted cashewnuts. This dish is truly a wonder dish with the natural earthy flavors of the herbs and spices that makes the dish very delicious and sumptuous. Do check out making this very simple dish at:
https://www.vahrehvah.com/Veg+Pulao+:3143
Vegetable pulao is a nutritious dish and a complete balanced meal in one package.
Veg Pulao

Reviews
Author :
Published On : Sep 26, 2007
Preparation Time:

7 min

Recipe Type : Rices
Cooking Time :

25 min

Standing Time : 5-8 mins
Yield :

4 (4 servings)

Ingredient : Rice

Description : Veg Pulao Recipe made easy, learn how to make Veg Pulao Recipes at home.
Ingredient Name
Unit
Quantity
Basmati Rice

---

cup

---

2

---

Beans

---

cup

---

1

---

carrot

---

cup

---

1/2

---

Cashewnut optional

---

number

---

10

---

Cilantro/Coriander leaves

---

bunch

---

1/4

---

curd

---

tsp

---

3

---

Fresh ginger

---

piece

---

1/4

---

Garam Masala (Cloves, Cinnamon, Bay leaves, Elaichi)

---

to taste

---

---

Garlic paste

---

tsp

---

1

---

Green Chillies

---

number

---

4

---

Green Peas

---

cup

---

1/2

---

Mint

---

bunch

---

1/2

---

oil

---

ml

---

20

---

Onion

---

number

---

1

---

potato

---

number

---

1

---

Salt

---

to taste

---

---

Saute the garam masala in ghee for about 3 minutes & let it cool.
Grind ingredients as shown and cook
put the rice soaked for 20 min in rice cooker.
In a heavy bottomed pan, add ghee & saute the onion for few minutes.
Add the vegetables one by one & salt & allow them to cook until they are soft adding little amount of water .
When the vegetables are cooked ,add the herbs & stir fry till the raw smell leaves.
Add the masala & the vegetables to the rice and mix.
swich on the rice cooker and write a love letter ,in the mean time pulao is ready
Garnish with roasted cahewnuts & mint leaves.

Serve this hot with & Cucumber Raitha. Happy cooking with vahrehvah!!!