Every thing about VEGETABLE SHAMI KABAB | Vahrehvah :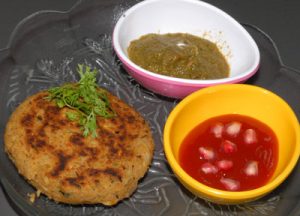 Shami kabab
is a very popular dish in
Pakistan
and
India.
The dish is actually prepared with
minced meat, ground chickpeas
and
spices.
A
luscious kabab
often garnished with
lemon juice
and sliced onions.
Shami
k
a
bab's originate from the
Nawabi banquet of Awadh cuisine.
Now you will be watching the
vegetarian
version of
shami kabab
called
Vegetable shami kabab
. It's a very delicious and
healthy kabab.
This
kabab
is a combination of
raw plantains, channa dal
(dried garbanzo beans) and spices stuffed with
paneer
(cottage cheese),
pomegranate seeds
and
coriander.
You can also use
Khoya
instead of
paneer.
It's an excellent stuffing that gives the spicy flavors from the
plantain-channa dal
mixture and sweetness of the pomegranate seeds. A true mixed flavors of hot and sweet tastes.
Vegetable shami kabab
is an excellent snack that can be eaten any time.
Vegetable shami kabab
is easy to prepare and does not consume much fat. It is a good option for the
vegetarians
and can be prepared by boiling the raw plantains skin and mash them. Remember to take out the boiled
plantains
from water after it gets cooked or else the
plantain
would absorb the water and you would not get the right consistency to mix for preparing
kabab
.
Take a pan, put a little oil add
shahjeera, chopped onions, salt, green chillies, ginger garlic paste, turmeric, mint leaves
and fry. Add the boiled and cooked channa dal mix well add red chilli powder, coriander powder, cumin powder, garam masala powder and mix well again. Add the mashed boiled plantains, chopped coriander and amchur powder and mix well. Mash this mixture well.
Summary: Kabab made with raw banana
Ingredients:
amchur powder - 0 - pinch
Banana raw - 1 - number
Channa dal boiled - 1/2 - cup
chat masala - 0 - pinch
coriander leaves - 1 - bunch
coriander powder - 1/2 - tsp
cumin powder - 1/2 - tsp
garama masala - 0 - pinch
khoya - 1/2 -cup
oil - 0 - as needed
pomegranate seeds - 2 - tbsp
red chilli powder -0 - as needed
salt - 0 - as needed
Instructions:
Boil banana in water remove the skin and mash.
Take a pan add oil, onion,zeera, chopped onions,salt, green chillis chopped, ginger galic paste, turmuric, mint leaves, now add channa dal mix well.add red chilli powder, coriander powder, cumin powder,garam masala powder mix well again.
Now add mashed Banana, coriander, amchur powder mix well switch off the flame and mash this mixture again.
For stuffing take paneer or khoya add onion, salt, pomegranate coriander leaves, chilli powder, chat masala mix well.
Take both the mixture and divide into equal poration stuff the khoya mixture in banana mixture make into samll dumplings or shapes as required.
Take a pan add little butter or oil fry both the side till golden brown colour.
Cooking time (duration): 25
Diet type: Vegetarian
Number of servings (yield): 4
My rating: 4 stars: ★★★★☆ 1 review(s)
Recipe by
Vahchef
.
For the stuffing take paneer or khoya add onions, salt, pomegranate seeds, coriander leaves, chilli powder, chaat masala and mix well. Form them into small lime size balls or dumplings and keep aside. Take the plantain-channa dal mixture and make small flatten rounds and stuff with the paneer mixture and seal the ends. Shallow fry them on a tawa on both sides till it turns golden brown color. Vegetable shami kabab can be accompanied with mint or coriander chutney. Its an healthy dish giving you all the nutritions and proteins required.
This recipe mainly focuses on all the vegetarian who would like to eat this delicious Vegetable shami kabab and will not miss out on anything. Rush and grab the recipe from: