Every thing about SARSON KA SAAG | Vahrehvah :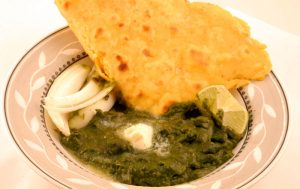 Sarron Da Saag
or
Sarson ka saag
is a popular curry in the Punjab region of India and Pakistan made from
mustard
leaves
(
sarson
) and spices. This is typically a
Punjabi dish
tastes really delicious with
Makki
ki
Roti
(Indian maize flat bread) and
dollops
of
fresh
butter
(unprocessed white butter) or best with
pure
desi
ghee
(clarified butter).
This dish originated from the Punjab region of India and is popular all over
Northern
India
. During mustard growing season, green fields of
Punjab
and
North
India
are covered with '
sarson
ke
phool
', the yellow mustard flowers.
Green
leaves
of mustard are used like
spinach
and made into a delicious
sag/saag.
It is served by many '
dhabas
', the roadside
truckers
' restaurants.
Sarson Ka Saag
with
Makke Di Roti
is the
passion of Punjab
on a platter bringing out their culinary delights. However sarson ka saag is a world famous delicacy that activates one's taste buds and leaves you asking for more.
Sarson ka saag
is luscious
green gravy,
made out of
mustard seeds.
Some
spinach
(called
palak
in
Punjabi)
can be added for added color and thickening the dish, this would alter the taste though. Cooked with
masalas
and enhanced with oil seasoning, this dish is relished countrywide.
Indian mustard greens
have stems with tough skins, which, along with the leaves, must be chopped very fine, and steamed till tender. Milder tasting spinach is added to the
mustard greens
to reduce bitterness. To prepare the
Sarson
ka
saag
, wash and clean the
mustard greens
and
spinach.
Cut them finely and put them in a pan filled with water.
Boil
and
blend
to a
fine paste.
Do not cover the pan with a lid; it will retain the green color of the leaves. Once cooked blend them to a paste. Heat ghee in a pan, add onions and cook over a slow flame, add ginger garlic paste, corn flour and mix well. Add the
paste of greens, chopped green chillies
and cook well. Finish of with a
pinch of garam masala
.
Serve hot with
Makki
ki
roti
.
Usually in winter months,
Sarson
ka
saag
is the most beloved dish to the rural Punjab. Some times even radish greens, bits of radish, even turnips is added to the dish as this mellows the pungency of mustard. Locally, corn flour is available only in the winter months.
Rotis
made with the flour of freshly harvested yellow corn are delicious.
A
dollop
of unsalted white butter is mandatory on the roti; a half
dollop
doesn't hurt in the
saag
as well. There's a time for a low-fat diet, and winter is not that. In Punjab, you will find
makki
ki
roti
and
sarson
ka
saag
being served as a breakfast at every other household. The duo makes a heavy breakfast as well as a sumptuous lunch. It is a special treat for the people living in the northern parts of India, where wheat is one of the staple foods.
Talking about
sarson ka saag
, the lip-smacking side dish is a reservoir of nutrients, because it is prepared by the combination of mustard greens, spinach and bathua (white goose-foot), three varieties of green leafy veggies that are rich in Vitamin A. The recipe also satisfies the taste buds, since it is finally topped with a block of fresh,
homemade butter. Mustard greens
are mostly confined to
North
just as the corn. The fascinating mustard fields in the north with hues of yellow and green are quite an exhilarating sight,
Mustard greens
(Sarson)
and
makke ki roti
makes a lovable evergreen duo.
Mustard
greens
are the leaves of the mustard plant,
Brassica
juncea
.
Mustard greens
come in a host of varieties that each has distinct characteristics. Adding these brilliant leaves to your food preparations will certainly enhance the beauty of any meal. Most mustard greens are actually emerald green in color, while some are not green at all but rather shades of dark red or deep purple.
The leaves of mustard greens can have either a crumpled or flat texture and may have either toothed scalloped, frilled, or lacey edges.
Mustard
greens
originated in the Himalayan region of India and have been grown and consumed for more than
5,000 years
. Mustard greens are a not able
vegetable
in many
different
cuisines
, ranging from
Chinese
to
Southern American.
India, Nepal, China
and
Japan
are among the leading producers of mustard greens, a significant
amount of mustard greens
are grown in the United States as well.
Mustard
greens
are an excellent source of many vitamins including
vitamin
K
,
vitamin
A
(in the form of beta-carotene),
vitamin
C
,
folate
,
and
vitamin
E
.
They are also an excellent source of the minerals manganese and calcium as well as dietary fiber. They are also a very good source of
potassium, vitamin
B6
,
protein, copper
,
phosphorus
,
iron
,
vitamin
B2
, and
magnesium
. Mustard greens are a good source of
vitamin
B1
and
vitamin
B3
(niacin). By providing us with a diverse array of antioxidant nutrients, mustard greens help lower our cancer risk by helping us avoid chronic and unwanted oxidative stress.
Summary: Sarson Ka Sag Recipe made easy, learn how to make Sarson Ka Sag Recipes at home.
Ingredients:
corn flour - 2 - tbsp
garam masala pdr - 1 - Pinch
garlic - 4 - clove
ghee - 60 - grams
ginger small - 1 - piece
gr chilli - 1 - tsp
mustard leaves - 750 - grams
onions - 50 - grams
salt - 1 - to taste
spinach - 250 - grams
Instructions:
Wash and clean mustard greens and spinach.
Cut finely and put into a pan with a cup of water and boil and blend to a fine paste.
Heat ghee add onions and Cook over a very slow fire till done .add ginger garlic paste.
Add corn flour and the paste of greens , gr chilli cooke well and finish of with garam masala.
Serve hot with makki ki roti .
Cooking time (duration): 25
Diet type: Vegetarian
Number of servings (yield): 4
Meal type: breakfast
My rating: 5 stars: ★★★★★ 1 review(s)
Recipe by
Vahchef
.
Like Punjabis, the end result is attractive and vibrant - in a nutshell, wholesome food experience. Give it a try!