Every thing about Vitamin E Rich Foods | Vahrehvah :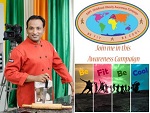 Most of us love to have a flawless smooth delicate and shining skin. This list actually is endless but how do we actually protect our skin and what gives us all this. Yeah! It's none other than vitamin E which actually gives us the goodness of having a healthy skin condition.
Vitamin E is a fat soluble vitamin with antioxidant properties. It naturally exists in eight diverse forms. Vitamin E is extremely crucial for our health as it helps in fighting and preventing several health and skin related problems. Infused with antioxidant properties, vitamin E aids in maintaining a youthful glow by warding off free radicals which is because of the presence of the useful fats in vitamin E which also offers the benefits of sun protection.
In addition to this, it also works in maintaining a healthier liver, kidneys and heart. Since vitamin E cannot be produced naturally by the human body, we need to consume from external sources like natural sources from various foods or synthetic supplements.
Benefits from vitamin E: Vitamin E offers innumerable skin care and health benefits. Some of which include: Vitamin E protects our body cells from damage. By eating vitamin E rich foods help in delaying aging process and also prevents from skin pigmentation.
Vitamin E moisturizes and nourishes your skin & hair and giving you a complete revitalized look. It also protects the body from environmental damage and accelerates the healing process while stimulating the generation of new cells. Vitamin E also has several weight loss benefits.
Foods rich in Vitamin E: There are a variety of useful and healthy foods enriched with vitamin E that we all must look to include in our daily diet. Some of the popular foods are Almonds, Mustard Greens, Spinach, Plant oils like sunflower oil, canola oil, soya bean oil, groundnut oil etc, wheat germ, Hazel nuts, Pine nuts, Avocado, Parsley, Olives, Papaya etc.
Almonds: Whenever you think of vitamin E, the first thought that we get is almonds. They are considered the richest natural sources of vitamin E. It is said that a 100 gms of almonds provides about 26.2 mg of vitamin E. Apart from eating raw almonds, almond milk (badam milk) or almond oil are also rich sources of vitamin E.
Mustard Greens: Mustard greens are commonly known as sarson and is widely used in Punjabi cuisine. It is used in making the signature dish popularly known as sarson ka saag and makkai ki roti. One cup of chopped mustard greens contains about 1.13 mg of essential vitamin E along with other nutrients.
Raw Seeds: Raw seeds like sesame seeds, pumpkin seeds or sunflower are excellent sources of vitamin E. They are extensively used in garnishing over salads or soups or also used for flavouring or thickening exotic spicy gravies. About ¼ cup of sunflower seeds will supply 90.5% of your daily vitamin E requirement.
Spinach: Spinach is a power packed complete health booster loaded with vitamin E and many other antioxidants, essential nutrients and vitamins. It is one of the best super green veggies that must be added in your daily diet. ½ cup of cooking spinach provides about 16% of the daily value.
Canola oil: Most vegetable oils should be replaced with healthier alternatives with more vitamin E content. One tablespoon of canola oil contains about 2.44 mg of vitamin E.
Papaya: This fruit is extremely and benefitting source of vitamin E although it is commonly known as vitamin C rich fruit. Papaya is a remarkable fruit which can be added into making of fresh salads, fruit smoothies etc. One fresh papaya can offer about 17% of daily requirement of vitamin E.
Olives: This is an amazing fruit and is a great way of getting your daily vitamin E. You could cleverly add them into making of mouth-watering pizzas, salads, pastas etc. I am sure this would have been an eye opener having learnt where vitamin E comes from, what happens when we don't have enough of this vitamin in our body. Do include these wonderful and appetizing vitamin E rich foods and eat wise and healthy always. It is important that we eat a rich whole meal full of all nutrients in moderate levels.
You could always reach me at my website for more amazing nutritious and healthy recipes at: www.vahrehvah.com You could also follow this campaign to gain knowledge on some special features and advices from eminent doctors from AAPI (American Association of Physicians of Indian Origin) and also get to know of healthy recipes and diets from popular Chefs that you and your family can relish and enjoy staying fit and strong.
To follow, do click on: https://www.facebook.com/AAPIChildhoodObesity
Enjoy healthy eating and Be Fit. Be Cool!