Every thing about DAHI BHALLA | Vahrehvah :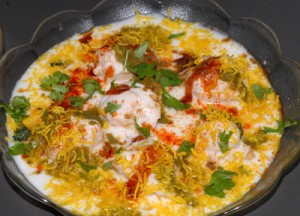 Indian Chaats
are the most popular food when you think of
Indian street foods.
A wide range of
chaats
from
bhel puri, pani puri, samosas, cutlets, chana ragadas
etc and not to forget the
Dahi bhallas
are some of the most irresistible flavorful appetizers available.
Dahi bhalla
is one of the most popular
chaat items in North India.
In South India, they are known as
Dahi vada
. Dahi bhalla
is often prepared for
parties, weddings, festivals.
Dahi bhalla
is prepared of fried black gram dumplings served with spicy yoghurt and few types of
chutney. Dahi bhalla
is more refreshing than the other
chaats
because of the combination of the sweetness of yoghurt and the
savory bhallas
that just melt away into the mouth giving a confused
sweet
and
salty
kick to the taste buds. You should give a definite try which would make you robust and bursting with energy eating the cold
Dahi bhallas.
Dahi bhalla
is a common appetizer from the
Indian cuisine.
The dish is a fried dish but is packed with nutrition if prepared with low fat yoghurt. Preparing the
dahi bhalla
is simple but you require patience and have the right consistency of the batter mixture for making the fried dumplings. Wash and soak the dal in water overnight. The next day, strain and grind the dal to a smooth paste. Whisk a pinch of salt into the batter. Heat oil, drop some batter in it and deep fry the dumplings until light golden color. Use raisins and cashew as stuffing. Once done drop the
bhallas
in hot water and leave it aside for 2 minutes. Drain squeezing out the water between the palms of your hands.
Whisk the yoghurt well adding little
sugar to taste.
To serve, place the
bhallas
on a plate and cover with yoghurt. Top them with some mint and
tamarind chutney
. Sprinkle red chilli powder,
sev,
cumin powder
and garnish with
chopped coriander leaves, red chilli powder
and
chaat masala
.
As this dish is prepared of Black gram, it has many
health benefits
.
It is beneficial and valuable in the treatment of diseases like diabetes, Nervous disorders like nervous weakness, weakness of memory, schizophrenia, hysteria, Digestive system disorders like dyspepsia, gastric, dysentery, diarrhea, Rheumatic afflictions like contracted knee, stiff shoulder.
Yoghurt being exceptionally rich in nutrients like
calcium, protein, riboflavin, vitamin B12
and
vitamin B6;
it contributes a lot in the prevention and elimination of a number of human ailments and sicknesses
Dahi Bhalla
is often a special food during the
Holi festival.
Though usually,
dahi
bhallas are tastier at the roadside
Chaatwala's shop,
it is not possible to bring that yummy taste at home but it can be made at par with them by using roasted
cummin powder, chat masala,
black salt,
tamarind chutney
and
red chilli powder.
They can be prepared in many variations according your taste and liking.
Like some love their
curds
to be sweet, others like it
salty. Gujarati's
have a
sweet
and
spicy
flavor and use liberal amounts of curds. The
Punjabi
version is salty and the
vadas
are just submerged in the
curds
but not floating in it. But for a good yummy taste, it is best to mix up and prepare.
Do prepare the
Dahi bhalla
at home and give the feel of the street food to attract your children to eat this delicious dish.
Summary: Vada dipped in yogurt
Ingredients:
cashew nuts -15 - number
chat masala - 1 -tsp
chopped coriander leaves - tbsp
green chillli, deseeded & sliverred -1- number
mint chutney - 1 - to taste
oil to fry - 1 - to fry
raisins - 15 to 20 - number
red chilli powderr - 1 - tsp
roasted cumin powder - 1 - tsp
salt -1- to taste
sev - as needed - to taste
tamarind chutney - 1 -to taste
urad dal - 1 - cup
yogurt sweet - 2 - cup
Instructions:
Wash and soak the dal in cold water overnight. Next day, strain and grind to a smooth paste. Whisk into the batter 1/2 tsp salt,Heat oil Drop tablespoons of batter in it and fry until light golden.use raisins and cashew as stuffingPut the bhallas in hot water. Leave for 2 minutes. Drain, squeezing out the water between the palm of your hands.Whisk the yoghurt well with sugar as to taste.To serve, place the bhallas on a plate and cover with yoghurt. Drizzle mint chutney and tamarind chutney. Sprinkle red chilli powder,sev, cumin powder. Garnish with coriander leaves red chilli powder, chatmasala.
Cooking time (duration): 25
Number of servings (yield): 4
Meal type: snack
My rating: 5 stars: ★★★★★ 1 review(s)