Every thing about DAHI PURI or DHAI PURI or PURI | Vahrehvah :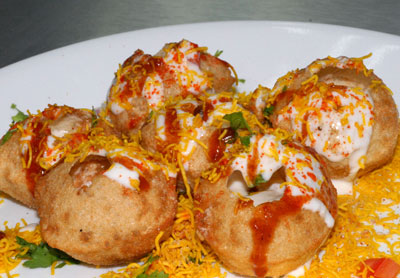 Dahi Puri
, the thought makes you run to the typical street chaat vendor nearby. After panipuri,
Dahi puri
is one of the most sought after dishes people vouch for.
Dahi puri
is a yummy savory chaat with mixed flavors.
Dahi
means curd or
yoghurt.
Puri
is the same that is used for
panipuri.
Whisked
sweet
dahi mixed with sev and many other ingredients are poured into the
puri
and eaten.
Though a bit high in calories, kids and elders love to eat
Dahi puri
after indulging their taste buds with the fiery
pani puri
as the
sweet curd
in the dahi puri would soothe their taste buds. Yummmmm! It is always best to eat
Dahi puri
immediately once it is prepared so that you can get the crispiness of the
puri
or else they become
soggy
very fast.
What makes a dahi puri truly divine is obviously the humble curds which are made daily in every
Indian
household. The
curds
have to be fresh and chilled and most importantly of the right consistency, neither too thick nor thin. If your
curds
are not very fresh, add a few tablespoons of milk to cut down the sharp acidic taste. The
Dahi puri
originates from the city of
Mumbai
and is also popular in other metros.
To prepare the
Dahi
puris firstly keep all your stuffings (like the boiled
potatoes,
boiled peas), sev and sauces ready. Take
yoghurt
add a little sugar and whisk well and place aside. Take a small plate and spread sev like a bed so that the puris would stand on them. Break the top center of the
round puri
and fill half with few small cut
potato
pieces, boiled peas, little sweet curd, few drops of sweet
chutney
, green chutney, finely chopped onions, cucumber, coriander leaves,
add sev and fill it more with sweet curd. Stuff all the puris and place them on the plate.
Over it pour little sweet curd, sweet chutney, sprinkle some chilli powder, chaat masala, fresh coriander leaves and sprinkle sev and serve immediately.
Summary: Chaat puries made with sweet curd
Ingredients:
chat masala - 0 - as needed
coriander leaves - 0 - as needed
cucumber - 0 - as needed
green chutney - 0 - as needed
onion chopped - 1 - number
potato - 1 - number
Puries - 5 - number
red chilli powder - 0 - as needed
sev - 0 - as needed
sweet chutney - 0 - as needed
sweet curd - 1 - cup
tomatos - 1 - number
White peas - 0 - as needed
Instructions:
Take a plate add sev, then arrange puries add potato, peas, sweet curd, sweet chutney,green chutney, sev, coriander leaves.
Top it of again with sweet curd, sweet chutney, green chutney, red chilli powder,chat masala, sev, coriander leaves and serve.
Cooking time (duration): 25
Diet type: Vegetarian
Number of servings (yield): 4
Meal type: snack
My rating: 5 stars: ★★★★★ 1 review(s)
Recipe by
Vahchef
.
When you eat pick up one whole stuffed puri, open your mouth as wide as you can and stuff the poori in your mouth. Close your eyes and savor the mixture of tastes. Vah! There would be an explosion of mixed flavors exploding into your mouth. You will feel the crispiness of the crushed puri, spicy and tangy tastes of the sauces lingering into your mouth. It's a real divine and heavenly feeling. A person can easily eat about 6 to 8 Dahi puri and would wish to skip his food.
It is a popular party dish. Be it a kid's party or an elder's party, Dahi poori and pani puri are in demand. It is a perfect end to your Indian street food meal. On demand do prepare it for your family and enjoy the thrill on their faces while eating the Dahi puri.