Every thing about MA-CHOLE KI DAL KA PARANTHA | Vahrehvah :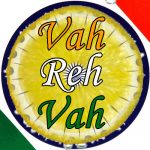 Ma-chole ki dal ka parantha is a popular lentil preparation roti dish made of wheat flour mixed with Ma chole ki dal, a dal preparation made with split black urad dal with skin and chana dal (chole dal) and spices. It is a delicious creamy dal recipe and a favorite dish amongst all Punjabi preparations and is a variation to the traditional popular dish, dal makhani.
Ma-chole ki dal ka parantha is smooth, yummy and eaten with pickle or curd (yoghurt) or raita. The exceptional combination of dals (i.e. split black urad dal and chana dal) compliments well together, giving out their best flavors and an appetizing creamy texture to this well known traditional dish.
In Punjabi, 'Maa' is whole urad dal, generally we use split urad dal with skin for this preparation and 'chole ki dal' is the chana dal (split gram dal). This is a classic dal preparation and one of the treasured Punjabi recipes that you feel like eating again and again if tried once.
Dals have a special place in Indian cooking is liked by one and all. It is one of the staple foods that are cooked ever day in our daily meal. They are a variety of dals one can prepare with and an array of dal recipes that goes region wise. Few of the very commonly prepared dal recipes everyday is: Dal fry, Dal Makhani, Cucumber Dal, Sukhi Dal, Dalma, Chana dal dhokla, Dal kachori, Mango Dal, Palak dal (cooked with spinach) and Sambar etc.
The earthy taste of dal is heavenly and absolutely addictive. Ma-chole ki dal ka parantha is usually made with the leftover dal mixed with whole wheat flour to make soft stiff dough and rolled into thick rotis and fried on the hot tawa with a dollop of butter or ghee which enhances the taste and makes it aromatic.
Ma-chole ki dal is a very simple dish having a multitude of tastes. The tanginess from tomatoes, spice of the chilies and the fresh aroma from the garam masala, all combined together makes it rich, creamy taste and topped with dollops of butter and cream. Finally to it adding the slight bitter taste of kasuri methi makes it the most perfect dish ever.
No wonder, the most ferocious looking Punjabi go soft onto their knees when one mentions of Ma-chole ki dal ka parantha. It is tempting, mouth watering, stomach filling and nutritious dish packed with good amount of proteins, vitamins and minerals. Parantha also known as paratha or parauntha is Indian flat bread that originated in the Indian subcontinent.
Paratha is an amalagamation of the words 'parat' and 'atta' which literally means layers of cooked dough. Parantha, roti, chapatti, naan are different varieties of unleavened flat breads in Indian cuisine, Pakistani cuisine and is made by pan frying whole wheat dough on tava.
The paratha dough usually contains ghee or cooking oil which is also layered on the freshly prepared paratha. A paratha especially stuffed one can be eaten simply with just a blob of butter spread on top with chutney, pickle and yoghurt.
Parathas are usually stuffed with vegetables such as boiled potatoes (Aloo paratha), leafy vegetables (palak paratha or methi roti), radish (mooli ka paratha), cauliflower (gobi ka paratha) or paneer. The paratha can be round, heptagonal, square or triangular in shape.
The procedure for preparing these appetizing Ma-chole ki dal ka parantha is: mix all ingredients (Ma-chole ki dal, whole wheat flour and salt to taste) and knead for 2 minutes. Make a big roll, cover and let it stand for 15 minutes. Tapping a little water, knead dough again for 3 minutes.
Make a big roll again. Make a ball and roll into the size of a puri. Spread little ghee all over and bring all edges together. Press to flatten. With the help of a little dry flour roll into thin round pancake.
On a hot tava, place a parantha and fry. Brown it spreading ghee on one side and then turn and repeat on the other side until done. Kids would love eating delicious and tasty parathas. They are also easy to carry for lunch as they are stomach filling.
To try this recipe, do click on the below link for detailed recipe:
https://www.vahrehvah.com/ma-chole-ki-dal-ka-parantha-recipe
Parantha or paratha is an important part of a traditional Indian breakfast. It basically originated in North India and then was accepted in different parts of the Indian subcontinent. In North India, it is also eaten during lunch or dinner time and makes a whole balanced meal.
Chana dal being one of the vital ingredients in this delicious dish is high in fiber and help to lower cholesterol. Apart from having a great taste and creamy texture, it can be a good food for people with diabetes because it has a low glycemic index. Chickpeas are a helpful source of zinc, folate, calcium and protein. Chickpeas are low in fat and most of it is polyunsaturated.