Every thing about BANANA BREAD | Vahrehvah :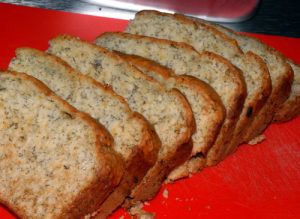 Banana bread
is a
breakfast dish
or dessert made with ripened
bananas,
all purpose flour,
baking powder
and other
ingredients. Banana
bread is a oven baked
bread
or
cake,
moistened and flavored with
bananas. Banana bread
can be made in many variations to make it more
healthy
and
nutrient. Banana bread
is one of the favorite
vegan dishes
for all the
vegetarian cake
lovers as you can prepare this dish without
eggs.
Banana bread
is often
moist, sweet, cake-like
bread which typically uses baking soda as the leavening agent instead of yeast; however, there are some
banana bread recipes
that are traditional-style yeast
breads. Banana
is the main ingredient in this dish.
Bananas
were discovered in India. The
Greeks knew
about them in the
4th century BC
where the army of
Alexander
the Great discovered them in India.
There were
banana
fritters for Napoleon in his last days, but
bananas
were still very rare in those days, because they were so very hard to export because transport was so slow and bananas can definitely rot if brought to that point. In the
1830s, bananas
were seen in certain
New York market
places, in
1870,
Cook brought
bananas
into the
Boston harbor,
but it wasn't until the invention of refrigeration that people really started buying bananas. According to history we know for sure that sweet breads were eaten by both the Greeks and the Romans.
Bananas
were used a lot in recipes around the 20
th
century. Before that banana was just well, a fruit.
The
Banana originated
in
Southeast Asia
(probably on the
Malaysian
archipelago)
and spread from
India,
to the
Philippines, New Guinea
etc. It was cultivated by about
2,000
B.C
., but these people were rice eaters, and wheat was unknown there, so
breads
were not part of their
culture. Banana bread
recipes for the most part are '
quick breads
' that is leavened with baking powder.
Quick breads
(chemically leavened) which most
banana bread recipes
were not developed until the end of the
18th century.
This took place in
America,
where pearlash was discovered.
Pearlash
is a refined form of
potash,
and it
produces carbon dioxide gas
in dough. In
'American Cookery' (1796
- the first
American cook book)
Amelia Simmons published recipes using pearlash, and exported some
8,000 tons
to
Europe
in
1792.
(But she has no specific recipe for
banana bread) Baking powder
was not
developed commercially
until
1857
(phosphate baking powder).
So the
banana bread
as we know it (a quick bread) could have been first made in
America
in the
18th century
when housewives discovered pearlash as a chemical leavening agent. The cookbooks of the
1960s
added to its popularity listed multiple variations of
bread
that added
fruits, nuts, chocolate chips
and even
extra bananas.
Now there are other variations also where they add raisins and nutmeg for
cinnamon.
According to a research study it is said that
Bananas
are an excellent,
low-fat, cholesterol-free
source of dietary fi
b
er,
potassium, vitamin
C,
vitamin
B6
and
manganese.
The amount of
potassium
and fiber in bananas may help combat atherosclerosis, or the hardening of arteries that can lead to heart attack and stroke. Potassium also helps lower blood pressure. Butter is an excellent source of calcium and vitamin D but high in saturated fat and cholesterol. To prepare the Banana bread, take a bowl and mash the bananas with a potato masher to a paste.
Add little vanilla essence to the
banana
paste. In another bowl add
butter,
a
pinch salt, sugar
and
mix well.
Now add the
banana
mixture to the
butter sugar
mix and mix well. In another bowl add maida, baking soda and baking powder and mix well. Add this mixture to the banana and butter mix well to form a nice batter.
Mix nicely to avoid lumps. Grease a
cake
mould with
butter, sprinkle
all purpose flour (maida) into it and preheat the oven. Pour this batter into the mould and bake the bread.
Banana bread
is an easy, moist and delicious basic
banana bread
recipe
where whole family will enjoy anytime. Do try this delicious
banana
bread
and you can also use the recipe and instructions found in this video at:
Banana Bread
Author : Admin
Published On : Jun 10, 2009
Preparation Time: 7 min
Recipe Type : Breads
Cooking Time : 25 min
Standing Time : 5-8 mins
Yield : 4 (4 servings)
Ingredient : Banana
4.0 Stars based on 294 Reviews
Description : My fav banana bread with out eggs
Recipe of
Ingredient Name
Unit
Quantity
baking powder

---

tsp

---

1

---

Bananas

---

number

---

4

---

butter salted or white butter

---

grams

---

100

---

Maida

---

cup

---

4

---

salt

---

0

---

as needed

---

soda baking

---

tsp

---

1

---

sugar

---

cup

---

1 1/2

---

vanila essance

---

0

---

few drops

---
Take a bowl mash bananas make a paste add vanila essance. In another bowl add butter, salt pinch ,sugar mix well, now add the banana mixture mix well again. In another bowl add maida, baking soda, baking powder mix well Now add maida mixture to Banana and butter mixture mix well to avoide lumps. Take a cake mould grease the tray with butter and sprinkle maida pour the batter into it and preheat the oven 325 F cook for 45 mins.