Every thing about MANGO KALAKAND | Vahrehvah :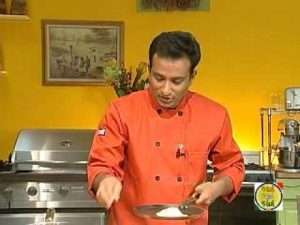 Kalakand
is one of the most popular milk based
Indian sweet
which is just mouth watering fresh and rich in taste. There would not be a single person who would not like the kalakand.
Kids
enjoy eating kalakand as it's smooth, soft, and delicious.
Kalakand
as made out of
milk
is nutritious high in proteins and also contains nuts.
To give the extra zing to the Kalakand innovative and creative Kalakand's are prepared in giving an extra flavor by adding
mango
pulp or
chocolates
and named the mango kalakand or
chocolate kalakand
. Mango Kalakand is simple and easy to make at home.
It's just made of curdled milk and
mango pulp
with other ingredients to make an awesome luscious
aromatic
milk fudge. It's a popular
sweet
made at every Indian home especially during any auspicious ceremony. This is just mouth watering
sweet
for anyone. It is very rich in taste and a visual and appetizing treat to all those who are very fond of
mangoes.
Mangoes
are one of those fruits which are liked by one and all. In
India,
there are certain important festivals when they prepare only the milk based sweets. One such festival is the
Krishnashtami
when we celebrate the birthday of Lord Krishna.
Lord Krishna
in his childhood days was a very mischievous child with boundless energy and was very fond of milk and
butter.
Hence on this auspicious day, milk base sweets like
Kalakand,
pala kova
,
pal
payasam
are prepared as offering or neivedhyam to the lord. Traditionally the basic Kalakand is an exquisite milk-based sweet preparation is an interesting process made with concentrated milk called
khoya
and fresh
paneer
called chhana are mixed and simmered together with sugar to a luxurious thick, firmness.
The mixture is cooled, then cut to squares and garnished with pistachios. Depending on the khoya-chhana ratio and sugar variety, basic kalakand is of 2 types. Milky-white kalakand: Three parts chhana and one part khoya together simmered slowly with white sugar for hours. Continuous stirring and low heat cooking result in a pure-white kalakand.
It's a labor intensive process and usually you will find this milky-white kalakand at
Indian
sweet shops.
Coral-pink kalakand where
Chhana and Khoya are in 1:1 or 1:3 ratio and unprocessed, old-world style red sugar (turbinado) sweetens and colors the kalakand. This is the type we prepare at our home. Both varieties taste equally delicious.
Mango pulp
is added to the kalakand to enhance the flavor of the kalakand and this gives a twist to the traditional kalakand. Kalakand or
Qalaqand
in urdu owes its origin to the milk rich Braj area of western
Uttar Pradesh.
It is a very popular sweet meat in north and east India including Jharkhand, Orissa and Bengal and is reputed for its exquisite taste. The term qand in
qalaqand
is derived from the Arabic language which means sweets.
To prepare this awesome variation with mango pulp, firstly in a pan add sugar, mango pulp and mix well, add the curdled
milk
(without water) and whisk the mixture nicely till all the lumps are mashes.
Cook on a medium heat. Once the mixture starts thickening add cardamom powder and chopped dry fruits like pistachio, cashew nuts, badam and pistachios and mix and cook well till the ghee oozes out.
That's when the Mango kalakand is ready. Transfer the mixture into a greased tray with ghee and keep aside to cool down for an hour. Cut them into equal squares. You can decorate the
Mango kalakand
square with silver foil on the top and sprinkle chopped nuts.
The main ingredient of making the Kalakand is the curdled milk or Chhana which is prepared by adding the milk in a pot and boil, once the milk starts to boil, reduce the heat.
Add the limejuice
(
lemon juice
)
and stir. Within minutes, you will see small clouds like white curds floating on top. Wait till they get bigger (if they don't, add some more limejuice and stir) and the whey below gets less milky. This process takes few minutes, so wait at least five minutes.
Switch off the heat and let it stand for few more minutes. Then pour the whole thing immediately into a clean muslin or cheese-cloth in a colander, over a sink. Gather the curds by twisting the cloth into a firm lump. The fresh
paneer
called chhana is ready.
Do prepare this Mango kalakand and offer it well decorated with lots of nuts to the Lord and enjoy this with family and friend.
Watch this video on making of the Mango Kalakand at:
Mango Kalakandh
Author :
Published On : May 25, 2009
Recipe Type : Desserts/Sweets
Standing Time : 5-8 mins
Ingredient : Mango
Recipe of
Ingredient Name
Unit
Quantity
dry fruits

---

cup

---

1

---

lemon juice

---

number

---

1

---

Mango pulp

---

cup

---

3

---

milk curdled

---

ml

---

3ltr

---

sugar

---

cup

---

3
I made this sweet with curdled milk, you can curdeled the milk by adding lemon juice. Take 3ltrs of milk in a bowl bring to boil then add lemon juice once milk curdled switch of the flame.Remove all excess water and keep it a side. In a pan add sugar,mango pulp mix well and add curdeled milk mix well again. keep mixing for 10 mins then add cashewnuts cook till ghee oozes out that when your kalakanis ready. Take a pan or cake dish grease with Ghee and pour this mixture, keep it a side for 1hr and cut into pieces.