Every thing about MANGO SHAKE | Vahrehvah :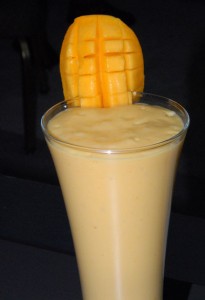 Wow!
Mango
has been one of my favorite fruits from my childhood. As
Andhra
is very famous for their
Banganpalli Mango
variety which is available in abundance during the mid May to Mid June season, it was always a treat to us as my mom used to make and keep the
Mango shake
ready when we used to return home from play.
That was one of the most refreshing moments as the
Mango shake
is utterly delicious and a perfect refreshing drink for the hot summer days. And usually
children
love the creamy sweet taste of this drink.
Banganpalli
is largely exported to other countries and has a unique
sweet
taste and is moderately juicy. This fruit is maize yellowish in color with shining skin and fibreless firm flesh. There are a variety of
Mangoes.
Culturally in
India,
the fruits and leaves of
mangoes
are ritually used as floral decorations at weddings, public celebrations and religious ceremonies.
Mango
is also the
national fruit of India, Pakistan
and the
Philippines
where as the
Mango
tree is the national tree of Bangladesh. Such is the importance given to
Mango.
It's popularly known as the King of the fruits. Mango shake is a very popular refreshing
beverage
made by most of us during the summer season.
Normally during the off season you can use the canned mango pulp to make this refreshing
beverage.
This mango shake is liked and consumed by people of all ages. You can also make this as a perfect drink for
breakfast
to start off the day refreshingly. For a simple Mango shake one just requires nice sweet ripe
mangoes
blended with little sugar and
milk
.
The
mangoes
that have
sweet
and deep colored flesh are best or else you can also use the food color. Any choice of
mangoes
of your choice can be used to make the Mango shake.
To prepare the
Mango shake
,
Cut the ripe
mangoes
and blend the mango pulp with a hand blender or mixer. Add
milk, sugar
and ice to the mango pulp and blend well once again. Pour the shake in a tall glass. You can decorate it few mango slices on the top or else put a scoop of ice cream and serve cold.
View making of this tempting luscious refreshing drink at:
A perfect mango shake should have an intense mango flavor and aroma, possess an incredibly deep natural yellow color, have the right consistency; a bit thick at the start (can be either ice cream or mango pieces) and later a bit thinner as the ice melts with the right amount of sweetness and should be ice cold on arrival.
Vah! Sounds amazing and mouth watering.
Mango
is rich in a variety of phytochemicals and nutrients. The pulp of this fruit is high in prebiotic dietary fiber,
vitamin
C
,
polyphenols
and
provitamin
A carotenoids.
Mangoes
are the most consumed fresh fruit in the world! Our love for this fruit is evident in its prevalence in folklore and anecdotes.
Babur, the first
Mughal emperor,
called it the
'finest fruit of Hindustan'.
The beautiful
mango
tree with its evergreen fronds was frequently featured in the
beautiful Kangra school Miniatures.
The beautiful
mango
is the inspiration for the ageless Indian motif, the
mango
motifs with temple borders are designed like golden or silver brocades which are very popular in
Southern India
usually weaved on the silk or pattu sarees.
Birbal, Emperor Akbar's witty advisor, and one of the
Navratans
(nine jewels) of his court was, but of course, a lover of
mangoes.
One warm summer day, the Emperor and Birbal were enjoying a repast of luscious
mangoes.
As they ate, the Emperor kept adding the stone and skins of the fruit he ate to the pile by Birbal. Once satiated, the Emperor remarked, "Why Birbal, you seem to have eaten more than I!" Birbal looked at the pile of the skins and stones and politely answered, "I do love the mango and have indeed, eaten a lot. But you seem to have polished off the skin and the stones as well!"
Mango Shake
Author : suhashi...
Published On : Jul 4, 2009
Preparation Time: 7 min
Recipe Type : Beverages
Cooking Time : 25 min
Standing Time : 5-8 mins
Yield : 4 (4 servings)
Ingredient : Mango
Recipe of
Ingredient Name
Unit
Quantity
ice cube

---

tbsp

---

1

---

Mango

---

tsp

---

1

---

Mango Pulp

---

cup

---

1/2

---

Milk

---

cup

---

1/2

---

Sugar

---

tsp

---

2

---

yellow food color ( if needed)

---

0

---

---

1) Blend the mango pulp well in a blender or mixer. 2) Add milk, Ice and sugar to the mango pulp and blend well once again. 3) Pour the shake in tall glasses. Put the mango pieces over it and serve cold.