Every thing about ragi dosa,ragi dosa recipe,ragi adai,ragi idli,recipe,ragi roti recipe. :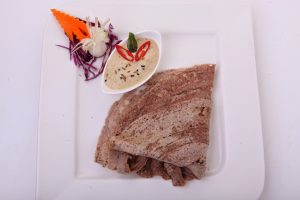 This is iron rich ragi dosa recipe served as a breakfast. Ragi Dosa is an awesome nutritionally healthy Indian crepe often made in southern India. Ragi dosa is a very simple crispy and soft crepe made with a mix of ragi flour (finger millet), rice flour, urad dal batter, beaten curd and baking soda which is mixed well giving a slight aeration to the batter to make them crisp, crunchy and soft. Ragi dosa is filled with a subtly spiced stuffing of finely chopped onions, green chillies, coriander leaves, sesame seeds, tomatoes and dash of lemon juice giving a zest to the mixture.
This is an extremely healthy and wholesome breakfast that will help sustain throughout the midday. A delicious and super nutritive dish full of carbs, proteins, and iron! Toasted and ground sesame seeds give a fantastic aroma and taste to the ragi dosa. Freshly grated coconut too gives a pleasant sweetness and unique taste to the dish.
Recipe: Ragi Dosa
Ingredients:
Ragi Flour (Finger Millet) - 1 cup
Rice flour - ¼ cup
Urad Dal, soak & grind to thick paste - ½ cup
Beaten Curd - ½ cup
Water - as required
Baking soda - ¼ tsp
Salt - to taste
Onion, sliced - 1 no
Green chillies, chopped - 2-3 nos
Coriander leaves, finely chopped - 1 bunch
Sesame seeds - 1 tbsp
Coconut, freshly grated - 2 tbsp
Tomato, chopped - 1 no
Lime juice - 1 no
Directions:
In a large bowl, add in the ragi flour, rice flour, urad dal paste, beaten curd and mix. Sprinkle some baking soda and mix well without lumps.
Add salt to taste and mix again until it comes to dosa batter consistency. Keep the batter aside.
In a plate, add sliced onions, finely chopped green chillies, coriander leaves, sesame seeds (soak in water and grind to coarse paste), freshly grated coconut, chopped tomatoes and lime juice. Mix all ingredients and keep aside.
Heat a non-stick tawa and when it gets hot, pour a ladle of the dosa batter and spread in circular motion all over the tawa.
Pour little oil on the sides of the dosa. Cover the dosa with a lid and allow cooking.
After few seconds, remove the lid and stuff with onion spices mix, fold the dosa and serve hot.
Serve hot with groundnut chutney or coconut chutney or any favorite chutney of your choice.
Ragi is commonly called by various names like ragi (in Kannada, Telugu and Hindi), Kodra (Himachal Pradesh), Mandia (Oriya), Taidalu (in Telangana region), Ariyam in Tamil etc. It is a traditional food plant in Africa and has the potential to improve nutrition, boost food security and support sustainable landcare.
Finger millets or ragi are mostly grown and consumed in Rajasthan, Karnataka, Andhra Pradesh, Tamil Nadu, Maharashtra and Goa. Ragi flour is often used in making flat breads (unleavened roti) and ragi dosa. In Andhra Pradesh, Ragi Sankati.
Ragi balls are eaten in morning with a chilli,onions, sambar or meat curry that help sustain throughout the whole day. The mudde which is prepared by cooking the Ragi flour with water to achieve dough like consistency is then rolled into 'balls' of desired size and consumed.
Ghee with Huli, Saaru, sambar or another chicken curry is generally served along with these balls. Often Pediatricians recommend finger-millet-based food for infants of six months and above because of its high nutritional content, especially Iron and calcium.
Home made Ragi malt happens to be one of the most popular infant food even to this day. Nutritionally speaking, millet flour bears some resemblance to wheat. A serving of the flour, judged as one third of a cup (35 grams) contains about four grams of protein, which is very close to wheat.
In some ways millet is much superior to wheat. A single serving has 15% of the US Recommended Daily Allowance (RDA) of iron, and is high in B vitamins, magnesium and potassium. It also has 12% of the US RDA of dietary fiber, which can make for a healthy alternative or addition to wheat.
Ragi is low in fat, most of which are unsaturated fats. Ragi is one of the best foods for diabetic patients. Do try this delicious and nutritious Ragi dosa which will naturally keep you fit and strong. It is one of the ideal healthy and appetizing breakfast dish for kids.
You could also watch out for many more healthy and nutritious dosa varieties at: www.vahrehvah.com
My rating: 4 stars: ★★★★☆ 1 review(s)
You could also reach me at my other below links: My Cooking Videos Indian Recipes Indian Food Regional Indian Cuisines VahChef Sanjay Thumma
Enjoy Cooking! Keep Smiling…