Every thing about EGG BURJI | Vahrehvah :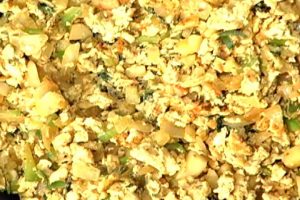 Yet another long day that passed away and on reaching home no food to eat. Just had some
bread
slices to do for my dinner. Hmmm….kept thinking what now to fill my starving belly? Immediately my thoughts drove me back to my college hostel days.
The non-vegetarian day…Oh! It used to regularly be the
Egg burji
or the
Anda burji
also popularly known as
Egg
podimas
. Too sophisticated names to spell. Ah! It's actually just the common scrambled eggs. Hahaha..What a big joke! Yes! The scrambled eggs or the egg burji one of the most versatile simple and fast to prepare dish for any human on earth.
The
Egg
burji is usually called a bachelor's dish that can be prepared as per your choice with less efforts & huge innovative ideas. Hence got down to fast check my fridge for all the leftover
veggies
that I had stocked and picked up potatoes,
carrots
,
tomatoes
,
green chillies
, fresh cilantro,
cheese
and finely chopped all of them.
Picked up few
eggs
and now just few mins to prepare this amazing multi colored yummy delicious Egg burji that can be easily
sandwiched
between the slices of toasted
bread
. Wow! Truly luscious and lip smacking! Egg can be cooked in many ways and of all Egg burji and fried eggs are my favorites.
This dish is one of the most popular and special because of the time it actually takes to prepare. A very convenient dish to make! The egg burji with
pav (bread)
is one of popular street cart food over many cities and also found prepared at railway platforms.
Egg burji, this is one of the things that I did with those
fresh eggs
because it would be a hard time for me folding those fluffy omelets which would lastly end up as scrambled eggs.
Interestingly sometimes I also tried making it a healthier and balanced meal by adding sausages or bacons or
mushrooms
which would really enhance the taste and flavors of the egg burji.
Who says eggs and pancakes are for breakfast alone? Lately, I've been on a
breakfast
-for-dinner kick, and it's made those meals so much easier. Scrambled Eggs with
Vegetables
take only minutes to prepare, it's cheap, and it's satisfying.
All you need to add is a bowl of soup and some
French bread,
and you've got a yummy, satisfying meal. Believe me, this egg burji recipe will totally give a colorful look and texture to a normal egg burji. Just take a pan add little oil. To it add cumin seeds, onions and little salt. Fry the
onions
well till translucent.
Add turmeric powder, pepper powder, cumin powder,
cheese
and all the veggies,
mushrooms
that you have at home and sauté them well till they are half cooked or tender. In a mixing bowl, beat and add eggs and whisk them well. Add the whisked egg mixture to the vegetable and
scramble
it till the egg is done. Garnish with cilantro and serve hot with
roti
or
rice
.
So if you have not tried making it this way then check right now and view making this dish at:
https://www.vahrehvah.com/indianfood/egg-burji
So isn't it nice to try the same thing in different ways sometimes just to break the monotony?! Go ahead and try this nutritious simple dish. Eggs are a good source of Protein and Vitamin D. The yolks do contain a lot of cholesterol; however the yolk contains tons of nutrients that are good for you. Tomato is a good source of Vitamins A and C.
Egg Burji

Reviews
Author :
Published On : Nov 8, 2007
Preparation Time:

7 min

Recipe Type : NonVeg-Main
Cooking Time :

25 min

Standing Time : 5-8 mins
Yield :

4 (4 servings)

Ingredient : Egg

Description : eggs scrambled for numerious tasty bites
Ingredient Name
Unit
Quantity
cumin powder

---

tsp

---

1/2

---

cumin seeds

---

tsp

---

1

---

eggs

---

number

---

6

---

Oil

---

tbsp

---

1

---

onion

---

cup

---

1

---

pepper powder

---

tsp

---

1

---

salt

---

---

as per taste

---

tomatoes

---

number

---

2

---

turemuric

---

pinch

---

pinch

---

you can all vegetables

---

cup

---

1

---

Take a pan add oil, cumin seeds,chopped onions,mix well,salt, turemric,pepper powder,cumin powder,potatos,cheese,tomatoes,coriander leaves mix well and cook till they are half cooked or tender. In a bowl mix eggs, add this mixture to the vegetables and scramble it and cook till the egg is done. serve this with roti or rice.