Every thing about SABUDANA UPMA | Vahrehvah :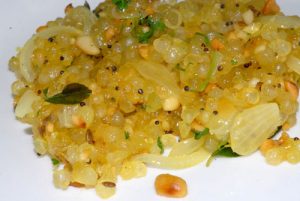 Sabudana upma
is a simple, easy to prepare and a
Maharashtrian
favorite snack.
Sabudana upma
is normally eaten during fasting days. Sabudana upma is a low fat dish and makes good for
breakfast
time or even snack time.
Sabudana
means
sago.
Sago is made from the starch extracted from the pith (center) of the sago palm stems. Sago or sabudana is in the shape of small globules or pearls.
There are a variety of dishes made from
Sabudana
like the
Sabudana payasam,
Sabudana Khichdi
,
Sabudana vade and many more.
Sabudana
is full of starch or carbohydrates and is great for a quick boost of energy, and hence often served in India for breaking fasts during religious festivals.
Sago
soup
is also great when you're sick because it gives you quick energy and is easy to digest.
According to
Indian medicine,
sago and rice have a cooling effect on the system; hence sago soup is given if you have excess bile (caused by excess body heat). Sabudana is just starch other than carbohydrates and low in fat and protein. Nutrition-wise,
sabudana
does not contain any minerals or vitamins and has very low amounts of calcium, iron, and fiber. However to compensate you can use ingredients like milk for making
Payasam
or vegetables and peanuts for preparing
Sabudana upma or khichdi
.
Summary: upma or khichidi made with sabudana - sago a popular breakfast dish from maharastra
Ingredients:
coriander leaves - 1 - bunch
cumin seeds - 2 - tsp
curry leaves - 1 - springs
green chilies - 3 to 4 - number
lemon juice - 1 -tsp
Mustard seeds - 1/2 - tsp
oil - 1 - tbsp
ONION - 1 - number
peanut powder - 1/2 - cup
sago (tapioca) - 2 - cup
salt - to taste
sugar ( optional) - 1 - tsp
urad wash - 1/2 - tsp
Instructions:
1. Soak sago in water for 3 hrs . Drain the water and keep it aside . sometimes the sago needs to be rinsed in a little bit of water).
In pan add oil, murstard seeds, cumin seeds, urad dal, onions salt, turmuric, chopped green chillies, curry leaves, mix well then add sago mix well and cook for 5min then add crushed peanuts and mix well and close it with a lid for 4min and lastly top it of with lime juice, and coriander.
serve hot
Cooking time (duration): 25
Diet type: Vegetarian
Number of servings (yield): 4
Meal type: breakfast
My rating: 4 stars: ★★★★☆ 1 review(s)
Recipe by
Vahchef
.
Sago powder can be used as a thickening agent in gravy dishes, and sago flour can be used to make flat-breads. Sago can be made into vadas and boiled and sun-dried and made into pappadums.
Do click this link and watch the method of preparing Sabudana Upma.