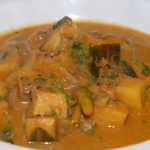 Yam pulusu or Kanda gadda pulusu is a relatively hot, fragrant and tangy curry that we often make at home. Elephant yam cooked in nice tangy and spicy tamarind sauce. If you're looking for something that'll wake up your taste buds and give your gastric juices a kick, then this is what you need.

There are many versions of this curry, you could even make it with just sorakaya pulusu, okra (bhendi pulusu) or baby brinjals (vankai pulusu) or arbi (chamagadda) pulusu. Pulusu means tamarind or sourness in telugu. The tomatoes as well as the tamarind deliver an extra punch and bring out all the wonderful aromas of the spices. Use ripe tomatoes to get the perfect red color in your pulusu. The yam pulusu goes very well with hot rice. The tanginess of the tamarind juice blended into the yam gives a amazing taste to the yam. Its almost taste like the fish pulusu for the vegetarians.

Yams are members of the Dioscoreae family and they are one of the oldest food plants known. They have been cultivated since 50,000 BC in Africa and Asia. They are underground tuber. Yams are one of the most popular and widely consumed foods all over the world. They play a staple role in the diets. They are long and cylindrical in shape, with rough, scaly exteriors. There are around 200 varieties of yams all around the world, which are usually available throughout the year, even though the best season for the cultivation of this vegetable is from the month of October to December.

The elephant yam can be described as an edible tuber, which is one of the most widely consumed food crops, mainly in the tropical regions. This tuber is called elephant yam because the plant that it is derived from is quite huge and resembles the foot of an elephant to a great extent. The highest consumption of the elephant yam is in Africa, followed by some Asian countries such as India. Although in the United States sweet potatoes are often mistaken for the elephant yam, the two are actually quite different, since they belong to two completely different plant families.

To prepare this popular dish from Andhra, firstly peel the yam and cut them into square pieces (medium sized). Take a pan add oil, dry red chillies, mustard seeds, fenugreek seeds, cumin seeds, green chillies, curry leaves, chopped onions and sauté them till onions turn golden brown color, then add turmeric, hing, ginger garlic paste, saute them and then add the cubes of yam and mix it well.

Now add water to it, red chilli powder, and coriander powder mix well and close it with a lid. Cook till the yam are soft (15min) , then add salt, tamarind juice, jaggery, sesame seed powder, coconut powder, let it come to boil or thick gravy then switch of the flame.

Finally add finely chopped coriander and serve with rice or roti. An amazing dish with lots proteins and vitamins! Do try this dish out and and watch the making of this dish at: https://www.vahrehvah.com/yam+cooked+with+tamarind+Pulusu+puli:6011

On the health and nutrition front, elephant yams are very high in carbs and are also good sources of proteins and certain vitamins. Elephant yam antioxidants make it a nutritious food to eat. Elephant yams have a unique nutritional profile and offer a number of significant health benefits. This makes the elephant yam a very potent food source when it comes to nutrition. It is also an excellent food source for those who are looking to lose weight. However, the elephant yam is a cooling food and so patients suffering from asthma, sinus infections, or a cold should avoid eating it.

Yams are rich in vitamin C.  Vitamin C is a powerful antioxidant and can help to slow down the aging process and prevent many diseases like cancer.  It is also important in promoting the absorption of iron, maintaining healthy skin, and protecting against infections. It also helps reduce irregular bowel movements & cure constipation. Yams contain complex carbohydrates and fiber, which deliver the goods gradually, slowing the rate at which their sugars are released and absorbed into the bloodstream. So they are very much useful for diabetic patients and are recommended as low glycemic index food.