Every thing about gutti vankaya kura recipe,andhra gutti vankaya kura recipe,gutti vankaya kura andhra style recipe. :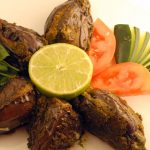 Gutti Vankai or Gutti Vankaya kura is the stuffed eggplant/ brinjal curry a very traditional delicacy from the Andhra cuisine. Andhra Pradesh has many special recipes in its place, but Gutti Vankai holds an iconic place amongst the entire recipes from the Andhra region.
Here is an excellent and old recipe made with Brinjal, the King of vegetables. Normally many get confused with the bagara baingan and gutti vankai kura. Both these dishes have their own unique taste and their recipes are totally different. Gutti vankai is a dry dish whereas bagara baingan is a gravy based dish made with brinjals.
The gutti vankai is be made with either the small purple brinjals or the small round green eggplants. But you need to make sure that the brinjals are absolutely fresh, shiny and tender (the seeds should'nt be black) without a dry withered look.
This dish tastes good only if the brinjals are fresh, young and tender. The literal translation of Gutti vankai is 'bouquet of brinjals'. As its name suggests stuffed brinjal cupure rry is not only an Andhra classic, it is also very pretty to look at and the taste is pure fiery heaven.
Purple brinjals are perfect for this curry. Unlike the purple brinjals, the green ones have a very delicate skin, cook very easily and taste great. There you can a variety of stuffing's to make the stuffed brinjal as per your taste. The people of Andhra are very fond of this dish that there is no meal with out this exotic dish during occasions and feast. Other popular dishes made with brinjals are the vankaya pulusu, vankaya vepudu or brinjal fry, vankaya iguru, vankaya bajji, vankaya pachadi and many more.
Vankaya koora or curry is prepared differently in rayalaseema, telangana and kosta regions of Andhra Pradesh. Eggplant or Aubergine is a purple, glossy fruit that is cooked as this vegetable belong to the nightshade family which also includes tomatoes, sweet peppers and potatoes.
Eggplants are available in markets throughout the year, but they are at their very best from August through October when they are in season. Eggplant or Aubergine as it is called in France is a vegetable long prized for its beauty as well as its unique taste and texture.
The ancient ancestors of eggplant grew wild in India and were first cultivated in China in the 5th century B.C. Eggplant was introduced to Africa before the Middle Ages and then into Italy, the country with which it has long been associated, in the 14th century.
It subsequently spread throughout Europe and the Middle East and, centuries later, was brought to the Western Hemisphere by European explorers. Today Italy, Turkey, Egypt, China and Japan are the leading growers of eggplant. Although it has a long and rich history, eggplant did not always hold the revered place in food culture that it does today, especially in European cuisines. To prepare this Andhra delicacy, first slit the brinjals in the center and put in salt water.
Do not remove the head part of the brinjals. Once they are cooked it tastes delicious. In a pan heat oil and fry the brinjals for 30sec and remove. Take a pan add little oil, add dry red chilly, channa dal, urad dal, fenugreek seeds, coriander seeds, cumin seeds, tamarind, sliced garlic, curry leaves, hing, salt, turmeric powder and fry till golden brown color, once it done let it cool down and make it into a fine powder. While frying the above ingredients you get a wonderful aroma emanating from the spices which means they are done.
Do not burn them while frying. You need to keep stirring continuously. Now take the freshly ground masala powder adding little water mix and form into a fine ball. Stuff this mixture into the fried brinjals and keep aside. Now in another pan add little oil arrange the stuffed brinjal in the pan, close it with the lid and cook for 20min in a very slow flame, keep turning, if required add salt according to taste, freshly chopped coriander leaves and switch off the flame. This dish goes well with chapatti, roti or even rice.
Do not miss this exotic Andhra delicacy known for its exotic and luscious flavor and taste. Watch the making of this dish at:
https://www.vahrehvah.com/brinjal-fry-gutti-vankai
To tenderize the flesh's texture and reduce some of its naturally occurring bitter taste, you can sweat the eggplant by salting it. After cutting the eggplant into the desired size and shape, sprinkle it with salt and allow it to rest for about 30 minutes.
This process will pull out some of its water content and make it less permeable to absorbing any oil used in cooking. Rinsing the eggplant after "sweating" will remove most of the salt. The brinjals should look shiny without any blemishes or holes and the stem that they are attached to should be in lively green without having that dried, black look. As you bite into the stuffed brinjal, you taste a burst of sweet, spicy and sweet flavors. Simply irresistible! You can also serve hot with plain rice and ghee. Or else eat with curd rice. Eggplant is a very good source of dietary fiber, potassium, manganese, copper and thiamin (vitamin B1). It is also a good source of vitamin B6, folate, magnesium and niacin. Eggplant also contains phytonutrients such as nasunin and chlorogenic acid.