Every thing about CURD RICE | Vahrehvah :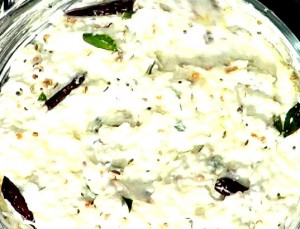 The word "curd" as used in India is usually referred to liquidy, sour, unsweetened yoghurt. It is most popular in the Indian states of
Karnataka
,
Kerala
,
Andhra Pradesh
, and Tamil Nadu.
Curd
rice
or Yogurt rice is a simple delicacy made in
South India
.
Cooked rice is combined with curd or yoghurt and then seasoned with chilly, curry leaves, ginger, urad dal, mustard seeds, channa dal and hing. Alternatively, it can also be prepared by mashing cooked plain rice (mostly leftovers), and then mixing it with some salt, yoghurt and (a bit of milk to lessen the sour flavor of yogurt or to stop it from souring too much) tempering it with fried urad dal, mustard seeds, green chilli and chopped cilantro.
In most of the homes of south India, it is standard to eat curd rice at the end of lunch or dinner that helps ease the effects of the notoriously spicy main dishes. The
curd rice
is often accompanied by the
mango
or
lime pickles
. In some areas
Curd Rice
is served in a unique style where rice is boiled, mixed with a mild curd and salted.
Additional condiments often include oil heated with
mustard
,
curry
leaves
,
dry chillies
, urad dal, and chopped coriander, sometimes grapes and seeds of fresh pomegranate are added to make appear appealing and enhance the taste. This can be topped with Boondi and served chilled or you can also include a pinch of
grated carrot
.
Curd
or yoghurt is a diary product which provides abundance health benefits to the human body.
Curd
is a semi solid form of
fermented
milk
and
remains
white with a creamy consistency. Curd has zero carbs, zero sugars and zero trans fats.
It has got numerous health benefits and is very helpful for heart ailments, digestive system and is a rich in
Vitamin
C
and
Vitamin
B
. Curd serves as a very good medicine and has an enzyme that keeps the body cool and is a good healer.
k.did u learn social or bio
During the
process of making curd
, bacteria convert milk into curd and predigest milk protein.
These bacteria then inhibit the growth of hostile or illness-causing bacteria inside the intestinal tract and promote beneficial bacteria needed for digestion. These friendly bacteria facilitate the absorption of minerals and aid in the synthesis of vitamins of B group.
Curd rice
and
pickle
is the best combo one can eat on a hot summer afternoon lunch. It makes a good picnic lunch too. The most striking thing about being with a
Tamil
Brahmin
will be the addition of curd rice to your daily diet. They cannot do without at least a spoonful of curd rice at the end of each meal. The
curd
rice
is served at the end of all feasts or offered to the god as Prasad.
Curd rice
is having a special place in children menu due to its creamy texture. This
curd rice
is prepared in slight variation from home to home. As fruits are added, it makes the curd rice tasty and healthy. Because of their color and taste, kids love it. For preparing delicious curd rice, boil rice adding salt and cool the rice slightly.
Add salt, chopped green chillies and ginger to the rice. Add yoghurt to the rice and mix well. Now give a nice aromatic, flavorful tempering. Heat little oil in a pan, add mustard seeds, cumin seeds, urad dal and asafetida (hing). Hing enhances the taste of the curd rice with its wonderful aroma and is very good for digestion.
Add curry leaves and sauté. Switch off the flame and slightly cool and mix it to the curd rice. Mix well and serve. Curd rice is simply a superb dish liked by the oldies and kids. You can always view to watch the making of this comfort food that would keep your entire famil
enthralled.
Watch at: https://www.vahrehvah.com/indianfood/curd-rice
To make delicious
curd
rice, use fresh naturally sweet curd or yoghurt. You may also add some fresh cream or sour cream to it to make it truly yummy. Mix the
curd
rice
nicely before serving. If you are taking this rice dish for a picnic, you can do the following to get the fresh taste even though you will be eating it after a few hours.
Mix all the ingredients except curd. You can add a little
curd
to the milk and carry it separately in a bottle. Just before serving, add this milk and curd mixture to the rice mix. Some chopped onion, cucumber, chopped grapes; pomegranate seeds are also added to curd rice.
You can add any one of these or all of these. It also prevents the curd-rice from becoming thick. The curd rice has enormous nutritional and health benefits. It helps improve the digestive system, strengthens the immune system, and helps to cope with stomach problems.
It also helps to get strong bones and teeth as its
calcium
content is high. Coping with high level of cholesterol becomes easier with the help of curd
Curd
has number of benefits like; it is very helpful for people who are suffering from diarrhea and dysentery.
It can stop nausea and vomiting tendency.
Curd
has high vitamin and calcium contents with protein.
Milk
is not suitable for all people especially people with asthma or allergies should refrain from milk, but they can take curd to get their calcium supply.
Curd rice

Author :
Published On : Dec 4, 2007
Preparation Time:

7 min

Recipe Type : Rices
Cooking Time :

25 min

Standing Time : 5-8 mins
Yield :

4 (4 servings)

Ingredient : Rice

Description : traditional curd rice
Ingredient Name
Unit
Quantity
chopped coriander leaves

---

pinch

---

1

---

curds

---

ml

---

300

---

curry leaves

---

springs

---

1

---

Ginger

---

piece

---

1

---

green chillies

---

number

---

1

---

hing

---

pinch

---

1

---

mustard seeds

---

pinch

---

1

---

oil or ghee

---

tbsp

---

1

---

rice

---

grams

---

200

---

salt

---

to taste

---

1

---

sour cream or fresh cream

---

cup

---

1

---

urad dal

---

tsp

---

1

---

1. Boil rice, adding salt. cool slightly. 2. mix with curds 3. chop green chillies and ginger fine. 4. Heat oil. fry mustard seeds urad dal cumin and asafoetida. 5. add curry leaves and chopped ingredients. saute for 2 minutes 6. Switch off the fire and add the rice curds mixture to the pan. 7. mix well. serve with with pickles.