Every thing about ONION CHUTNEY | Vahrehvah :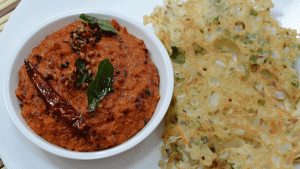 Onion Chutney also known as Ulli karam in Telugu is a very famous Andhra recipe. Onion Chutney is another popular variety of chutney that one would continue to lick their plate and munch with dosa or idli. Onion chutney also known as Ulli karam in Telugu is a very famous Andhra recipe which is served as a side dish along with South Indian breakfast items. It is also used in few curry recipes. Chutney is a traditional spicy preparation used as an accompaniment for a main dish and usually contains an idiosyncratic but complementary spice and vegetable mix.
Chutneys are usually wet or dry having a coarse to fine texture. Chutneys taste exceptionally good when ground in a mortar and pestle but nowadays they are substituted with electric blenders and mixies. A traditional chutney is made with various spices and vegetable ground in a particular order to a coarse wet paste and seasoned with mustard seeds, curry leaves and urad dal sautéed in either vegetable oil or gingelly oil.
Talking about the culinary delights about the chutneys, there are a variety of chutney that can be made which includes the coriander chutney, coconut chutney, tomato chutney, mango chutney, ridge gourd chutney, dosakai chutney, onion chutney, dondakaya chutney and many more in the list.
Onions is a vital ingredient in most of the recipes like in stir fries or curries or gravy dishes. They are extensively used in most of the food preparations especially for preparing non-vegetarian food. Onions can be consumed either raw, pickles in vinegar, fried in oil, baked or boiled.
They are a boon to mankind that makes us cry while curing us of several illnesses at the same time. There is no limit to the number of chutneys that can be made from virtually any vegetable/fruit/herb/spices or a combination of them. Chutneys come in two major groups, sweet and hot; both forms usually contain various spices, including chili, but differ by their main flavor. The type and preparation of Chutney vary widely across Pakistan and India. It is said that eating raw onion is very good for health and has anti-inflammatory and anti-oxidant properties.
They are available in many varieties and colors like white onions, red onions and pearl onion etc. They have a strong spicy pungent flavor. In India, we use onions extensively in various types of curries and gravies, salad, soup, pickle and chutney. Onion chutney is easy to prepare and hardly takes about 5 minutes time to prepare.
Onion or Ulli chutney is a pleasing blend of sautéed onions, tamarind and red chilies that has a perfect balance of sweet, hot and tangy flavors that makes good and quick chutney to be served with Idli and dosa. It's very simple healthy chutney that can be made in a jiffy and tastes excellent when made fresh.
To prepare fresh Onion chutney, firstly pour little oil in a pan. Put the chopped onions in the pan and fry it for about 2 minutes then put the red chilies and fry it. Grind the onions, red chilies, cumin seeds, tamarind and salt to a coarse paste. Shift the mixture to a serving bowl. Pour little oil in a pan and when it gets hot add mustard seeds and when they crackle add urad dal and fresh curry leaves. Pour the ground paste into this and cook for about 5 minutes. Serve with Idli and dosa.
Do try this recipe and enjoy its taste and flavor. Onion chutney makes an excellent substitute for coconut chutney or peanut chutney. Click on the link for detailed recipe at:
https://www.vahrehvah.com/onion-chutney-india-recipe
Onion has endless health benefits and is powerful for its anti-septic and anti-bacterial properties. It is often called the 'King of vegetables' mainly for its pungent taste. There are many varieties of the onion; white, yellow, red and green globes. They also differ in size, color and taste.
The smaller onions come in many varieties such as the green onion, or scallion which includes chives, leeks and shallots. The smaller the onions, the more pungent they are. They are the ones that make your eyes water when you cut them, when the organic sulphur is released.
Onion is rich in vitamins A, B and C. It is a potent source of folic acid, calcium, phosphorus, magnesium, chromium, iron and dietary fiber. Just by eating half a medium raw onion daily can significantly lower cholesterol and help prevent heart attacks. Whether you eat it raw or cooked, onions help to lower blood pressure naturally. It also thins the blood, dissolve blood clots and clear the blood of unhealthy fats.