Every thing about FISH AND CHIPS | Vahrehvah :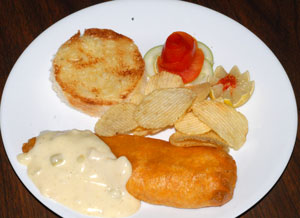 Fish and chip
is one of the few
genuinely English recipes
that are recognized world wide. Everyone knows that
Fish
'n'
Chips
come from
England,
and can't imagine an
English town without
a
Fish
and
Chip shop.
It is not as hard as you might think to create your own perfect
Beer Battered
Fish
at home. This dish takes a little preparation time and is made simple to cook.
This dish can't really be called a low fat recipe but if the
oil
if hot, the fish is very
crispy
and
holds
very little fat and tastes steamed.
Fish and chips
are one of the most popular take away
foods
which actually originated in the
United Kingdom
in
1858
or
1863.
The fish is
deep fried
in a batter of spices and can be served along with
French fries
or
garlic toast
.
This dish became a popular meal among the working classes in
Great Britain.
It is said that in
1860,
the
first fish
and
chips
shop was opened in
London
by
Jewish proprietor Joseph Malin
who married together
"fish fried
in the
Jewish fashion" with chips.
During World War II
fish
and
chips
remained one of the
few foods
in the
United Kingdom
not subject to rationing.
The concept of a
"Fish Restaurant"
was introduced by
Samuel Isaacs (born 1856
in White
chapel, London; died 1939
in
Brighton, Sussex)
who ran a thriving wholesale and retail fish business throughout
London
and the
South
of
England
in the latter part of the
19th century. Isaacs'
first restaurant opened in
London
in
1896
serving
fish
&
chips, bread
&
butter
and
tea
for
nine pence,
and its popularity ensured a rapid expansion of the
chain.
The restaurants were carpeted, had
waited service, table cloths, flowers, china
and
cutlery,
and made the trappings of up market dining affordable to the working classes for the first time. In Britain and US usually they serve thicker slabs of
potato
the fries popularized by other major multinational chains. In their homes or in non-chain restaurants, people in or from the US may eat a thick type of chip, more similar to the British variant, called "
home fries
" or "steak fries". The traditional style of preparing in UK is they dip the
fish fillet
in a simple water and flour batter, adding a little sodium bicarbonate (baking soda) and a little vinegar to create lightness as they create bubbles in the batter.
Other recipes use
beer
or
milk
batter, where these liquids are often substitutes for water. The carbon dioxide in the beer lends a lighter texture to the batter. Beer also results in an orange-brown color. A simple beer batter might consist of a 2 : 3 ratio of flour to beer by volume. The type of
beer
makes the
batter
taste different: some prefer lager whereas others use
stout
and
bitter.
In all cases, the alcohol itself is cooked off, so little or none remains in the finished product. In the
United Kingdom, free salt
and
vinegar
is traditionally sprinkled over
fish
and
chips
at the time it is served.
Fish
and
chips
are also served with a
portion
of
mushy peas.
In other areas such as Wales and
Northern England
they add
sauces
such as
curry sauce
or
gravy
which are often referred on a menu as
'wet chips'.
In Edinburgh, the Lothians and Fife, salt and sauce - usually pronounced
"sottensauce"
- is the normal accompaniment that is traditionally sprinkled over fish and
chips
. The watery "
sauce
" is a mixture of malt vinegar and/or water and brown sauce, and it is mixed and bottled - often in an old glass fizzy drink bottle with a hole pierced in the screw-cap - by each fish-and-chip shop to their own secret recipe. Another common accompaniment is the
tomato
sauce,
similar to
Ketchup
but sweeter and less stringent.
Tartar sauce
is also very popular for the
fish.
Both
tomato
and
tartar sauce
are usually sold in small plastic tubs on the shop counter.
Slices of lemon
are also frequently provided free within the parcel.
In the
United States
many restaurants serve fish and
chips
with
tartar sauce.
To prepare this delicious
Fish
and
chips
in an
Indianized
way, firstly take a plate add
lemon juice
, salt, red chilli powder
and mix well then dip the fish fillets one by one in this mixture on both sides of the fish. To make the
batter
take a mixing bowl, add all purpose flour (maida), salt, baking powder, beer and mix those the ingredients well
without any lumps. Keep it in the fridge for 15 mins. Add yellow food color and mix. In another plate add cornflour and maida and mix. Dip the marinated fish fillet in this mixture over both the side.
To make a mock sauce, add vinegar, chopped onion, cucumber, green chillies and microwave for 1 min. Cool this mixture down and add it to the mayonnaise and mix well. Dip fish in batter and deep fry till golden brown color and crisp. Serve hot with French fries or
garlic toast
and the mock sauce. Do view the making of Fish and chips home made recipe at:
https://www.vahrehvah.com/fish-and-chips
Fish and Chips
Author : Admin
Published On : Jun 29, 2009
Preparation Time: 7 min
Recipe Type : NonVeg-Main
Cooking Time : 25 min
Standing Time : 5-8 mins
Yield : 4 (4 servings)
Ingredient : Fish
Description : Seafood with British attitude ,the best fish with tartar sauce
Recipe of
Ingredient Name
Unit
Quantity
beer

---

0

---

as needed

---

cornflour

---

tsp

---

1/2

---

cucumber

---

tbsp

---

1

---

Fish

---

number

---

1

---

green chillis

---

number

---

3

---

lemon juice

---

number

---

1

---

Maida

---

tbsp

---

1

---

onions

---

number

---

1

---

red chilli powder

---

0

---

as needed

---

salt

---

0

---

as needed

---

vinegar

---

tbsp

---

1

---
Take a plate add lemon juice, salt,red chilli powder mix well then dip the fish fille both the side. Take a bowl add All purpose Flour ie maida, salt, baking powder, beer mix this well, keep it in a fridge for 15min. andd yellow food color In another plate add cornflour and maida dip the marinated fish both the side. To make a mock sauce add vinegar,onion,cucumber, green chillis chopped microwave for 1min cool it down and add it to mayonees mix well. dip fish in batter and deep fry