Every thing about NAAN BREAD | Vahrehvah :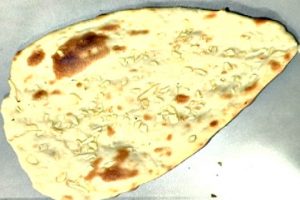 Naan
is a leavened, oven-baked flat Indian bread popular in India,
Afghanistan, Iran, Pakistan
and
certain parts of
Ch
i
na. It is one of most popular varieties of the
South Asian breads. Naan
has also gained popularity in other
Gulf States
like
Saudi Arabia.
It is considered a typical bread of the northern
Indian
subcontinent and
Afghanistan.
Originally,
naan
is a generic name for various flat
breads
used all over the globe. In a travelogue of William Tooke, the earliest appearance of "
naan
" in English literature
dates back to 1780. Naan
is traditionally cooked in a clay oven called a
Tandoor
. It looks pretty much similar to pita bread; it is usually leavened with yeast.
It is round, soft and blistered kind of
bread.
Contemporary recipes occasionally substitute baking powder for the yeast. Some cooks use milk or yogurt to get a larger volume of the
bread
and to make it even thicker. You can also add raisins and different sorts of spices to the
bread
to enhance the flavor. Traditionally the
naan
is served hot and brushed with
ghee
or
butter.
There are a variety of
naan breads
like the
plain naan, butter naan
or the
garlic naan
and can be also used to scoop other foods, or served stuffed with a filling like the
keema naan
(naan stuffed with a spicy minced meat mixture usually
lamb
or
mutton mince), peshawri
or
peshawari naan
and
Kashmiri
naan
(naan filled with a mixture of
nuts
and
raisins).
The
Roghani naan
(naan sprinkled with sesame seeds) is one of the most famous naan varieties in
Pakistan. Kulcha
is another type of
Naan.
Another variant is the
Amritsari naan
or
Amritsari Kulcha
stuffed with
mashed potatoes, onion
(optional) and lots of spices. For preparing a
Naan,
sieve the all-purpose flour (maida). Add cup warm water into the dry yeast and set aside.
Add
sugar, salt
and little
oil
and
mix
well with yeast and water. Now add this water little at a time to the flour to make soft dough. If dough sticks to hand too much then use little oil on hand and then
punch
the dough. Now to make the
dough, preheat
the oven and take a ball of the dough and press with your
finger
and make a round or
oval shape.
Place this
naan
on a non stick tray and oven bake the
naan.
Flip after
2 mins.
Once done remove and apply some
butter
on them.
Naan
is ready to eat. Do not miss out watching the video on making of
Naan
as you will also learn how to prepare a
homemade bread
/
naan
on a gas stove. Normally there is an illusion that
naan
cannot be prepared on the stove, but do watch and learn preparing an oven baked naan and stove baked naan at:
Traditionally a typical
naan
involves mixing of white flour with salt, a yeast culture and enough
yoghurt
or
milk
to make smooth elastic dough. The kneaded dough is set aside to rise for few hours. Once the dough is risen divide them into balls flatten them and cook. In
Pakistani cuisine
,
the
naans
are typically graced with fragrant essence like the
rose, khus, butter
or
ghee melted
over them.
Naan
are usually consumed dipping into soups like
vegetable
or
meat curry
or
sabzi (vegetable curry). Naan
is a popular
lunch
or
dinner
choice commonly served in most of the
restaurants. Naan bread
does not contain
eggs, preservatives,
or
hydrogenated oils
and contains only
30 calories
o
f fat out of 160 calories
per serving. It tastes great and combined with other healthy toppings or dips; it can be used to make excellent healthy and high-nourishing meals.
Naan
Author : Admin
Published On : Nov 26, 2007
Preparation Time: 7 min
Recipe Type : Breads
Cooking Time : 25 min
Standing Time : 5-8 mins
Yield : 4 (4 servings)
Ingredient : Flour
Description : Naan can be made at home too
Recipe of
Ingredient Name
Unit
Quantity
All purpose flour

---

cup

---

3

---

Instant dry yeast

---

tsp

---

1

---

milk (optional)

---

cup

---

1

---

Oil

---

tsp

---

1

---

Salt

---

to taste

---

1

---

sugar

---

tsp

---

1/2

---

Water to knead approx

---

ml

---

50

---
Sieve the flour
Now add 1 cup warm water into dry yeast and set aside.
Add sugar, oil into salt and mix well with yeast and water.
Now add water little at a time to make a soft dough.
If dough sticks to hand too much then use little bit of oil on hand and then punch into dough. .
Now to make naan, set oven at broil and roll oval shape out of dough. Then place it into oven and flip it after 2 min. after taking it out apply some butter on them. And they are ready to eat.

make better nan on stove top have fun cooking with vahrehvah