Every thing about Obama platter at Bukhara?? What's Barack Obama eating in India? | Vahrehvah :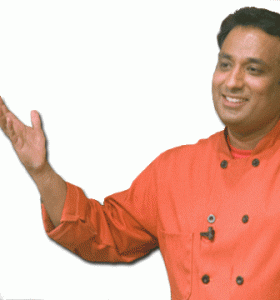 I
am
highly elated and enthralled with some of my personal experiences and the opportunity having served now US President Barack Obama when he had visited one of my restaurants in
Chicago.
Interestingly, I have learnt my culinary arts from the prestigious
Welcomgroup hotels
and had worked as Management trainee (culinary) at the
Bukhara, ITC Maurya, New Delhi.
It had been a euphoric experience been appreciated by the now
US President Barack Obama
which has also given me pride and encouragement towards my culinary skills. Being an
Indian
and having had the experience in working at the
Bukhara
, was truly fun learning and great prospect in meeting the elite customers, leaders and diplomats and getting to know their gastronomic aura for
Indian
dining flavors.
Bukhara, is an
Indian
restaurant at the Luxury collection
ITC Maurya Hotel
, New Delhi and started in 1977. You get the best of dishes from the cuisine of the Northwest Frontier Province which is now the border between Pakistan and Afghanistan. The food is cooked traditionally that are heavy on meats,
marinated
for hours and grilled in a Tandoor (a clay oven).
Bukhara
is popular for its kebabs,
naans
and the dals. The
restaurant
is also famed for its signature dishes that include the
Murgh Malai Kebab
, Mutton Seekh Kebab, Reshmi Kebab
(a grilled vegetarian platter comprising cottage cheese, bell peppers,
tomatoes
& pineapple) , the famous
Dal Bukhara, Sikandari Raan, Peshawari Kebab, Murgh Tandoori, Burra Kebab
and more vegetarian fare including
Tandoori Aloo, Cauliflower
and
Bell Peppers.
Breads included Stuffed Kulchas, Naans and Khasta Rotis. Having learnt my culinary skills from the Bukhara, I had also learnt the art of preparing most of these dishes.
Murgh Malai Kebab (creamy chicken kebab)
- This dish is from the great gourmet of the Nawabs of
Oudh
– Now called
Lucknow. Malai Murgh Kebab
are skewered cubes of
boneless chicken
cooked in a tandoor or clay oven. The
Chicken
is marinated in a mixture of yoghurt, heavy cream (malai),
Indian
herbs and spices. It's a pale yellow creamy color dish. This
Kebabs
can be made into
Malai Tikka Burger
.
Summary: this very tender chicken and cheese kabab
Ingredients:
cardamom pdr - 1 - pinch
cheese - 2 - tbsp
chicken breast - 1 - lbs
coriander leaves - 1 - springs
corn flour - 1 - tbsp
cream - 1 - tbsp
curd thick - 1 - tbsp
ginger garlic paste - 1 - tsp
gr chilli - 1 - number
meat tenderizer ,or raw papaya paste - 1/4 - tsp
oil - 1 - tbsp
pepper pdr - 1 - pinch
salt - 1 - pinch
Instructions:
cut chicken breast to bite size pieces and dry them with paper towel and marinate with pepper powder , tenderizer and sqeezed ginger garlic paste and keep in fridge for 30 min before adding to other marination
second step is to make marination by making paste of mozzarella cheese or using mascapone cheese , add curd ( thick ) or sour cream , cream corn flour , chilli and coriander paste, salt , oil, cardamom pdr and mix well
marinate the chicken with this marination and put in the fridge for another hour
put on to skewer and put in the hottest possible setting on your oven , if possibe on broil moderate and cook for 10 min on each side till you see fine color on the kabab
serve hot with sprinkled chat masala and lime juice
Cooking time (duration): 25
Number of servings (yield): 4
Meal type: lunch
My rating: 5 stars: ★★★★★ 1 review(s)
Recipe by
Vahchef
.
Dal Bukhara (buttery lentils) - Dal Bukhara is a traditional dish of North Indian from the Awadh region. This dish has been actually brought to India by the travelers coming from Bukhara, a city in Uzbekistan. It's a spicy stew prepared of Black gram lentils.The curry is prepared on slow flame combined with blank lentils in a base of tomatoes, cream, butter with garlic and spices.
The dish gives a beautiful reddish brown color and a rich creaminess with a distinct texture to the lentils. The flavor of the dish is very rich and complex from the ginger and chilli spices cover the area with its fragrance. Dal Bukhara is served with Indian bread such as naan or chapati (roti) and good-quality basmati rice.
Sikandari Raan - This dish is inspired by the traditions of the Northwestern Frontier. It's a mix of Afghanistan, Indian, Iranian, Pakistani, Central Asian and Middle Eastern cuisines that makes it so inventive in its flavors. This dish is prepared with a whole leg of spring lamb marinated in authentic spices and grilled. Sikandari Raan is a special dish of the Royal Mughal family.
Murgh Tandoori - Tandoori murgh is the famous chicken dish from the Punjab region of northern India. In the original version, whole chickens are marinated, skewered and quickly roasted in a fiery hot clay oven called a tandoor.
Mutton Seekh kabab – Traditionally prepared of minced meat with spices and grilled on skewers. Mutton seekh kabab is cooked in a tandoor and served with chutney or mint sauce. This dish is also served a starters or with cocktails.
Naan - Naan is the traditional India flat bread cooked in a tandoor, or clay oven. A typical naan preparation involves mixing white flour with salt, yeast, and enough yoghurt to make smooth, elastic dough. The dough is kneaded for a few minutes, and then set aside to rise for a few hours. Once risen, the dough is divided into balls, which are flattened and cooked.
Bukhara restaurant had also been voted as the Best Asian restaurant and the 37th best restaurant in the world by Restaurant Magazine, UK in 2007. Bukhara has often found its place amongst the best Indian cuisine restaurants in the world at the Magazine's top 50 ratings since 2002.
Bukhara is also famous for its "Presidential Platter" based on non-vegetarian dishes ordered by Bill Clinton and the "Chelsea Platter" comprising of vegetarian dishes that Chelsea Clinton had ordered. Later in 2009, they had introduced the "Hillary Platter" based on the lines of "Presidential Platter".
It is said that Hillary platter consists of murgh malai kebab , seekh kebab, paneer tikks, tandoori aloo, sikandari raan, dal bukhara, tandoori jinga, mixed raita, naan and kulfi. Wow it's really rich delicious platter and a complete meal.
Truly high in calories but one must forget about the calorie if they really wish you taste the most traditional North Indian food. I feel really proud having passed out from this same place as a Management trainee in Culinary Arts. Now once again fine moments at the Bukhara where US President Barack Obama's visit to India and his wish to have a culinary platter named after him during his visit to India in the first week of November.
It's apparent that the US President is fond of Indian food and could say this out of my experience having the opportunity to serve few of my specialities. The President likes spicy food as is a man of diverse background; his eating preference would naturally be varied.
In few interviews, I have also heard that President Obama likes Pizzas, Mexican and Chinese dishes. Hence the President would truly have a feast eating the delicious kababs from the famous Indian cuisine.