Every thing about PIZZA BASE | Vahrehvah :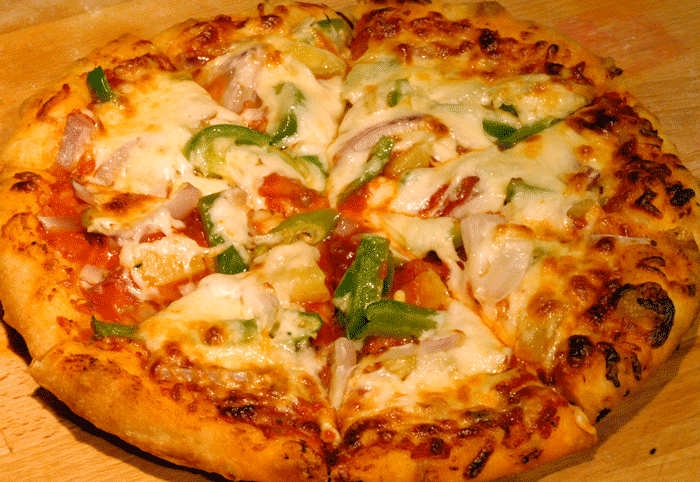 Pizza
is one of the dishes that have really topped the
Indian food
chains. Pizzas
are in high demand among the
youngsters
and
kids.
Normally in
US pizza
are often called as
pizza
pie. Pizza
is an
oven baked,
flat
shaped bread
topped with variety of
vegetables, meat, cheese
and
sauce.
The variations have changed according to the taste from the normal standard
pizza.
Nowadays there are wide ranges of
pizza
with your choice of toppings.
Pizza
originated from the
Neapolitan cuisine
and now the dish is one of the most popular dishes all over the world. Originally the Ancient greeks covered their
bread bas
e with oils, herbs and cheese and the Romans topped with cheese, honey and flavored with bay leaves.
Modern pizza originated
in
Italy
as the
Neapolitan
pie with
tomato
and in
1889 cheese
was added. It is said that in 1889, during a visit to
Naples, Queen Margherita
of
Savoy
was served a pizza resembling the colors of the
Italian
flag
as the pizza was topped with
tomato
(red color), Mozzarella (white) and basil (green).
There after this
kind of pizza
has been named after the
Queen
as
Pizza Margherita.
Preparing the
pizza
is simple but one needs to have enough patience for kneading the dough and baking as the preparation takes time. The bottom of the
pizza
is called the
crust.
According to your taste you can either make a
thin
or
thick crust.
The traditional
plain pizza
was seasoned with
garlic,
herbs and stuffed with
cheese.
Normally in
restaurants
,
pizzas
are baked in oven with stone bricks and while baking at home you can
bake in pizza stone
or a
non stick pan. Pizza
can also be
baked directly
on a
barbecue grill.
The
authentic Neapolitan pizzas
were typically made with tomatoes and
mozzarella cheese.
We shall learn to prepare the
pizza
on a pan. Take some warm water, add yeast, sugar and little salt and add a cup of all purpose flour (maida) and mix well. Keep it aside for 10 minutes. Take maida in a bowl, add the yeast mixture to the flour and knead to form soft dough. Cover it with a wet cloth and rest it for 1 hour. Knead again and rest for 30 minutes. Take a lump of dough, pat and roll into a pizza base. Use dry flour to dust. Add all the
pizza sauce
and toppings. Bake till the base is crisp and light.
Summary: Pizza Base Recipe made easy, learn how to make Pizza Base Recipes at home.
Ingredients:
water - 250 - ml
All Purpose flour - Maida - 7 - cup
olive oil - 5 - tsp
salt - 1 - tsp
sugar - 1/2 - tsp
yeast 7 gram pkt (quick raise ) - 1 - bag
Instructions:
take warm water
Sprinkle in yeast, sugar,salt,and a cup of allpurpose flour and mix. Stand covered for 10 minutes.
Mix in yeast mixture into flour.
Knead for 3-4 minutes till soft dough.
Cover and rest for 1 hr.
Knead again, for 3 minutesand resr for 30 min.
Take a lump of dough, pat or roll into a pizza base.
Use dry flour to dust if required.
Add pizza gravy as required, add toppings,
Bake in a hot (300C) oven, till base is crisp and light.
Cooking time (duration): 25
Diet type: Vegetarian
Number of servings (yield): 4
Meal type: snack
My rating: 5 stars: ★★★★★ 1 review(s)
Recipe by Vahchef.
Pizzas are really tempting food. But many stay away because of the high calories in it. It is advised that you eat pizzas occasionally. Making pizza at home is healthier. From one of the researchers study, which says that if pizzas are prepared with ingredients like the olive oil, tomato sauce, vegetables, part skim cheese and use whole wheat crust than this would protect to stay healthy. Eating a pizza of this type would be like having a meal that is actually good for you. Well go ahead and try the recipe out.