Every thing about SHAHI PULAO | Vahrehvah :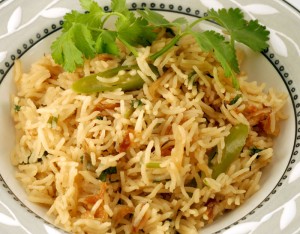 Shahi pulao
is a quickie dish made of shahi jeera, onions and basmati rice. This is a quickie
mughlai
dish. The crunch of the onions along with the mild flavor of spices adds to the uniqueness of the dish. Here shahi jeera is added instead of the normal
jeera
which has a unique and different flavor.
Pulaos and Biryanis
are the two type of that form an integral part of any formal or informal lunch or dinner. The main difference between the two is the style in
Indian rice recipe
cooking techniques.
To make a basic
pulao,
rice is first tempered in desi ghee (clarified butter) and spices, then exact measured water is added to the rice. For 1 cup of rice 2 cups water is used. If using a pressure cooker, for every 1 cup of rice 1 and 1/4 of water is sufficient.
Biryani
, on the other hand is made from par boiled rice, which is then assembled with the other ingredients, sealed and put on dum for at least 45 minutes (put on a very low heat, so that all the flavors inside the pot amalgamate well).
As we are using the shahi jeera in making this
pulao
, to achieve the best flavor and aroma you must use the right amount of spices and desi
ghee (clarified butter).
Shahi jeera is also commonly known as
black
cumin
seeds. The black cumin is a culinary spice used in
Northern India
, Afghanistan, Tajikistan and Iran. The seed's aroma is earthy and heavy, not pleasant at all. On frying or cooking, the taste changes to nutty. Shahi jeera is used in small amounts because of its exotic, flowery flavor.
It is often confused with jeera (regular cumin) and kalonji (Nigella). It's darker and sweeter than ordinary cumin.To bring out its nutty flavor, it helps to toast the seeds briefly before using them. The black cumin seeds or Shahi Jeera is more pungent and mostly used in
pulao and biryani
. Indian cooks use this spice in many of their curries and tandoori dishes. It's darker and sweeter than ordinary cumin. To bring out its nutty flavor, it helps to toast the seeds briefly before using them.
This spice is widely used in most Indian, Pakistani and Bangladesh dishes, also in Middle Eastern, North African preparations, used in
Spanish
stews
and
American
pies
The aroma of shahi jeera rice is magnificent. It is very simple to make and also a healthy food if prepared with less fat. Basically the dish is more popular in
Punjab
but now days you will find it all over.
Some of people add onion and ginger garlic paste in shahi pulao rice that makes a nice fragrance all over. A simple and quickie dish to be made when you have got some unexpected guest at home. This dish would be an ideal choice for your lunch or dinner menu as it does not require lots of preparation and ingredients to use.
For preparing the Shahi pulao, in a pan add little oil, add shahi jeera and a pinch of sugar sauté both and caramelize till brown. Add chopped onions and sauté. The onions would get a nice brown color as the caramel sticks to the onions. Add
ginger garlic paste
, chopped green chillies, fresh mint and coriander leaves, and salt and mix all the ingredients till they release their aromatic flavors.
Add the pre soaked rice and right amount of water mix and cook the rice. Cook till the rice is 90% done and then sprinkle fried onions on the top. Cover and cook for another 5 mins. The Shahi jeera pulao is ready to be served. It gives a nice brown color appearance, delicious to taste.
Serve with any side curry or dish or raita. To make this royal Shahi jeera pulao, do check out the making of this recipe at:
The black cumin seed or shahi jeera helps in Digestion, Psoriasis, Eczema, Diarrhea, Colic, Asthma, Allergies, Cough, and Flu. They are used as a spice in breads especially rye bread, which is denser because of the yeast-killing properties of the essential oil, limonene.
To ensure good nutrition and a balanced diet for whole family it is important to follow the recipe, which skillfully combines healthiest ingredients and uses appropriate cooking techniques so that food retains color, texture, taste, nutritional properties and appetizing aroma, helping to get our digestive juices flowing before the meal even starts. Do adjust the ingredients and quantities according to your taste and try it out with love, believe me you will be able to prepare a wonderful meal dish.
Shahi Pulao
Author :
Recipe of
Ingredient Name
Unit
Quantity
coriander leaves

---

cup

---

1/2

---

ginger garlic paste

---

tsp

---

1

---

green chillies

---

number

---

4

---

mint leaves

---

cup

---

1/2

---

Oil

---

tbsp

---

2

---

onions

---

cup

---

1

---

rice

---

cup

---

2

---

sugar

---

tsp

---

1

---

zeera

---

tsp

---

1/4

---
Take a pan add oil,zeera,sugar mix till the sugar change its colour to brown then add sliced onions mix them then add gingergarlic,green chillies,mint,coriander leaves,salt mix well. Now add the rice which was soaked for 30min let it come to boil, once water absored then close it with a lid and cook for 5min in very slow flame,if you want add fried onions.