Every thing about BHATURA | Vahrehvah :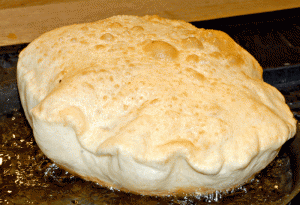 Bhatura
is traditional North Indian
Punjabi
classic
Indian bread
. Bhatura is a soft leavened fried Indian bread made with
flour
, baking powder, oil and
yoghurt
. When fried, it puffs into a fluffy, chewy lightly
browned bread
is served with chickpea curry popularly called as . At most of the restaurants this is known as
Chole Bhatura
.
The Bhatura is considered as one of the classic dishes from the
Punjabi cuisine
and originated in the Punjab region of Northern India and Western Pakistan. Bhatura is easy to make at home and requires only a few ingredients. This is a spongy deep
fried bread
is made with yogurt and
yeast
or baking powder, made to ferment so that it gets that little sour taste from the yogurt which gives that classic flavor and
puffiness
.
Adding some flavor like
nigella seeds
,
fennel
seeds
or
ajwain seeds
enhances the flavor of this bread. There few recipes that use yeast for making the Bhatura but is not the traditional way and addition of yeast is purely to get the
fluffy
and nice texture so that the bhatura just melts in the mouth. This is wonderful soft, fluffy and
delicious
Indian fried bread. It is very popular in the streets and restaurants of Punjab and Delhi. You almost find the Chole Bhatura combo at every street corner in North India.
A huge bhatura looks some what like
puri
or
poori
but big in size. Many gets confused or do not know the difference between a puri and bhatura. Its just simple, bhatura is made of all-purpose flour adding baking powder and yoghurt to give a sweet and salty taste and is huge in size where as puri is made of whole
wheat flour
(atta flour) and is small in size. Puri can be eaten with any Indian
vegetable gravy
dish but bhatura is mostly combined with
Chole.
Chole (chickpeas curry) bhatura makes a sumptuous
meal
and is filling. To prepare the Bhatura firstly add all purpose flour (maida flour) in a
bowl
. Add little salt, baking powder, sugar and mix all these ingredients then add little
sooji
and mix. Add buttermilk or water and make medium stiff dough. Rest this dough aside for 2 hours to rise. Make small balls of the dough and flattened them evenly using a rolling pin.
The deep fry the bhatura until they puff up into lightly browned soft
fluffy bread
which is elastic and chewy. They will get puffed up like a big balloon. The leavening principle in making Bhatura,
Kulcha,
or American buttermilk-
biscuit
is same. The lactic-acid in the yogurt reacts with baking soda to make dough light and rise. The baking powder helps continue the leavening during cooking. Watch and enjoy the making of Bhatura at:
The bhatura gives a nice crispiness outside and soft inside that just melts in your mouth. In fact choley bhature is one of the most complete recipes that do not require any other dish to accompany.
Channa
Batura is generally served with fresh cut onions, green Chilli, half cut lemon and
achars
.
Bathura:
4.0 Stars based on 99 Reviews
Author : Admin
Published On : Jan 16, 2008
Preparation Time: 7 min
Recipe Type : Breads
Cooking Time : 25 min
Standing Time : 5-8 mins
Yield : 4 (4 servings)
Ingredient : Flour
Description : punjabi bread to with chole
Ingredient Name
Unit
Quantity
all purpose flour

---

cup

---

2

---

baking pdr

---

tsp

---

1/2

---

curd

---

cup

---

3/4

---

salt

---

tsp

---

1/2

---

sooji

---

cup

---

1/4

---

sugar

---

0

---

as needed

---

water

---

0

---

as needed

---
In a bowl add flour, salt, baking powder, sugar mix well then add sooji, butter milk and use water also to make a medium stiff dough rest atleast for 2 hrs roll it into thin rounds fry in hot oil
seve hot with chole