Every thing about CARROT HALWA | Vahrehvah :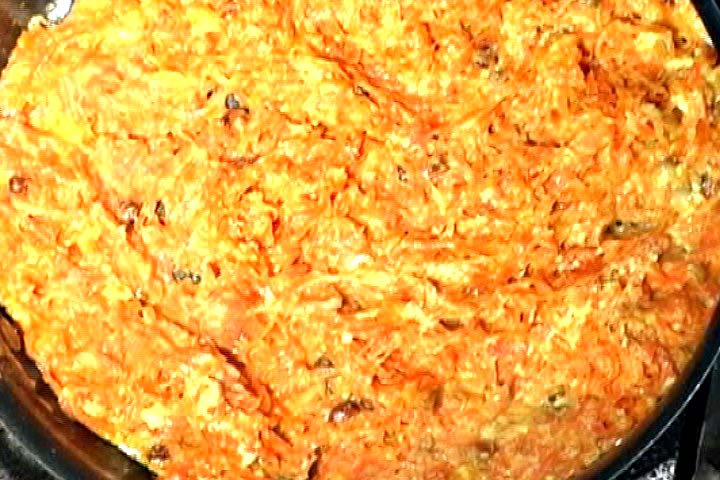 Carrot halwa
or
Gajar ka halwa
is the most famous
North India dessert.
A favorite among the
Sikhs of Punjab, Carrot halwa
originated from nut dishes introduced by traders from the
Middle East
and
Asia Minor
during the
Moghul period.
Gajar
ka halwa
is a classic Indian carrot pudding.
Halwa
or
Halva
refers to many types of dense, sweet confections, served across the Indian subcontinent,
Central Asia, West Asia, North Africa,
the
Horn
of
Africa,
the
Balkans
and the
Jewish world.
Summary: indian dessert with carrots
Ingredients


2 - number - cardamoms, skinned and crushed fine


4 - cup - carrots, grated finely


1 - tbsp - casewnuts


1 - tbsp - chopped almonds


3 - tbsp - curdled milk or (ricotta cheese)


2 - tsp - ghee(clarified butter)


4 - cup - Milk


1 - tsp - raisins


1 - cup - sugar


Instructions


roast dry nuts in gheegrate and Cook the carrots in the milk in an open pan(low flame), with constant stirring.when carrot is cooked add sugarAdd curdled milk or koya and cook for few more minserve hot


Cooking Time: 25 min
Diet type: Vegetarian
Number of servings (yield): 4
Meal type: snack
My rating: 4 stars: ★★★★☆ 1 review(s)
Indians have used a variety of vegetables for Halwa, including pumpkins, zucchinis and other squashes, potatoes and yams, and even winter melons. Some recipes substitute ricotta cheese and dry milk for the whole milk used here, but I believe fresh milk produces a richer and smoother sweet. Halwa can be kept refrigerated for several days, and then heated prior to serving.
In Pakistan and India, carrots (for gajar halwa), mung beans (for moong dal halwa) or bottle gourds (for doodi halwa) are also used instead of semolina. Prepared with condensed milk and ghee, without semolina to bind it together, the end result has a moist yet flaky texture when freshly prepared and bears some resemblance to a British pudding.
Gajar ka halwa is a delicious, rich pudding loaded with nuts and dried fruits well-known all over the world. It is definitely not a diet food! Normally eaten warm, gaajar halwa tastes really good combined with vanilla ice cream. This Indian sweet item is rich in vitamin A as its main ingredient is carrot and fat as its secondary ingredients are the ghee and milk.
Vitamin A is very good for the eyes. Carrots are also good for the skin. When we talk about Indian desserts, one name that undoubtedly comes into every person's mind is the traditional Gajar ka halwa prepared in every Indian home for almost all the Indian festivals.
On the occasion of Diwali, Gajar ka Halwa is an unavoidable part of the menu. When served hot, the Gajar Ka Halwa tastes wonderful. It is simply the prefect sweet dish to be relished post dinner. Not only its delicious, it's also fulfilling and nutritious with about 8 grams of proteins, 50.3gram carbohydrates and 1.9 grams of fat.
Gajar Halwa is made from fresh grated carrots and cooked in milk and ghee and garnished with nuts and raisins. Since it is cooked in milk totally, does not require mava ( which normally does not suit some ) and lasts longer& healthy. You can also use khoya or chhena if you want the dessert to be rich in taste.
Children enjoy eating this with chappatis. Making Gajar Ka Halwa is not a very difficult task in terms of process; it requires a little more time and patience than any other halwa. I am a huge fan of this delicacy and wanted to share this recipe with you all. If you too are a sweet tooth lover, here is the recipe…
https://www.vahrehvah.com/carrot-halwa
Hope you will try this. Enjoy eating.