Every thing about CHICKEN SEEKH KABAB | Vahrehvah :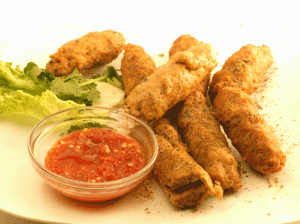 Seekh kabab
or kebab are made of any type of minced
meat
with spices and grilled on
skewers
. Traditionally it is cooked in a
tandoor
and served with
chutneys
or
mint
sauce. Seekh kebabs are also served rolled in a naan bread which is much like the doner kebab, a popular
kebab
of Pakistan.
Kebabs
are a wide variety of meat dishes originating from Iran and now popular all over the world. Kabab refers usually to the
shish kabab
served on the skewer or doner kabab served
wrapped in bread
with a delicious salad and a dressing.
Traditionally the meat for kabab is the
lamb
but now there are a variety of meats like the
beef, goat, chicken, pork, fish or seafood
or vegetarians used in preparing the kababs. Like other ethnic foods carried over by travelers, the kababs have also become part of everyday cuisine in
multicultural
countries around the globe.
The ingredients are an integral part of the preparation of seekh kababs. Minced
meat balls
prepared with various herbs and spices are grilled in specially designed barbecue before being shallow fried. The dish is served hot with sprinkled
chat masala
or
lemon juice
as required.
The dish is mostly served as starter or with cocktails. Seekh Kabab is a traditional
South Asian cuisine
and consists of small cubes of meat threaded on a skewer that are
grilled or roasted
.
Among all the kebabs the Lamb Seekh kebab and beef seekh kebabs are the most popular. In India, the lamb and chicken kebabs are very popular and are made in a large clay oven known as a
tandoor.
Tandoor
ovens are able to heat foods to extremely high temperatures (1000 deg F). The trick to keeping the meat or poultry
juicy
and succulent is marinating it in yogurt. Traditionally, kebabs are skewered meats or
vegetables
cooked on a grill or even under the oven broiler.
But these days, kebabs can be made using
paneer
, chicken, seafood or even fruit. Indian kebabs are delicious, healthy and very easy to prepare. Chicken Seekh Kebabs are one of my favorite kebab recipes; I hope you will also enjoy them making at
home.
For preparing this dish, combine all the ingredients like boneless chicken, ginger garlic, red chilli powder, coriander powder, garam masala powder, fried onion,
grated cheese
and fresh coriander leaves (except the oil) in a food processor (or by hand) and pulse until well combined, about a minute or two to form a nice thick paste. Now add an
egg,
salt to taste and blend it once again. Transfer the whole mixture into a mixing bowl and if required add
bread crumbs
and mix well.
Add some extra fat (chicken fat) into the meat grinder or blender which helps in being moist and makes the kebabs juicy. When combined, form the meat into approximately 6 inch sausages, not too thick though. If you have thick metal skewers or bamboo skewers use those and form the meat onto the skewers. (The skewer method will work on an outdoor grill). Cook the kebabs on a grill pan on high heat (or outdoor grill) for about 6 minutes per side, or until completely cooked through.
While
cooking
, keep basting the kebabs with
butter
or oil, so that they develop sheen or glisten over them. If you do not have an oven then take a wooden spoon or spatula and spread the chicken to form a
sausage
around the spoon and slowly remove it from the spoon and deep fry them it turns golden brown color.
If your meat is very lean add some oil or melted butter so that the meat does not dry up when cooking. Wet your hands with water while shaping the kebabs, this way the meat won't stick to your hands. Since most of us don't have tandoors, try this easy recipe to make them at home.
The use of fresh roasted and ground spices takes the flavor up a notch! Check out the making of the luscious Chicken seekh kebabs at:
Relish the lip smacking juicy Chicken seekh kebab prepared at home with this simple and quick kebab recipe. Chicken seekh kebabs are amazing smoky chicken mince kebab, with a crisp crust and a tender centre that will leave your taste buds tingling with its blend of fresh Indian herbs and spices.
Happy Cooking!
Author : suhashi...
Published On : Feb 8, 2008
Preparation Time: 7 min
Recipe Type : NonVeg-Main
Cooking Time : 25 min
Standing Time : 5-8 mins
Yield : 4 (4 servings)
Ingredient : Chicken
Description : kabab made with chicken mince
Ingredient Name
Unit
Quantity
cheese ( optional)

---

tsp

---

2

---

chicken

---

grams

---

500

---

chilli pdr

---

number

---

3

---

coriander leaves

---

pinch

---

---

coriander pdr

---

tsp

---

1

---

egg

---

number

---

1

---

fat chicken

---

grams

---

20

---

garam masal pdr

---

tsp

---

1/2

---

garlic

---

number

---

4

---

ginger

---

piece

---

1

---

kabab masala(mintand chat pdr)

---

pinch

---

1

---

lime

---

0

---

---

onions fried

---

grams

---

20

---

salt

---

to taste

---

---
Take boneless chicken add garlic ginger,red chilli powder,garam masala,coriander powder,fried onions,cheese,coriander leaves. Now take this mixture and blend till it becomes a find paste, and add egg,salt into it and blend once more.transfer it to a bowl if required add bread crums and mix well. take Sheek spread the minched chicken and put it in the oven or if you dont have oven take oil for fring, take wooden spoon spread chicken and remove it from the spoon very slowly and deep fry them it it becomes golden brown colour.