Every thing about aloo palak curryaloo palak recipe,aloo palak paratha,aloo palak curry recipe. :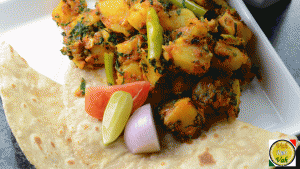 Aloo Palak is a classic Punjabi dish prepared with potatoes and spinach. Potato & Spinach Curry Aloo Palakis a very popular and classic Punjabi dish prepared adding potatoes and spinach cooked with tantalizing aromatic and flavorful spices giving a zest to the dish.
This dish is very often prepared in any Punjabi house served with roti, chapatti or plain paratha and curd on the side. Potato is a very versatile and humble ingredient that is almost used in every cuisine. It complements well with various spices and vegetables.
Potato is used in making a wide variety of snacks, starters, chaats, side-dishes and main course items. Most potato dishes are irresistible and yummy to eat. Potato word is derived from the Spanish word 'patata' and is the world's favorite root vegetable that was brought to India by the Portuguese. Any function, get-together's or parties is always graced by a potato dish in any form fry, curry or starters.
Recipe: Potato & Spinach Curry Aloo Palak
Ingredients:
Potatoes - 250 gms
Spinach, chopped - 1 cup
Garam masala - ½ tsp
Chilli powder - 1 tsp
Coriander powder - 1 tbsp
Ginger garlic paste - 1 tsp
Green chillies - 3 nos
Turmeric - ¼ tsp
Salt - to taste
Onion, chopped - 1 no
Cumin seeds - ½ tsp
Lime juice - 1 no
Directions:
Heat oil in a pan and when it gets hot, add cumin seeds, chopped onions, salt, turmeric, green chillies, ginger garlic paste and sauté well till the raw flavors are gone.
Add chopped spinach (palak) and cook well. Add coriander pd, red chilli pd, garam masala pd and mix well.
Add in the potatoes (boiled and cut into small cubes), toss well and switch off the flame.
Squeeze lime juice and toss once again.
Serve with rotis, naan, phulkas or rice.
Potato & Spinach curry Aloo Palak is one of the most fast to quick, hassle-free side dish. The tastes of ginger garlic paste give an amazing flavors and lime juice, a perfect zing to the dish. Potato cubes, boiled and sautéed with spices and cooked with spinach is a healthy way of feeding nutritious food to the kids and family.
Do try this awesome side dish that will surely make finger's lick and ask for more. Watch out the making of this dish and enjoy preparing this exciting and simple side dish. Eating potatoes in the right method of cooking comes with generous amount of health and nutritional benefits as potato is considered the main energy providing nutrient having carbohydrate in the form of starch.
Carbohydrates are the primary source of energy for the body and the advantage of getting carbohydrates from potatoes is that you will be getting a considerable amount of certain micronutrients as well. Potatoes are a source of fibre, which contributes to the feeling of fullness, and supports healthy digestive functions. I have constantly made a wide variety of yummy and scrumptious dishes made with potatoes which you could check out at: www.vahrehvah.com. My rating: 4 stars: ★★★★☆ 1 review(s) You could always reach me at my below links:
My Cooking Videos Indian Recipes Indian Food Regional Indian Cuisines VahChef Sanjay Thumma
Enjoy Cooking and always remember that: "VahrehVah is all about inspiring others to cook"!