Every thing about DOUBLE KA MEETHA | Vahrehvah :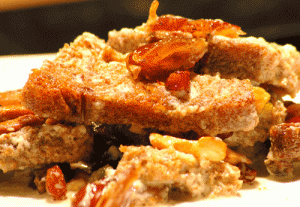 Double ka meetha
is an Indian bread pudding speciality of the
Hyderabadi cuisine.
It is a traditional
Mughal dessert
and served after having a heavy
biryani
. It is immensely rich dessert and worthy for
weddings, parties
and
special occassions.
Firstly many would like to know what is
Double ka meetha? Double ka meetha
is actually coined from the word
"Double Roti",
a colloquial and traditional name for sliced white
bread
in
Hyderabad
and
meetha
means
sweet
hence the name
Double ka meetha.
This is a dessert made with
bread, milk, sugar
syrup and
nuts.
Double ka meetha
is also known as
Shahi Tukra
.
Summary: Hyderabadi famous sweet ,with bread also called as sahitukra
Ingredients
1/2 - loaf- bread
1 - cup- cahsew,almonds
3 - number - cardamom pdr
1 - to fry - ghee or fresh oil
4 - drops - lime
500 - ml- milk
pista,dated,raisins
1 - pinch - safron color
300 - grams- sugar
300 - ml- water
Instructions
cut bread into halves of triangle and let them dry over night , fry in ghee till golden brownmake sugar syrup flavoured with cardamom and few drops of lime juice and safron colormake rabdi with milk (slowly boil milk till it is reduced to 1/4 tho og originalsoak bread in sugar syrup for few seconds and remove . put all nuts and dryfruits over the sweetened bread and pour over rabdiserve warm
Cooking Time: 25 min
Number of servings (yield): 4
Meal type: snack
My rating: 4 stars: ★★★★☆ 1 review(s)
I shall briefly tell you how the double ka meetha is prepared. Firstly cook sugar and water together to make a nice sugary syrup. Add crushed cardamoms to give a nice flavor and than add 2 to 3 drops of lemon juice so that the sugar is clarified.
Reduce milk to make it to a kind of rabdi and keep aside. Take bread pieces and dry for some time till the moisture in the bread is gone. Here the tip is that, while frying the bread pieces it does not consume more ghee. Fry these bread pieces in pure ghee (clarified butter) over slow flame till it turns golden brown and keep aside.
Soak the golden brown bread pieces in the sugary syrup for few seconds and set it on a tray. Sprinkle fried cashew nuts, raisins, almonds, pistachios and dates over the bread pieces. Over that pour the thickened milk (rabdi) and keep it aside till the bread get soaked well in the rabdi.
Serve it warm. A real yummy delicacy and easy to prepare! This dessert is densely rich in taste and calories. Double ka meetha is similar in taste to another dessert called Shahi Tukde. This dessert uses the same ingredients but has slight variation in the end. This too is a very delicious and rich in taste.
Give this luscious pudding a try! It's another dessert which is really to die for. Check out preparing this delectable traditional dessert at:
https://www.vahrehvah.com/double-ka-meeta