Every thing about EGG CURRY | Vahrehvah :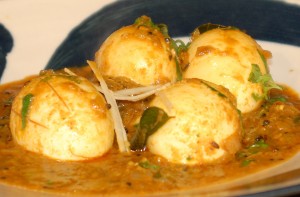 This dish is traditionally
boiled
eggs cooked in a
tangy
tamarind
sauce
combined with spices to give a zing taste and flavor to the taste buds.
Eggs
are a power packed food with many health benefits and is the ultimate versatile form for the cooking.
Eggs
can be cooked in many ways like
boiled egg,
fried eggs
,
baked eggs
or scrambled eggs.
Eggs
are a good source of high protein with many dietary benefits. They are very healthy and full of nutrition.
Eggs
cooked in tamarind sauce are truly mouth watering.
Egg Pulusu is a typical
Andhra
dish where
boiled
eggs are cooked in onions and tamarind gravy and tempered with mustard seeds, methi seeds, garlic and curry leaves. It is generally served with hot steaming rice. Pulusu is a telugu term that comes from the word '
pulupu
' meaning sour.
Tamarind pulp is the main ingredient in preparing this dish which gives a sweet and sour flavor to the dish.
Andhra cuisine
consists of at least one such gravy dish as part of a regular meal like
Pappu
(lentil)
Pulusu
, menthi (Fenugreek) pulusu,
vankaaya
(brinjal) pulusu, kaakarakaayi (bitter gourd) pulusu, bhendakaaya (lady's finger) pulusu,
chepa (fish) pulusu
.
Any vegetable or meat can be cooked in sweet and sour gravy which is generally named pulusu.
Eggs
are a regular item in most of the households and this is one dish which can be cooked quickly and can also be made delectable to your family and guests as most of the ingredients are at your hand's reach.
Tamarind is an
Asian
seasoning that's evocative enough to be used. Tamarind glazes offer rich, glossy color and typical tart-sweetness. The tamarind pulp has a distinctive sweet tart flavor that most chefs prefer the dark brown syrupy concentrate that can be bought in tubs and used as a glaze, as a seasoning and, with little doctoring, as a dipping sauce.
The flavor not only is popular in India but also now is used throughout Asia. And it is starting to seep into the mainstream in America. The ripened sticky pulp has a musky flavor and is sweet and sour due to the sugars and the acid content.
The
Egg
curry or egg pulusu is a delectable concoction of
tamarind
pulp, fenugreek seeds, chilli powder, coriander powder that make the taste buds pop up with tanginess and sweetness of the tamarind. Every ingredient used in this dish has its own unique flavor and enhances the taste of the dish.
Fenugreek is most commonly used in Indian cooking as one of the components of good curry powder, strong spice blends and chutney, which all benefit from fenugreek's tang and intensity. Roasting fenugreek a bit before adding it to the dish you are cooking can reduce the bitterness and enhance its caramel-like flavor, but don't let it burn. Fenugreek goes very well with potatoes.
The
fish curry
is another delightful concoction, in which the fenugreek plays well off the nutty coconut flavors. Bitter flavors prompt our bodies to secrete bile, which aids digestion, and believe it or not, makes a hint of bitter taste appetizing.
To prepare this egg curry, heat oil in a thick pan and mustard seeds and let them crackle. Now add red chillies, methi seeds, cumin and add chopped onions and sauté add little salt. While the onions are getting cooked add curry leaves and green chillies.
When the
onions
are slightly brown add turmeric powder and ginger garlic paste. Cook for few more mins and add little water to the mixture. Add cumin and coriander powder. Add some coconut powder at this point of time and add some chilli powder.
Now add the main ingredient the tamarind juice in this mixture and add little water. When the sauce is cooking add a little amount of sugar which enhances the taste of the juice and reduce the heat and let it simmer for 10 mins. Add the boiled eggs and let it cook in the gravy for 3 minutes or till you get the required gravy consistency.
Garnish with chopped coriander leaves. Serve this hot steamed rice or
rotis
. Do try incorporating eggs into sandwiches, salads, soups, and snacks for a more balanced life and higher energy levels. Watch the making of this amazing dish at:
https://www.vahrehvah.com/indianfood/egg-curry
Remember that jaggery or sugar is used in some of the pulusu dishes which give a sweet and sour flavor to the dish. Boil the eggs not more than 10 mins in water once it starts boiling. Making small slits on the sides of the eggs will ensure the pulusu penetrates the eggs giving it the desired taste.
This dish is generally served with hot steaming rice but also goes well with rotis too. The actual funda of eating the unda (egg) are that it improves concentration, taste, weight management, brain development, eyesight protection, lasting energy, multivitamin, convenient, freshness, affordable, versatile and quick to cook. Starting the day with a healthy breakfast that includes eggs gives you and your family a nutritious start to the day. This is because nearly all the essential nutrients your body needs can be found in an egg. Happy Cooking!
Egg Curry

Author :
Published On : Oct 5, 2007
Preparation Time:

7 min

Recipe Type : NonVeg-Main
Cooking Time :

25 min

Standing Time : 5-8 mins
Yield :

4 (4 servings)

Ingredient : Egg

Description : Egg Curry Recipe made easy, learn how to make Egg Curry Recipes at home.
Ingredient Name
Unit
Quantity
chilli pdr

---

tsp

---

1

---

chopped chilli

---

piece

---

3

---

chopped onion

---

number

---

3

---

coriander pdr

---

tbsp

---

1

---

cumin

---

tsp

---

1

---

cumin pdr

---

tsp

---

1

---

curry leaves

---

springs

---

3

---

eggs

---

number

---

10

---

fenugreek leaves

---

tsp

---

1

---

ginger garlic paste

---

tbsp

---

1

---

mustard seeds

---

tsp

---

1

---

oil

---

tbsp

---

3

---

salt

---

to taste

---

1

---

tamrind juice

---

ml

---

100

---

turmeric

---

pinch

---

1

---

Heat oil in a vessel and mustard seeds and let them splutter. Now add methi seeds, cumin and add onions curry leaves and fry Add chopped onions and green chillies and fry till they turn light brown. add ginger garlic paste Now add chilli pwd, turmeric pwd, coriander pwd and cumin pwd, mix well and saute for few seconds. Add tamarind extract and 2 cups of water and bring to a boil. Add salt and sugar and reduce heat and let it simmer for 10 mts. Add the boiled and fried eggs and let it cook in the gravy for 3minutes or till you get the required gravy consistency. Garnish with chopped coriander leaves. Serve this hot steamed rice or rotis.