Every thing about Egg Chop | Vahrehvah :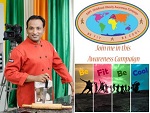 Egg Chop is a classic street food snack that is usually enjoyed during the rainy season. It is a very yummy, irresistible delicious deep fried snack. The deep fried Egg Chop is a nice mix of finely chopped onion, spiced with green chillies, flavoured with chopped mint leaves, coriander powder, cumin powder, garam masala, all added with grated boiled potatoes and chopped boiled eggs and little bread crumbs, mixed thoroughly well and formed into round dumplings and then flatten into large chops and deep fried until golden in colour.
This snack is very easy to prepare and can be made easily at home. Egg chop is a deep fried snack, hence may not be a low fat dish but can eat once in a while. You make it healthy, you can use good quality, low cholesterol oil which will reduce the amount of trans fats and keep the calories low.
The Egg chop is coated in a spicy flour mixture, coated with egg white and deep fried giving a nice crisp texture on the exterior side. The Egg Chop is sandwiched between two slices of bun or pav topped with some salad veggies, drizzled with little tomato sauce or ketchup and eaten like a burger. It looks similar to a burger or vada pav with a difference in the stuffing.
The Egg chop is unique to taste and an amazing blend of veggies and chopped boiled eggs mixed with Indian spices. This can be served with a combination of sweet and dry chutney also to suit your taste. Pav is a special kind of soft bread almost square in shape. It is one of the most comfort food and easy to prepare.
Normally fresh pav or buns are available in the markets or super markets. Only the filling needs to be prepared which is very easy to cook. Kids would love to eat this kind of a delicious and excellent fast food. Egg chop is a fantastic street food that is economical and affordable by all. It's a healthy snack with lots of carbs and protein.
Egg chop is a quickie snack that kids would love to eat. It can be easily served hot in a grilled bun topped with tomato ketchup and salad veggies to make it nutritious and yummy to taste. It has all the nutritional benefits from eggs, potatoes, tomato, salad veggies etc.
Boiled Eggs fit well in a diet plan because of their generous nutrient content. They are complete protein packed and beneficial for muscle building. A single large hard-boiled egg contains about 6.5 gms of proteins. Eggs are one of the most sought after ingredient especially used during making an appetizing breakfast. It is easy to cook, can make any dish in jiffy with eggs and is the ultimate versatile form for cooking. Eggs can be cooked in many ways that include boiled egg, fried egg, baked eggs, scrambled eggs or omelette etc.
Eggs are a power packed food with umpteen health benefits. Eggs are a good source of high protein with many dietary benefits. They are very healthy and full of nutrition. There are a variety of ways where eggs could be included into making delectable and incredible egg dishes. Some of the well known and delicious Egg recipes are:
Do try some healthy and nutritious snacks that your kids would surely love to eat. You could always reach me at my website for more amazing nutritious and healthy recipes at: www.vahrehvah.com You could also follow this campaign to gain knowledge on some special features and advices from eminent doctors from AAPI (American Association of Physicians of Indian Origin) and also get to know of healthy recipes and diets from popular Chefs that you and your family can relish and enjoy staying fit and strong.
To follow, do click on: https://www.facebook.com/AAPIChildhoodObesity
Enjoy healthy eating and Be Fit. Be Cool!