Every thing about GRATED BEETROOT CURRY | Vahrehvah :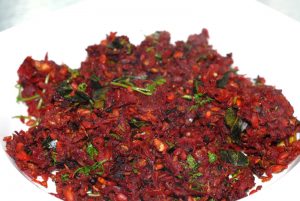 Grated Beetroot curry
is a very simple preparation combined with onions, green chillies, grated beetroot and split yellow
moong dal
with spices. It's not a spicy but quite a mild dish. Beetroot as such is a very versatile vegetable and can be eaten raw. Most of times you find people eating beetroot in the
salads
are few of them also drink beetroot
juice
. Usually grated beetroot curry is a
dry vegetabl
e
popularly prepared among the
South Indian
Brahmin community.
You can twist into so many interesting recipes as per your taste.
Steamed
and diced beetroots are seasoned with cumin seeds,asafetida and curry leaves, and taste simple and delicious. There are other variations in making
beetroot
like adding fresh grated
coconut
.
What more, very healthy for children as it is rich in iron. Beetroot is a natural source of
vitamins and minerals
. It is used traditionally as a blood building food. Beetroot has
liver, spleen, gall bladder and kidney
cleansing properties. It is particularly rich in Vitamin C, calcium, phosphorus and iron.
Split lentils are wonderful in curries and frittes. Split
moong
lentils are also mixed with rice dishes. One such dish is the
Kichidi
which is very popular and healthy too. Split lentils are known for their nutrition, energy giving and digestive properties, these lentil tastes delicious when seasoned with any other vegetable and spices.
Preparing the Grated Beetroot curry
is very simple. Remove the upper skin of the beetroot using a peeler and grate the beetroots. Soak
moong dal
for about 30 minutes. They would become soft and easy to cook. Chop onions, green chillies and keep aside. Heat oil in a pan.
Add mustard seeds, once they crackle add the cumin seeds and chopped green chillies. Add the curry leaves (optional), chopped onions, salt and hing. Saute the onions for a minute and add turmeric powder, soaked moong dal, grated beetroot and mix well.
Cook on a slow flame till the beetroot and moong dal get cooked. You can add little water if required. Lastly add cumin powder, coriander powder and sesame (til) powder. Sesame powder would give a nice taste and flavor to the dish. Add a little garam masala mix and garnish with fresh coriander leaves.
Serve with
chapatti
,
phulka
,
naan
or rice. Its always best to try different vegetables and this would develop your taste for different kinds of food. This is one of the most simple, very nutritious and healthy for kids. Normally kids do not like eating beetroots raw. You can serve them this curry with hot
rice
and
rasam
or curd rice.
Summary: Generally people do not like beetroot curry as it tastes muddy. Let me tell you a easy and tasty way of cooking beetroot curry. recipe curtsy Aradhana_pandey
Ingredients


Beetroot - 3 - number


Coriander powder - 1 - tbsp


cumin - 1 - tbsp


Cumin powder -1 - tbsp


dal - 1/4 - cup


Green chillies - 3 - number


Mustard - 1 - tbsp


Oil - 2 - tbsp


Onion - 1 - number


Seasame seeds powder - 1 - tbsp


Instructions


Remove the upper skin of beetroot using peeler and grate the beetroot. Soak moong daal for around 30 min . Chop some onions if you would like to use onions but it really adds taste to the curry. Chop green chillies. Heat oil in a pan. Add musturd seeds, cumin seeds. Add hing if you would like. Now add green chillies and onions and cook it till it is light brown. Add grated beetroot and cook it for sometime. Add moong daal. If required add water, else fry it in oil itself. Fry till moong daal is cooked properly and if needed add water . Add salt, chilli powder , cumin powder, sesimi powder, coriander powder and fry till all the moisture is gone. Recipe Tips Use onions and daal though its not mandatory but it adds to taste


Cooking time (duration): 25
Diet type: Vegetarian
Number of servings (yield): 4
Meal type: lunch
My rating: 5 stars: ★★★★★ 1 review(s)
Recipe by
Vahchef
.
Lets know about beetroot and its benefits. Beetroot is also known as red beet or garden beet. The most commonly variety of beetroot is cultivated in North America and Britain. The usually deep-red roots of beetroot are eaten boiled either as a cooked vegetable, or cold as a salad after cooking and adding oil and vinegar, or raw and shredded, either alone or combined with any salad vegetable. Beetroots are a rich source of potent antioxidants and nutrients, including magnesium, sodium, potassium and vitamin C, and betaine, which is important for cardiovascular health. Beetroot juice has been shown to lower blood pressure and thus help prevent cardiovascular problems. Other studies have found the positive effects beetroot juice can have on human exercise and performances. Beetroot is a good tonic food for health. It contains carbohydrates, mainly in the form of sugar, and it has a little protein and fat. This juice is rich in easily digestible carbohydrates, but the calorie content is low. The protein factors or amino acids are good in both quality and quantity. Beets are of great therapeutic value. They have properties to clean the kidneys and gall bladder. Being rich in alkaline elements, pottasium, calcium, magnesium and iron, they are useful in combating acidosis and acid the natural processes of elimination. The juice of the red beet strengthens the body's powers of resistance and has proved to be an excellent remedy for anaemia, especially for children and teenagers where other blood forming remedies have failed. Beet juice is beneficial in the treatment of jaundice, hepatitis, nausea and vomitting due to biliousness, diarrhoea and dysentary. So now you know the nutrition benefits of beetroot then why don't you also see the making of Grated beetroot curry and feed it to you kids and family. Watch at https://www.vahrehvah.com/Grated+beetroot+curry:4287